Cobra Kai Season 4 - The Loop
Play Sound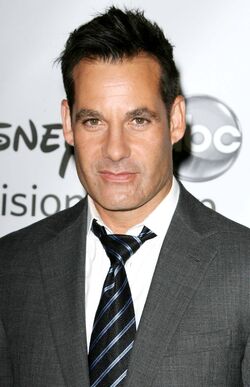 Adrian Pasdar voiced Tony Stark/Iron Man in many Marvel projects and portrayed Glenn Talbot in Agents of S.H.I.E.L.D.
Significant roles
Chipper in Top Gun (1986)
Caleb Colton in Near Dark (1987)
Vito in Cookie (1989)
Ben Arnon in Torn Apart (1990)
Dawson Cole in Shang Hai yi jiu er ling (1991)
Frankie in Carlito's Way (1993)
Joseph in Slave of Dreams (1995)
Jim Profit in Profit (1996-1997)
Dopefiend in A Brother's Kiss (1997)
Edward Tanner in Touched by an Angel (1998)
Declan Dunn in Mysterious Ways (2000-2002)
ADA David McLaren in Judging Amy (2003-2005)
David Bradley in Desperate Housewives (2005)
Nathan Petrelli in Heroes (2006-2010)
Clint Barton/Hawkeye in The Super Hero Squad Show (2009)
Steve Rogers/Captain America in Black Panther (2010)
Tony Stark/Iron Man in Iron Man (2010)
Mark Fallon in Castle (2011)
Hugo Strange in Young Justice (2011-2012)
Alec Rybak in The Lying Game (2011-2013)
President Paul Garcetti in Political Animals (2012)
Tony Stark/Iron Man in Ultimate Spider-Man (2012-2013)
Burke in Burn Notice (2013)
Tony Stark/Iron Man in Phineas and Ferb (2013)
Tony Stark/Iron Man in Hulk and the Agents of S.M.A.S.H. (2013)
Tony Stark/Iron Man in LEGO Marvel Super Heroes: Maximum Overload (2013)
Tony Stark/Iron Man in Iron Man & Hulk: Heroes United (2013)
Tony Stark/Iron Man in Marvel's Avengers Assemble (2013-2014)
Wade in The After (2014)
Quotes
"In the same way that Iron Man came up. I got a call from my good friend, Jeph Loeb, "Would you come and do this role?" and I read the character description and I thought, "Oh man. Here it is again. The sanctimonious jerk. That's what they're coming to me for." [laughs] His way's the only way! I said, "Jeph, are you trying to tell me something? No, not at all! Nobody can play this quite like you, but no." [laughs] So he came to me and I said yes."