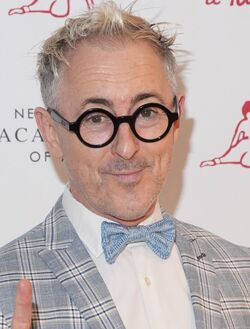 Alan Cumming portrayed Kurt Wagner/Nightcrawler in X2: X-Men United.
Significant roles
Shelley in Dread Poet's Society (1992)
MacNamara in The Airzone Solution (1993)
Black Beauty in Black Beauty (1994)
Sebastian Flight in The High Life (1995)
Boris Grishenko in 007: GoldenEye (1995)
Mr. Elton in Emma (1996)
Sandy Frink in Romy & Michelle (1997)
Daniel Francis "Rooster" Hannigan in Annie (1999)
Saturninus in Titus (1999)
Gazoo/Mick Jagged in The Flintstones in Viva Rock Vegas (2000)
Jeremy Kinnear in Get Carter (2000)
The Devil in God, the Devil and Bob (2000-2001)
Sevy in Investigating Sex (2001)
Fegan Floop in Spy Kids (2001)
Wyatt Frame in Josie and the Pussycats (2001)
Joe Therrian in The Anniversary Party (2001)
Daryl Zero in Zero Effect (2002)
Fegan Floop in Spy Kids 2: Island of Lost Dreams (2002)
Mr. Folair in Nicholas Nickleby (2002)
Fegan Floop in Spy Kids 3-D: Game Over (2003)
Mark in The Goodbye Girl (2004)
Persnkitty in Garfield (2004)
Bruno the Bear in Shoebox Zoo (2004)
Loki in Son of the Mask (2005)
Billie Blaikie in The L Word (2006)
Gordy in Gray Matters (2006)
Glitch in Tin Man (2007)
Chuck in Rick & Steve the Happiest Gay Couple in All the World (2007-2009)
Hitler in Jackboots on Whitehall (2010)
Sebastian in The Tempest (2010)
Eli Gold in The Good Wife (2010)
Desrae in The Runaway (2011)
Gutsy Smurf in The Smurfs (2011)
Quotes
"I signed for two films, so I'm going to. The last I heard is that we're starting on the 20th of June, but they don't have a script or a director yet so that may be pushed a little bit. But they have to release it in May of 2006 for some reason so it's gonna be shot in the summer."
"And it's one of these things, I kind of just want to know I'm going to do it cause it affects your whole life. You can do other things cause you know that it's a large amount of time; I'm going to a show on Broadway which I moved to January of next year just to make sure I finished X-Men. Every film you do you have to tell them just in case they're going to get it together really fast. You're under some options; it's quite weird."
"No. I'm not disappointed; I cannot deny that. I think he's really talented and I'm very proud of the film and I think it's a great film. I didn't enjoy working with him on the film."
"I have this brilliant idea: I want some kind of fabulous, crazy, terrible thing-some terrible accident happens to Nightcrawler and his face turns white."
"I haven't gotten the call. Someone told me that Nightcrawler doesn't appear in the story but I don't know, I think they would have called by now. It was funny that film because I really like it and everyone really responded to Nightcrawler and enough time has elapsed that I would like to go back to it. Although then when I did that film it was sort of the start of this spate of superhero and comic books made into films so it felt a little more special then it does now. X2 was a really great film, not just as a comic book film. I think it's one of the films I'd been in that I think of as really good."
"No, they haven't asked me to return. Someone asked me that the other day and I said no. I know the one that's coming up shoots this Spring, but I wouldn't be available anyways. I dont think they have. I was gonna meet my manager for dinner later, I was gonna ask him, but no, I'm sure they would've told me, had they approached."
"There was a time when it was maybe going to happen, but I wasn't available so it didn't happen. I really loved that film I was in, don't get me wrong, I thought it was a great film, but it wasn't my favourite experience of my life."
Trivia