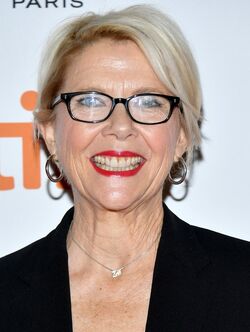 Annette Bening portrayed Mar-Vell/Wendy Lawson and the Supreme Intelligence in Captain Marvel.
Significant roles
Kate Craig in The Great Outdoors (1988)
Merteuil in Valmont (1989)
Myra Langtry in The Grifters (1990)
Sarah Turner in Regarding Henry (1991)
Virginia Hill in Bugsy (1991)
Terry McKay in Love Affair (1994)
Queen Elizabeth in Richard III (1995)
Sydney Ellen Wade in The America President (1995)
Barbara Land in Mars Attacks! (1996)
Elise Kraft/Sharon Bridger in The Siege (1998)
Claire Cooper in In Dreams (1998)
Carolyn Burnham in American Beauty (1999)
Susan in What Planet Are You From? (2000)
Sue Barlow in Open Range (2003)
Julia Lambert in Being Julia (2004)
Deirdre Burrows in Running With Scissors (2006)
Sylvie Fowler in The Women (2008)
Karen in Mother and Child (2009)
Nic in The Kids Are All Right (2010)
Gertrude in Ruby Sparks (2012)
Bella in Ginger & Rosa (2012)
Zelda Duncan in Girl Most Likely (2012)
Nikki Lostrom in The Face of Love (2013)
Helen in The Search (2014)
Mary Sinclair in Danny Collins (2015)
Dorothea Fields in 20th Century Women (2016)
Irina in The Seagull (2018)
Dr. Cait Morris in Life Itself (2018)
Dianna Feinstein in The Report (2019)
Amanda Brecht in Georgetown (2019)
Grace in Hope Gap (2019)
Euphemia in Death on the Nile (2020)
Quotes
Please add a list of quote from this performer about their work in Marvel Movies!
Community content is available under
CC-BY-SA
unless otherwise noted.