Wiki Targeted (Entertainment)
Play Sound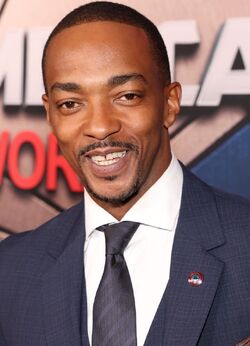 Anthony Mackie portrayed Sam Wilson/Falcon/Captain America in Captain America: The Winter Soldier, Avengers: Age of Ultron, Ant-Man, Captain America: Civil War, Avengers: Infinity War, Avengers: Endgame, The Falcon and the Winter Soldier and Captain America 4.
Significant roles
Papa Doc in 8 Mile (2002)
Shawrelle Berry in Million Dollar Baby (2004)
Frank in Half Nelson (2006)
Tech in Crossover (2006)
Nate Ruffin in We Are Marshall (2006)
Sgt. JT Stanborn in The Hurt Locker (2008)
Major William Bowman in Eagle Eye (2008)
Tupac Shakur in Notorious (2009)
Marcus Washington in Night Catches Us (2010)
Buddy Bolden in Louis (2010)
Harry Mitchell in The Adjustment Bureau (2011)
Finn in Real Steel (2011)
Tom Piper in What's Your Number? (2011)
Mike Ackerman in Man on a Ledge (2012)
Will Johnson in Abraham Lincoln: Vampire Hunter (2012)
Tommy in Vipaka (2012)
Buddy Bolden in Bolden! (2012)
Coleman Harris in Gangster Squad (2013)
Adrian Doorball in Pain and Gain (2013)
Jeremiah Jeffers in Black or White (2014)
Chris in The Night Before (2015)
Greene in Detroit (2017)
King in The Hate U Give (2018)
Danny in Black Mirror (2019)
Takeshi Kovacs in Altered Carbon (2019)
Quotes
"I'm playing the Falcon. He's this guy in Harlem who moved to California and became a drug dealer. His plane crashed, and he was genetically altered, and he can fly, has telepathic powers. He's the first African-American superhero. It makes me feel all the work I've done has been paying off. I have a son, nephews and nieces, and I love the idea that they can dress up as the Falcon on Halloween. They now have someone they can idolize. That's a huge honor for me."
"Sam Wilson is known for his physique. He's described as 6'3", 245 pounds, so starting Monday, for the next five months until we start shooting, I'm going back to high-school workouts and start doing two-a-days, so I get up to 230 pounds. Sounds major! I'm going to try not to get a job between now and then, so I can really focus on this. Because Chris Evans is in such good shape! I'm just a dude he dragged into the lab that he injected with some shit, but I got to stand next to him. So we shall see! When I got the part, I called my brother, and I told him, 'Guess what I'm doing.' And I told him the movie and who I was playing, and he literally just gave me a litany of history about this character. He went in his closet, and he dug out a copy of the very first Captain America with the Falcon in it. So I said to him, 'Holy shit, you're an Über-nerd!' "
"I feel like every kid deserves a hero, you know? And now that Spider-Man is Latino, I'm happy that little black kids are going to have the opportunity to say, 'Hey, I want to be the Falcon.' You know? So it's cool."
"I have [seen the final rendering for the Falcon], it's pretty awesome. I look like a bad mother-what. It's pretty cool."
"I have read a script, and it's really good. It's fun. The Russo brothers have been really good about keeping me informed of their visions and ideas for what they want the movie to be. It seems like it's going to work on all accords, so I'm just excited about it."
"They're very specific about how they utilize talent from movie to movie. They have a long ranging scope on what they want the Marvel franchise to be. They're real smart about it. Nothing happens by happenstance with them."
"Every time I go see the comic book movie and I have a 3 year-old son and he's always telling me he wants to be Spider-Man or Captain America. It's unfair for little black kids not to have a superhero to look up to. When I got the call about the Falcon that was a no brainer. I feel that this is for a whole generation who has the opportunity to know a superhero like we did. We grew up with Spawn and Meteor Man. Every kid had a pot or can and thought they were Meteor Man, so I'm excited for a bunch of kids to say that I'm the Falcon."
"The Falcon was a short-lived comic book series. If you look at the time in which they introduced the Falcon and what they were trying to do with him, it was an interesting cool character that wasn't executed well at all. That's why when the comic book died, they re-introduced him as a Robin to Captain America's Batman, just to re-spark the life of the character. It's one of those things where if you are not a real comic book fan and it was short-lived, you wouldn't know who he was; whereas Black Panther had a long run with an individual comic book."
"Okay, I was the first choice for that. I forgot about that. But that was another one of those things where they are like… Actually wait, was I? I was! You got me, that was it. But I can't talk about it. I'm in it."
"I will have wings. I will be able to fly. I will be a superhero and fight people, namely The Winter Soldier. (laughing) Man, I told you I can't talk!"
"This is the first job I got asked to do first, and you're trying to get me fired first. I have no idea what you're talking about [if Redwing will be present in the movie or not]. This is what I learned about franchises. They can always cast somebody else and say, "Well that last person died," or just not address it. You see the second movie, and the guy is a different guy than the first, and they're like, 'Yep, same dude to me.' "
"Chris and I have been in a lot of dark places together, and the thing I love about Chris, we met over some "apple juice" and it was like one of those experiences where there's a dude you meet and you're like "Man, you're a cool dude." Then a whole bottle of "apple juice" later you're like "Man, we're friends." Just a dark, dark place."
"I've actually become a gym rat again. But instead of getting bigger -- because the Falcon was written as a man who was 6 foot 4 and 230 pounds; he was massive -- mine is a different take on who he is, as opposed to being specific to the comic book, like all of the Marvel movies. You'll definitely get your Falcon fix, and I will look amazing!"
"I'm happy to say that I'm in a good deal of the movie and I play an integral part with Captain America taking down the winter soldier. It's great. They started the shoot 2 1/2 weeks ago and once I finished doing press for Pain & Gain, I go in and join them. I've been doing combat training and fitness training just to get prepared. It's going to be something and I'm excited for it."
"They just released pictures of the costume last week. It's more of a military style tactical costume. He's more along the lines of Captain America as far as superhero as opposed to a true superhero."
"I had never heard of the Falcon. I knew nothing about him. Once they sent me the comic book and told me everything they wanted me to do, I read up some and looked up his story. I'm really excited. He's a cool character and we need that. We that (black) superhero that looks like them."
"Well, it's more so a cardio thing now. I mean, you know, if you're a super hero… I didn't want to get too bulky. You know there's a lot of limitations to how big I was for Pain and Gain, whereas with this I just want to be fit, you know. I just want to be in shape to where I can go in and do all the stunts and all the things I feel like I would need to do to bring this character to life. So, it all depends. I met with the studio very early on and I told them I was going to throw on some weight and get bigger and they said, "No, no, no, no don't do that. Stay a smaller weight and we'll figure out something character-wise." So, you know, that's kind of what it turned into."
"I'm very disappointed! When you sign on to a superhero movie you want to be a superhero. You want spandex..you want that. When I went into it I was like 'I want the wings, I want the bird (referring to Redwing), I want all this shit. Cos you want little kids to dress up like you. And I wanted it to go all the way wrong. As cheesy as possible."
"First, I'll say that being a part of it is great. I think that Marvel has it down to a science and they've been very deliberate about what they want and what they don't want out in the world. And they're very focused on timelines as far as releases and stuff. This movie, Captain America, has kind of become Avengers 1.5; if you look at the cast they've put together, if you look at the number of characters that are in this movie. I mean, it's a huge number of superheroes and characters. The basic idea is that you have Captain America, Black Widow, and Falcon that get together to take down the Winter Soldier."
"Sam's very involved. I'm in about 60 percent of the movie. Captain America, the Black Widow and The Falcon take down the Winter Soldier together, and they solve the crime at hand and take down the Winter Soldier. So this movie, if you look at the cast, with everybody in S.H.I.E.L.D. and Redford and Sam Jackson and everybody who's in the movie, it's kind of turning into The Avengers Part 2 because the cast is so big."
"I wanted Falcon to be really lean, so it couldn't have worked out better timing wise. I worked so hard to get my body in shape that I wanted to show it off. So I told Marvel I just wanted to be in spandex. But they decided that they wanted Falcon to be more of a military character, which I'm not complaining about, because my gear looks dope and I get to kick a lot of ass. Ever since I got in good shape, though, I'm all about spandex."
"You know what? The comic book world is 100 times more fickle than movie audiences, so I've been trying to avoid reading any fan blogs or thoughts on how I might be a miscast or whatever."
"Yes, and it looks amazing. It's so much bigger than everyone thought it would be, and we're kicking a lot of ass. It's a lot of fun to be a part of, especially with Samuel L. Jackson, who's been my mentor for so many years."
"It can be frustrating at times, because if you're not "in house" with them, if you're not one of the people making the vision and you have no way of knowing what's going on. It's kind of like a sports game – something great can happen at any moment. One day you'll get a call from Marvel that's like, "Hey, we need you in New Mexico right now for The Avengers 2." I'd ride a moped to that set if I had to. My friends keep saying, "you'll be doing these forever," but I don't know about that. If it works out, it works out. It's all very hush."
"We've been friends for about four years now, and we also have A Many Splintered Thingìì coming out soon. I'm going to visit him while he's directing his movie 1:30 Train. I'll bring him a beer at the end of the day and make sure that he doesn't mess it all up...We're like Ebony and Ivory!"
"It's interesting because a lot of people equate it to Batman and Robin, but the reality of it is it's more of a working relationship, a respect relationship as opposed to a leader and follower."
"The three of us [Cap, Falcon and Black Widow] work really well together and we support each other. All of us are really different in our abilities and powers, so when we come together we make an awesome tandem."
"It's 10 times tougher performing with wings," "I'm like, 'Wait, I'm the only dude that's on strings? Everybody else gets to walk around or drive cars and I gotta fly?' When we had our first conversation about the movie, my biggest statement to the Russos was, 'You better not make me look like an idiot.' That was my greatest fear. Even though I wanted to wear red spandex, I was hugely afraid of looking like a pigeon! As the Falcon aged [in the comics] and grew up, his uniform grew up," "The uniform we have now is the uniform of an adult… The Ultimate look gives him a sense of purpose and makes him look like a badass. The wings can look funny at times, so you have to do something to combat that – at no point in time do you want him to show up on film and have people laugh. That's what we've been able to find, between the tactical suit and the Ultimate suit. As the franchise goes on and you see more of me and Captain America, the suit will evolve into the Ultimate look, the hard-leather black look. The suit that he has in this movie is more of a military suit because it's the first time you see it."
"The Air Force had a specialty group. Like the Navy SEALs. But instead of giving them the ability to quietly go in and manoeuvre through hazardous territories, they gave them the ability to fly… It's a lot of me on wires screaming and them saying 'Action' and me flying around. …I'm deathly afraid of heights, they always say, 'Oh, we're just gonna take you this high.' Then they take me and swing me."
"When we were in Cleveland, the Russos called me and said, 'Alright, we're gonna put you up on a bridge and we want you to jump down. You see you're about to hit a car, so we want you to stop before you hit the car.' I'm like, 'Well, the cable guy is supposed to stop me, because these aren't real wings.' They're like, 'No, no, no. Just hit the ground and go to the car.' So they pull me up and they let me go. In midair I realized, 'I've never flown before. So I have no idea how to stop.' I see the concrete coming towards me, and I realize the rope is gonna catch and I'm gonna swing head first into this car. So I put my feet down and I roll into this cab, hard, and everybody runs over to me and says, 'Are you okay?' I'm like, 'I think I know how to land. Let's do it again.'"
"I'm like, So have y'all decided if I'm in Avengers 2 yet? I'll get on the bus to Albuquerque tomorrow!' I wanted to be a superhero from the first day that I started in this business, and to have the opportunity to be a superhero is kind of remarkable. If I get the opportunity to be in The Avengers 2, 3, 7 and 18, there's no way I would complain or balk at any part of that…"
"When Marvel gave me the opportunity to bring this character to life, I was so emotional and overjoyed at the opportunity of being a part of not only a franchise like that, but a studio like that."
"No, I was a baseball kid. I was everything. I was a sports kid. I was never into comic books. I was never that kid."
"No, no, no, he's there. Michael B. Jordan is a very good friend of mine. I've known him since he was a teenager, and I'm so happy, for more than anybody else for him to be getting the accolades he's getting, because he deserves it. I think with these type of movies, everything else aside, you need a good actor. Michael B. Jordan is a good actor, black or white. So what you have to realize is, and go back and forth and just say, 'Superman can't fly, Batman ain't real, the Human Torch don't really set himself on fire and fly around the room, so he can look like whatever they want him to look like.' You just have to allow yourself to see him that way. And if you can't do that, that says something about you. As an audience member if you can't do that, you need to look at yourself, because there's something going on with you, that you might need some help with."
"When I heard I got the role I broke down in tears, I realized two years from that date some little brown boy was going to be at my door in a Falcon costume on Halloween. When I was a kid I didn't have that. It wasn't like I could get asked, 'Who do you want to be for Halloween?' and say Shaft. Being the Falcon is monumental."
"I wanted to be like the Joker and get my Heath Ledger on. I would send Marvel an email, like every four to five months. I was calling saying, 'I'll work for free.' About two years ago they sent me a letter saying, 'Don't call us, we'll call you.' I was like 'Damn -- Marvel mad at me. I read up on him and immediately got into the gym, [Laughs] I thought if I am wearing that much spandex I have to be in shape."
"In this movie, it's the first time we were opposite each other and I had my goatee, he had his goatee and he just looked like my dad. So I called him 'Dad' for the entire movie. Like, there's this whole subplot I put in there where Nick Fury is The Falcon's dad. Every time he would come on set, I would go 'Dad?' and he's like 'Shut up!' "
"It was a four-point harness system. Basically, they put you in a girdle-for-a-man with thigh-guarders and they put four picks on you with string… they can put you on a track and make you go forward, make you go up in a loop… it's crazy. If you're a nauseous kind of guy, you can't do it."
"Cap and Falcon go looking for Winter Soldier. They find him. They go through this traumatic ordeal of him transforming back into Bucky. Then, once he goes back to Bucky and we get all the craziness out of his head, then we become a three-man duo – he's got a shield, he's got an arm, and he's got wings - and we go out, and we save the world. Cue theme song. And then we go beat up Batman and Superman."
"We start shooting in April. So, it's gonna be a lot of flying and fighting for about five months... and I'm not mad at all."
"Well, you know there are many incarnations in the comic book, and we are now going into the Civil War. So, if you look at it in the comic book, Cap gives Bucky the shield, Bucky gives it back to Cap, Cap gives it to me. Then Bucky goes off and marries Black Widow, so I keep the shield... give it back to Cap, and recently Cap wanted to be old, so he gave me the shield back and now I got the Shield; I'm not giving it back."
"The new Falcon suit is gonna be much better than the old Falcon suit; gotta rebuild."
"Let's just say it's a wing-ding-doozy of a time. The great thing about it is, after seeing Avengers I joked and said Captain America 2 was Avengers 1.5. Now with Avengers 2 coming out… Captain America 3 is so far beyond Avengers 2.5 and onto the realm of Avengers 3.8. It's by far one of the most stupendous rides Marvel has put together."
"If I got one wing, I'm coming back."
"I didn't know [I was coming back]. When we finished Cap 2 I asked and begged to come back, literally. So I found out when everybody else did. I got a call from my manager. He said, "They're going to put you in Cap 3." It's always a surprise with Marvel, man. If you are not one of those like Thor or Cap, then you have no idea. The only person that had an early version of the script and read the outline was Chris Evans. I talk to him all the time because we are good friends and he would always say, "Man, the movie is going to be good." I'm like, am I in it? He would say, "It's going to be a big movie." So he would never tell me if I was in it or not. Even he keeps secrets. It's a dirty business."
"I have [read the comics]. You know, I'm not sure how close it will stay because I haven't read anything. I just found out literally this week. I haven't gotten a script or an outline. I don't know how much of it I'm going to be in. I have no idea how they are going to use me. But you know, the Civil War comic book, there is so much there. I don't know how they are going to condense it and make it into a movie because it is a civil war. It's epic! Look at the way it's going now when they announced Phase 3, with Black Panther and Dr. Strange coming into the fold. I have no idea what they are going to do with this movie. I just know that Cap 3 has to be better than Cap 2. So I know Cap 3 is going to be mind-blowing."
"I was very, very excited. When we were shooting Cap 2 I would always have conversations with them about Black Panther because I wanted to stress the importance of that character to the movie going populous. I couldn't be happier that they cast Chadwick. He's a remarkable young man. I've known him off and on for over ten years now. I first met him in '98 at Howard University down in D.C. I've only known him from a far. But the more I've heard of him from people who are in his inner circle, the more I've been proud of the fact that someone who did the work, and did their due diligence, is being rewarded at a rate like this in his career because he truly deserves it."
"Listen; you would never meet anybody that doesn't want to hangout with Tony Stark. Tony's the man! I have no idea. I have no idea how they are going to use me. I have no idea how they are going to introduce all of those characters."
"It's huge! It's funny, I've met Robert a few times and I didn't know what to expect. I didn't know what he would be like because he is such a mega star and has had so many phases of his career. I have to say, he couldn't be more of a down to Earth, fun to be around, cool, smart person. Every time you talk to him, it's just mind-blowing the stories he tells, and the way he looks at this Iron Man phenomenon and how it's helping him in the third phase of his career to open doors to do projects that he has wanted to do forever but couldn't. The great thing about these Marvel movies is that everybody in the world sees them. Not just everybody in California and New York, everybody in the world! That's something that an actor can only dream of having that opportunity."
"I want my bird, man. I want my bird! The thing is, you know I've been emailing with people over at Marvel. I've putting it out there in the ethos that I'm going to have a new and improved costume and come out all flashy in spandex. So I'm hoping that I get a new and improved costume. That's my whole thing. I've just been saying it, hoping that they'll read it and say, "Alright, we have to give Anthony a new costume." Please, dress me up in spandex!"
"I hope [I'll be in AOU]. At this point, I have not. I hope, I hope, I hope, I hope. They're doing reshoots and that's why I'm letting them know I'm available. So whatever weekend they want me there, I'll fly myself out and shoot whatever scene they want me in. Even if it's like, "Oh man, it's Iron Man and Hulk." But I heard today in one of the interviews that someone thought I was in Ant-Man. I hope so! I hope I'm in Ant-Man. I hope I'm in Hulk 3, I hope I'm in Thor 3, and Guardians of the Galaxy 2. Me and Groot can boogie!"
"The way I look at it, Captain America was a spin-off of Avengers, but it was so much better than Avengers. With the new Avengers coming out, the trailer that came out, it's gonna be 10 times better than Avengers. So, this is gonna be so much better than Avengers 2. It can't be Avengers 2.5, it's like Avengers 3.8. It's so far past where Avengers is gonna be this summer. Just having read the script, and seen the specs of what they're gonna do, it's unlike anything you've ever seen."
"I hope so, they're still shooting. They're still adding pieces so I'm definitely waiting for the call, Marvel, to be added in any way, shape, or form that I can."
"With Falcon and Cap, what's so great is there's a mutual respect. There's a soldier respect. What's great about Age of Ultron and Cap 3 is you get to see their relationship grow."
"Remember the first time you saw a 3D movie, and got a headache, and were like, 'What happened to my brain?' Avengers: Age of Ultron is like that, with The Rock punching you in the face. It's like Disneyland for adults. It's like going to Vegas with an unlimited credit card. It's by far the most stupendous film experience you'll have. It's just ridiculous."
"This is how it goes. About two weeks ago, I got a call. My friend was like, 'Yo, Age of Ultron posters out.' Why didn't tell me you were in it?' 'I'm in it?' That's how Marvel rolls. When you see somebody and they say, 'We can't tell you,' that's because they don't know."
"It's a lot of fun stuff for me to do, but you know, it's Civil War, so it's like a big... civil war."
"That's what I thought when I first read it. But it's not at all. It really plays well with the storyline of Cap and how he's evolved into his own man; Him doing his thing, and everybody coming together to fight for the common good of man."
(speaking of Redwing) "I want my bird, man. I want my bird!"
"I've been emailing with people over at Marvel," he said. "I've been putting it out there in the [ether] that I'm going to have a new and improved costume and come out all flashy in spandex. So I'm hoping that I get a new and improved costume. That's my whole thing. I've just been saying it, hoping that they'll read it and say, All right, we have to give Anthony a new costume."
"I heard today in one of the interviews that someone thought I was in Ant-Man. I hope so! I hope I'm in Ant-Man. I hope I'm in Hulk 3, I hope I'm in Thor 3 and Guardians of the Galaxy 2. Me and Groot can boogie!"
"We definitely have gloves on, but it's more of a family dispute. That's what's so great about this movie and the characters and how they work together. It's more so when you have a sibling rivalry. The reason people can relate to these characters so much is because they can relate to what they're going through; everybody's fought with one of their siblings or one of their friends, wanted to make up with them, but couldn't figure out the best way to do it and that's kind of how Civil War works."
"I don't think we need a new Cap. I don't think Cap needs to change. I think he would be a great Cap, but then we're left without Bucky. I think I'd be a great Cap, but then we're left without a Falcon."
"I feel like kids don't get race. We preach so much to kids that you can be anything you want to be, and then we follow it with 'except,' and we have to leave that 'except' off."
"I don't know how you all do it in Utah, but when I see two people fighting and one dude gets more punches in than the other dude, that dude won the fight … [And] I hit him more!"
"Yeah, our relationship is…yeah [laughs]. It grows in Civil War. But that's Paul Rudd, man. Paul Rudd and I just make fun of each other all the time, so it just carries over into the movie. So I respect his royals – I'm pulling for his royals – but we just make fun of each other all the time."
"I don't think it's important at all. As a director your job is to tell a story. You know, they didn't get a horse to direct Seabiscuit! The thing is I don't think the race of the director has to do with their ability to tell a story. I think it's all about the director's ability to be able to relate to that story and do it justice. I think men can direct women, and two of my greatest work experiences were with female directors. So I think it all depends. May the best man — or woman — win."
"I feel like Captain America is all about the ups and downs of the society that we live in today. It's really genius how Marvel can take fictional characters -- superheroes at that -- and then take the politics of today and wrap them all together and make you believe and buy into it."
"I think it's very funny. I think every time I read the new Marvel comic book and everything that's going on with my character, it's informative. And I feel like the court of public opinion is never at a lack for judgment. I think the amazing thing about the character of Sam Wilson is seeing kids find themselves in that character. When I meet a kid, or even an adult, and they say, 'Oh, my God -- I was going through this, or I was dealing with that, and when I read the comic book or I saw you in the movie, it made everything make more sense,' or, 'I feel like I can do that, now.' It's kind of icing on the cake."
"I've known Chad for a long time. I was very happy when I heard he got cast as Black Panther, because I knew he'd do the work to bring that character to life. It's not so much about two black actors being in a movie at the same time. It's more so about the right black actor getting that role to do the work to make it timeless, and Chadwick is that guy."
"No I don't know man. I don't know. I like going to work with good people. Like shooting this movie [Triple 9] it wasn't really work. We got to hang out and have a good time and really get to know each other. I've admired Aaron Paul's work long before Breaking Bad. I've admired Chiwetel's work. Kate [Winslet] is admirable. So to be able to go to work and meet these people and see the way they work and kind of delve into their process as well is really a learning experience for me. So I feel like when you go to work and it's just you and it's me - 'Look at me, haha' - it takes away from that. I don't know, I don't know. That means my dudes are not going to be there. So Chris is not going to be there. Sebastian is not going to be there."
"Having seen the movie, it's Marvel's best movie so far. And I'm being honest – if a Marvel movie sucks, a movie in the Marvel universe, I'll tell you it sucked. Winter Soldier and Iron Man are probably Marvel's two best movies, and I feel like it beats both of those movies. It's really, really good. It's because it's more of an acting movie than an action movie. I feel like the story is very concise and interesting, and you get to see Robert Downey Jr. and Chris Evans and Scarlett Johannson and Mark Ruffalo and everybody just do really, really good ACTING. And then there's action in it. I think it might be the first superhero movie that might be up for Best Picture."
"I was giving respect to my fellow actors. I was saying Marvel movies are so great because they have great actors: the likes of Mark Ruffalo, Scarlett Johansson, Robert Downey Jr. and people take that to mean that I'm saying this is what the movie's about and this is what's in the movie."
"He respects and admires Cap because Cap earned his rank as opposed to sitting in an office and just delegating orders."
"They never send you the whole script. Like when they asked me to do The Avengers, they sent me two scenes. There are two hours and seven minutes around those two scenes, but I never got to read it. When we were at the premiere I was like "Cool." I'm with my son and he gets to see his daddy in two scenes in The Avengers. By the end of the movie I turn around and they're like "Avengers Assemble!" I'm like, "Holy s**t! I'm an Avenger!!" So I turn around to everybody with me and they were like, "Dude! You're a f**kin' Avenger!" "This is f**kin' amazing." So, that's the story of my Marvel life. I had no idea. I flew in, Chris and Scarlett are up top and the rest of us are standing there. It was like "Cut. Anthony fly in. Action. Hm-hm-hm. Cut. Alright, thanks!" That was pretty much it. Six months later you go to a premiere and you s**t yourself. Everybody was like "Why are you so excited?" I'm like, "Arrhhhahhh... I just found out I'm an Avenger!" That's pretty much how it happened over and over. That's how Cap 2 happened, over and over and over again. So, I'm used to it. I'm interested to see what's going to happen with this movie."
"Different universes, different worlds, different companies, different designs. Kevin Feige is very specific about how he wants the Marvel Universe to be seen in the film world. It wouldn't work. It wouldn't work at all."
Trivia
Community content is available under
CC-BY-SA
unless otherwise noted.