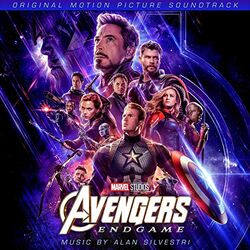 Avengers: Endgame is the soundtrack of the 2019 film of the same name and comprised of music composed by Alan Silvestri.
Track list
Totally Fine
Arrival
No Trust
Where Are They?
Becoming Whole Again
I Figured It Out
Perfectly Not Confusing
You Shouldn't Be Here
The How Works
Snap Out of It
So Many Stairs
One Shot
Watch Each Other's Six
I Can't Risk This
He Gave It Away
The Tool of a Thief
The Measure of a Hero
Destiny Fulfilled
In Plain Sight
How Do I Look?
Whatever It Takes
Not Good
Gotta Get Out
I Was Made for This
Tres Amigos
Tunnel Scape
Worth It
Portals
Get This Thing Started
The One
You Did Good
The Real Hero
Five Seconds
Go Ahead
Main on End
Community content is available under
CC-BY-SA
unless otherwise noted.