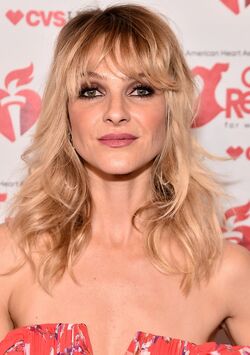 Beau Garrett portrayed Frankie Raye in Fantastic Four: Rise of the Silver Surfer.
Significant roles
Amy in Turistas (2006)
Krista in Live! (2007)
Gloria in Made of Honor (2008)
Lisa in Poolside (2009)
Siren Jem in TRON: Legacy (2010)
Quotes
"I play Frankie Raye. She's a military brat, who grew up in the military. She works under General Hager, who's play by Andre Braugher and we come in to cooperate with the Fantastic Four to stop these events that are happening in the world and try to save the world . She then becomes a superhero so I've been told. It doesn't happen in the film."
"For a while, I went to the website, www.superherohype.com that's very devoted to it and I've learned a lot about her and the characters and what people have written. I just looked at the website and found a lot about the character."
"The character in the comics says that somehow she and the Human Torch are actually related. There's something with her father if you are aware of the comics from what I've learned from few people who are huge fans of the comics. She has a fire power. She burst flames."
"I hope they bring me back. I want to throw flames."
Community content is available under
CC-BY-SA
unless otherwise noted.