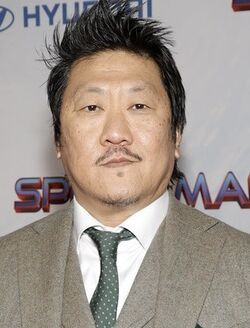 Benedict Wong portrayed Wong in Doctor Strange, Avengers: Infinity War and Avengers: Endgame.
Significant roles
Frankie Li in Supply & Demand (1997)
DS David Chiu in Metropolitan Police (1997-2002)
Frankie Li in Supplie & Demand (1998)
Terry Cheung in tlc (2002)
Errol in 15 Storeys High (2002-2004)
Pete Cheng in State of Play (2003)
Trey in Sunshine (2007)
Kung Sang in Grow Your Own (2007)
William Kwan in Largo Winch (2008)
Thompson in Moon (2009)
Li in Spirit Warriors (2010)
Prime in The IT Crowd (2010)
Shen Yue in Covert Affairs (2011)
Karma in The Lady (2011)
Vincent in Top Boy (2011-2013)
Ravel in Prometheus (2012)
Mr. Choy in Redemption (2013)
Kublai Khan in Marco Polo (2014-2016)
Master Lin in Deadly Class (2018-2019)
The General in The Dark Crystal: Age of Resistance (2019)
Baron in Gemini Man (2019)
Bull in Lady and the Tramp (2019)
Quotes
"I'm certainly not going to be the tea-making manservant. We're heading in a different direction. He's more of a drill sergeant."
"There isn't any martial arts for Wong in Doctor Strange actually, he's more of a drill sergeant to Kamar-Taj. He's one of the masters of sorcery."
"Well, I kind of think things like 'manservant' and 'sidekick,' we're just gonna leave back in the past now. I'm very much into looking forward into our modern take and back in on the beginnings of this origin story, now. So, you know, let's turn a whole new page."
"Wong is in our world now, a master at Kamar-Taj training the fellow disciples and sorcerers, and a protector of the Sanctum relics and these ancient ritual books, and it's where we'll see Wong and Doctor Strange come together and become, really, allies to fight against these extra-dimensional forces...I mean, obviously, Strange comes into this world very much as a rookie, and we discover and find out how Strange develops these amazing techniques that he has in the mystical arts, and that is something that Wong picks up on."
"I'm thrilled I'm going to be in Infinity War. I'm looking forward to, I'll tell you that one first."
Community content is available under
CC-BY-SA
unless otherwise noted.