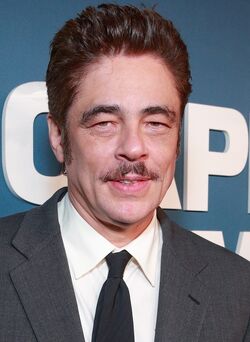 Benicio del Toro portrayed Taneleer Tivan/The Collector in Thor: The Dark World, Guardians of the Galaxy and Avengers: Infinity War.
Significant roles
Dario in Licence to Kill (1989)
Alvaro Harana in Christopher Columbus: The Discovery (1992)
Dino Palladino in Money for Nothing (1993)
El amigo de Miami in Huevos de Oro (1993)
Manny Rodrigo in Fearless (1993)
Dr. Gonzo in Fear and Loathing in Las Vegas (1998)
Toby Jay Wadenah in The Pledge (2001)
Lawrence Talbot in The Wolfman (2010)
Lado in Savages (2012)
Jimmy P. in Jimmy Picard (2013)
Sauncho Smilax in Inherent Vice (2014)
Alejandro Gillick in Sicario (2015)
DJ in Star Wars Episode VIII: The Last Jedi (2017)
Alejandro Gillick in Sicario: Day of the Soldado (2018)
Quotes
"When someone calls you and says 'I need you in my movie', it's exciting. I like comic-book movies, and it's totally new for me. My character is The Collector, I've never heard of him so I just started some researches about him... A blockbuster can be really tiring to do, but it's fun to shoot one occasionally. You have many people around you who bombard you with many information… You can not go wrong. For example they told you 'Now you have to go in this restaurant and kill this person.' And then you ask: 'Who? The blue haired girl, or the guy with the wig? 'And you don't get the answer. And suddenly, you heard 'Action!'. And you have to go along: so you shoot everywhere and they'll find a solution for the final cut."
"I would like to keep working on that character, though. It was kind of like a cameo. I'd like to keep developing the character based on what's written in the comic books. I'd like to see some different sides. I had a blast working with Gunn and the cast - but it's not up to me."
"In researching, I said, 'please help me out', because there are big, thick volumes about the characters. So they did point me in the right direction. I learned a lot about the character. One of the most interesting things that I learned about him is the reasons that he's collecting. He sees himself as putting together Noah's Ark. He sees himself as having that responsibility. He's collecting things, because eventually there's going to be an apocalypse in the universe and he wants to get things to safety. That's a really interesting aspect of the character."
"[on if he'll appear in GotG 2] I don't think so… they would have told me, I hope. I do hope to play that character again at some point."
Community content is available under
CC-BY-SA
unless otherwise noted.