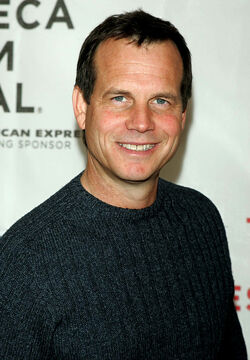 The late Bill Paxton portrayed John Garrett in the TV series Agents of S.H.I.E.L.D..
Significant roles
Chet Donnelly in Weird Science (1985)
Pvt. Hudson in Aliens (1986)
Severen in Near Dark (1987)
Jerry Lambert in Predator 2 (1990)
Dale "Hurricane" Dixon in One False Move (1992)
Vince in Trespass (1992)
Ray O'Malley in Boxing Helena (1993)
Morgan Earp in Tombstone (1993)
Simon in True Lies (1994)
Frank James in Frank & Jesse (1995)
Fred Haise in Apollo 13 (1995)
Bill Harding in Twister (1996)
Jerry Bruckner in The Evening Star (1996)
Bokky in Traveller (1997)
Brock Lovett in Titanic (1997)
John Paul Vann in A Bright Shining Line (1998)
Hank in A Simple Plan (1998)
Prof. Gregory "Gregg" O'Hara in Mighty Joe Young (1998)
Lt. Cmdr. Mike Dahlgren in U-571 (2000)
Elliot Vaughn in Vertical Limit (2000)
Dad Meiks in Frailty (2001)
Dinky Winks in Spy Kids 2: Island of Lost Dreams (2002)
Dinky Winks in Spy Kids 3-D: Game Over (2003)
Coconut Pete in Club Dread (2004)
Jeff Tracy in Thunderbirds (2004)
Bill Henrickson in Big Love (2006-2011)
Robbie in The Good Life (2007)
Bill Henrickson in Big Love: In the Beginning (2007)
Randall McCoy in Hatfields & McCoys (2012)
Earl in 2 Guns (2013)
Frank Roarke in Training Day (2017)
Quotes
"They started writing for me and I knew it was penciled in where it was possibly going and I'm having so much fun now that they've unmasked Garrett and his true nature has come out. I've got three more episodes and they're pretty cool. There's a great episode that really deals with Ward, how he ended up almost like my surrogate son and also a little bit about where I came from, why I tick the way I do. Then of course we're all coming in for the season finale."
"I would like to think so [to appear in future Marvel movies]. I would love to think so. I really enjoyed working with Jed Whedon and his wife Maurissa who's the creators, and Jeff Bell the show runner, and Jeph Loeb. It's been a great group of guys."