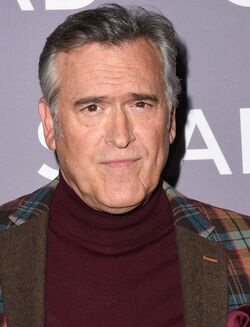 Bruce Campbell portrayed the Ring Announcer in Spider-Man, the Snooty Usher in Spider-Man 2, and the Maître d' in Spider-Man 3.
Significant roles
Ashley "Ash" J. Williams in Evil Dead (1981)
Ashley "Ash" J. Williams in Evil Dead 2 (1987)
Jack Forrest in Maniac Cop (1988)
Officer Howard in Intruder (1989)
Jack Forrest in Maniac Cop 2 (1990)
John Loftmore in Waxwork II: Lost in Time (1992)
Ashley "Ash" J. Williams in Army of Darkness (1992)
Smitty in The Hudsucker Proxy (1994)
Brisco County Jr. in The Adventures of Bisco County Jr. (1993-1994)
Bill Church Jr. in Lois & Clark: The New Adventures of Superman (1995)
Autolycus in Hercules: The Legendary Journeys (1995-1999)
Ed Billik in Ellen (1996-1997)
Autolycus in Xena: Warrior Princess (1996-1999)
Virgil in McHale's Navy (1997)
Barry in From Dusk Till Dawn 2: Texas Bloody Money (1999)
Jack Stiles/Daring Dragoon in Jack of All Trades (2000-2001)
Roland the Intrepid Explorer in The Majestic (2001)
Sebastian Haff/Elvis Presley in Bubba Ho-Tep (2002)
William Cole in Man with the Screaming Brain (2005)
Coach Boomer in Sky High (2005)
Fugax in Ant Bully (2006)
Phil Mygrave in The Replacements (2006-2009)
Bruce Campbell in My Name is Bruce (2007)
Mayor Shelbourne in Cloudy with a Chance of Meatballs (2009)
Sam Axe in Burn Notice (2007-2012)
Quotes
"They can't make it without me. I just had lunch with Sam Raimi the other day and we agreed that there was going to be no Spider-Man 4 without a pivotal role for this guy."
"That studio stuff, it's all secret. They can't even… They give you the script, they give you maybe the pages that you have. I can't even learn my own dialogue – that's how secret it is. Like this movie was so secret they wouldn't even give me the script. I'm like, "Well, how am I supposed to act?" They go, "That's your problem.""
Community content is available under
CC-BY-SA
unless otherwise noted.