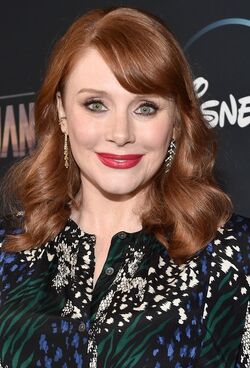 Bryce Dallas Howard portrayed Gwen Stacy in Spider-Man 3.
Significant roles
Ivy Walker in The Village (2004)
Grace Margaret Mulligan in Manderlay (2005)
Story in Lady in the Water (2006)
Rosalind in As You Like It (2006)
Kate Connor in Terminator Salvation (2009)
Victoria in The Twilight Saga: Eclipse (2010)
Claire Dearing in Jurassic World (2015)
Grace Meacham in Pete's Dragon (2016)
Quotes
"What was a little tricky to navigate was, in the comic book, what she's known as is Peter Parker's first love and, in this franchise, she's coming in while Peter Parker is still in a very intense, important relationship with Mary Jane. So, I wanted to make sure that, when I came in, I wasn't acting like some kind of man-stealing tart. I was a woman that really, potentially could have that kind of future relationship with Peter Parker. Who knows what will ultimately happen? But, that was the kind of tone that I wanted to create."
"I didn't want to come in and not be an accurate representation of the Gwen Stacy character that was created in the comic books where she wasn't the other woman so I just wanted to establish that she had a very strong friendship with Peter Parker where she really relied on him in their friendship and then there were some misinterpretations made by Mary Jane that led to some tension in Mary Jane and Peter Parker's relationship."
"What I like about Spider-Man's character is there's this seemingly ordinary character who has every kind of problem that a person could have; financial, romantic, familial problems and social problems and he gets these extraordinary powers and he uses them solely for contribution to others. I think it's amazing, watching the movie and seeing him be Spider-Man and going and saving people and everyone is writing these articles about him and all the headlines are about him. Then he comes back to his little, itsey-bitsey apartment. I think, in this day and age, where if someone has an ability, they'll so quickly turn it into a commodity that can make money, it's a very powerful message to send out to people; that, when you have something to give, give it and give it freely."
"I have many wonderful memories. I loved the dance scene. I loved doing the crane sequence which was so wild to do. I don't know. Most of my memories from the set are my interactions and friendships with Topher and with Kirsten and James and Tobey and Sam. Unfortunately, I didn't have any scenes with Thomas which I was really bummed about because I just respect him so much as an actor. I felt like I was back at college, just like with my friends hanging out, then we'd go do our work and then we'd hang out some more. We had a really good time together."