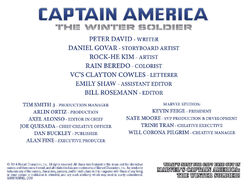 Captain America: The Winter Soldier Infinite Comic is a digital comic tie-in to the Marvel Cinematic Universe detailing an event that happened between The Avengers and Captain America: The Winter Soldier.
Plot
Set between the events of Marvel's The Avengers and Marvel's Captain America: The Winter Soldier, this new Infinite Comic takes you into the world of the Marvel Cinematic Universe with a new adventure setting the stage for one of the biggest films of the year!
In downtown Chicago, a dangerous weapon called The Zodiac has fallen into enemy hands. Now, it's up to Captain America, along with guest stars Black Widow and Brock Rumlow, to race against time to stop a mysterious terrorist group before it's too late. All leading up to an action packed confrontation atop Chicago's tallest skyscraper! But is there more here than meets the eye? What secrets is S.H.I.E.L.D. keeping? Are there enemies on both sides?
Characters
Community content is available under
CC-BY-SA
unless otherwise noted.