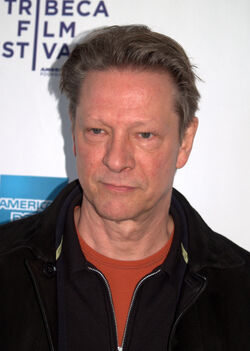 Chris Cooper portrayed Norman Osborn in The Amazing Spider-Man 2.
Significant roles
Sam in Lone Star (1996)
Col. Frank Fitta, USMC in American Beauty (1999)
John Laroche in Adaptation (2002)
Thomas Riversmith in My House in Umbria (2003)
Tom Smith in Seabiscuit (2003)
Alvin Dewey in Capote (2005)
Douglas (voice) in Where the Wild Things Are (2009)
Phil Woodward in The Company Men (2010)
Tex Richman in The Muppets (2011)
Quotes
"Well, this is an introduction to Norman Osborn and apparently this leads to better things in Spider-Man 3. I think it's fair to say he's on his last legs...I don't know if I can say anything more!"
"Spider-Man 2 was an introduction to Norman, and — you'll see — an extremely odd introduction, which apparently will lead to something more."
"They sent me some material, but they said also that this Spider-Man is its own Spider-Man. We're just kind of starting from the beginning."
"Um, well, when you see [laughs], when you see Spider-Man 2, you'll realize this is the introduction to Norman Osborn, and apparently it's going to lead to other things down the road. But an actor has to do these big tent pole productions something like once every five years. It just keeps the name alive, as some of these smaller films that may not make it around the world tend not to do."
"All I can is this is a very strange introduction for Norman Osborn. I just can't reveal why it's that way, but this is not the beginning of Norman. It is the introduction, but it's not the beginning, and I think that's as far as I can go."
"I didn't do any green screen."
"I dare say if this Spider-Man franchise had carried on, I was guaranteed a huge role in Spider-Man 3. That character was going to expand."
"Well, we shot the scene -- it's so weird -- but it didn't make it into Spider-Man 2. I'm sure it would probably have been one of the opening scenes in Spider-Man 3 if they had gone ahead. But he was coming back. It's very bizarre, what they came up with."
Community content is available under
CC-BY-SA
unless otherwise noted.