Cobra Kai Season 4 - The Loop
Play Sound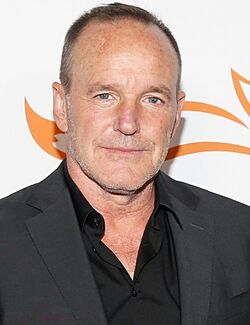 Clark Gregg portrayed Agent Phil Coulson in Iron Man, Iron Man 2, Thor, The Consultant, A Funny Thing Happened on the Way to Thor's Hammer, The Avengers, Captain Marvel and the TV series Agents of S.H.I.E.L.D. and directed the episodes "Fun & Games" and "Missing Pieces" and also played a LMD Phil Coulson, Pachakutiq/Sarge and a Chronicom LMD of Phil Coulson. He reprises the role in the animated Ultimate Spider-Man: Great Power/Great Responsibility.
He also voiced Phil Coulson in What If...? episode "What If... The World Lost Its Mightiest Heroes?" and Phil Coulson in "What If... Thor Were an Only Child?".
Significant roles
Douglas Panton in Fat Man and Little Boy (1988)
Marty in Lana in Love (1991)
Darryl Beekman, Jr. in I Love Trouble (1994)
Jake Shank in Ride Me (1994)
Dr. Walters in The Usual Suspects (1995)
Benjamin Taft in Six Ways to Sunday (1997)
The Stranger in Sports Night (2000)
Supernerd in A.I. Artificial Intelligence (2001)
Bill in Lovely & Amazing (2001)
FBI Special Agent Michael Casper in West Wing (2001-2004)
Capt. Tom Metsker in We Were Soldiers (2002)
Officer Hannagan in 11:14 (2003)
Nelson Primus in The Human Stain (2003)
Miller in Spartan (2004)
William Faulks in The Shield (2004)
Ben Johnson in When a Stranger Calls (2006)
Richard Campbell in The New Adventures of Old Christine (2006-2010)
Nelson Hardwicke in In the Land of Women (2007)
Henry in The Air I Breathe (2007)
Lord High Charlie in Choke (2008)
Vance in (500) Days of Summer (2009)
Nat Jones in Mr. Popper's Penguins (2011)
Leonato in Much Ado About Nothing (2012)
Howard in Trust Me (2013)
Calvin Bondurant in Live By Night (2016)
Paul in Spinning Man (2018)
Quotes
"I thought I was a big comic fan until I went to Comic-Con, but then I saw what comic worship was actually like. I definitely had a couple of comics I was really into, I spent more time than I should have attempting to recreate those tales in my notebook. I was an Iron Man fan. I always liked Iron Man, I thought that flawed character who's working with technology more than any superpower was always a cool thing."
"I was really into Bruce Lee and the kung-fu craze when it hit the States in the '70s, so I really liked this guy Iron Fist, and I liked this trippy guy, Warlock. I liked Silver Surfer a lot, because I was skateboarding...I'm that guy. I'm the 1970s guy."
"It's my wallpaper! It's weird, on the one hand, it's a childhood dream come true, but on the other, I felt like someone from the Make-A-Wish Foundation. I kept expecting someone to tell me I only had a few more months to live."
"I have a more prominent role in Thor, a bigger job to take care of than I have in the Iron Man movies, in that Agent Coulson has been doing some legwork for Nick Fury in Iron Man and basically babysitting bad boy Tony Stark a bit in Iron Man 2, but when the hammer shows up in the desert of New Mexico, it's my operation. Whatever happens, it's my problem."
"I'm ready. I'm waiting for that call. Definitely Agent Coulson is really shrewd, he doesn't get into fights that he can't win. So he's waiting for the right moment, for a feeble enough opponent to come along. Certainly in Thor, there are some exciting moments involving Agent Coulson. I'm not going to say another word."
"I think it's safe to say that, having seen the Iron Man movies and read early drafts of Thor, that everything in this Marvel Universe is part of a grander scheme and it seems, at least, a first act of this giant epic that they're attempting really seems to be culminating in The Avengers, so you're going to see some of the elements of Thor paying off in the Avengers movie."
"I've been acting a long time. And every time you get excited, you hear, 'Guess who's playing Coulson in the next one!' It was this little part, but something worked. They needed a real person as the face of S.H.I.E.L.D., and every time they ask me to be in another film I'm like, 'Really? Fantastic! Okay!"
"I feel like I represent what connects the Iron Man and Thor worlds together, and also what connects those worlds to the audience. Coulson's a smart ass, but has clearly been trained in a serious way to have a spot in Nick Fury's organization. Yet, to me, it still feels like he's a guy who goes home."
"I was intimidated about taking my character into the world of 'Thor.' I wanted it to feel like the same guy the audience was getting to know…but instead of being exactly the same, I got to unveil more about Coulson and S.H.I.E.L.D. For me, that's the fun part about showing up for work. I get to find out where they're going to take this guy."
"Oh, yeah, [I thought] a small gig! And then they just kept adding scenes, and then they started adding movies, and now I'm in Albuquerque doing "Avengers" with this amazing cast. I don't know how this happens. It's not the kind of thing that normally happens to me, and yet it's been the most amazing ride. I'm just kind of kind of a goofy 14-year-old: like, "Really? Look what I get to do in this version!"
"No, no. [Laughs] I can't believe that they just keep putting me in them."
"Yeah, from the first one, I signed up for a multi-picture deal – and they keep using them."
Some of the sets that they build, just some of the featured set pieces of "The Avengers," you walk on there and kind of go, "Wow – This is going to do a LOT of my acting for me." Also, you walk out there and there's Chris Evans or Scarlett Johansson or Sam Jackson and you go, "This is a superhero movie? This is an Oscar movie, with this cast."
"I'm just kidding. "Skrull armada single-handed…" No, they're Kree! No, I'm just kidding. Yes, there's definitely new stuff. Much different, new stuff for Agent Coulson to do in this one. You know, it's kind of "all hands on deck" in terms of combating the threat that has shown up. And Joss… Joss is a master at taking what we know about each one of these characters, the superheroes and Agent Coulson, and building on what's already there."
"Yeah, I've read this! I've read this. I'm flattered that people care, but I wish they would stop saying this because they're going to put it in somebody's mind! I'm talking to them about doing "Iron Man 3" right now, and somebody's going "Maybe Agent Coulson should die," and I'm like, "Hey, hey, hey! This is the best job I've ever had! Stop talking about killing Agent Coulson off.""
"It's a little hard to believe, coming from a supporting role that they kept beefing up and adding to new movies, that I would actually walk into that room I walked into and see that collection of people in their various versions or incredibly worked up neoprene. When I walked in the first thing I did was go, "Oh my god! Look at all these actors in costumes!" But then you look at them a little closer and you go, "I just walked into a room with Captain America, Tony Stark...oh my god!" And then you go, "That's Jeremy Renner and Robert Downey Jr.!" Then all of a sudden Sam comes in and gives me a look and I'm like, "There's som big problems we've got to take care of so let's go do it!"
"The thing about The Avengers that I think is clear from the trailers is that they've spent a lifetime preparing for a moment like this. Whatever is coming down the pike, everyone is taking care of business to the best of their abilities. It may cause some tensions but they're going to hit it head on."
"I had to pinch myself because I'm not that jaded. I got to show up and put on the Coulson suit and I've got enough lines that I have a trailer, plus I get to do this amazing script by Joss Whedon. I don't know how I got to be a part of it, I just feel very lucky about it. When you look at the team it's made out of rock stars, divas, and giant muscles with superpowers so somebody has the job backstage at Lollapalooza to make them all play in the same concert and super band - and that's what Agent Coulson does."
"You, know….it didn't suck to have Coulson [of] S.H.I.E.L.D. front and center and not behind a bunch of superheroes . It was this really cool guy named Abdelkareem Abonamous [of Leythum], terrific director from a number of countries. He's a terrific, talented guy, really enjoyed working with him. Marvel had this idea that they wanted to fill in some of the gaps and for my money, it felt like a warm-up for The Coulson film. That's how I was pitching it [laughs]. They were like, 'You mean the S.H.I.E.L.D. movie' and I said 'I think I mean the Coulson movie.' [laughs]"
"It's funny, because they all seem so completely different in a lot of ways and yet to me, they were really similar in some core ways. The three of them are really, really funny and I love working with funny directors because it makes your day fun even when it's kind of long and arduous. They're each really brilliant guys. John and Kenneth are also actors, who [happen to] direct so they really understand an actor's process but then I was working on this top-secret Shakespeare project with Joss a couple of weeks after [The Avengers] and he read one of the parts for a minute and he's a really good actor. So every time I think I understand what's different about them, they seem really similar. They all really love comics and they all really love the stories and really take them seriously and get what needs to be humorous. Luckily for me, they all seemed to get what was cool about Coulson and his role and his snide sense of humor. It was really a treat to see how different each experience was going to be and I had a truly amazing experience on The Avengers with Joss."
"Yeah, I've definitely been talking to [Marvel] about working with them and hopefully directing something. I'd love to direct one of the 'Shorts'. I'm about to make another Indie feature of my own, actually it's starting right after the New Year but after that, yeah."
"No. Definitely, I was rusty on my comics but I've been a comic book fan so I knew some stuff about Tony Stark and Iron Man and a little bit about S.H.I.E.L.D. but not much. There's this amazing guy at Marvel named Jeremy Latcham whose been on most of the movies with me, and about the third day of [filming] Iron Man, when I started saying 'Strategic Homeland Intervention, Enforcement and Logistics Division' and I realized what that was, I went to Jeremy and said you know, 'I know a little bit about S.H.I.E.L.D. but perhaps I need to know more' and he beautifully, showed up the next day with just a comic book fans wet-dream of this 500-page encyclopedia of comic excerpts and background information on the Marvel Universe and S.H.I.E.l.D. and it's a treasured possession in a vault in my house right now."
"When you look at the team, it's made up of rock stars and divas with giant muscles and super-powered egos, so somebody has the job backstage to make them all play in the same super band—and that's what Agent Coulson does."
"There was a lot of theories about who Coulson was, like 'Is he really a Skrull?' There were a whole bunch of theories and I started to take those on a little bit. I didn't want to reveal anything but [I'd say things like], 'He might be a Romulan,' things from Star Trek just to mess with 'em."
"I was signed up for a bunch of pictures, I think it was six."
"No. But I'm going to be speaking with her [Patty Jenkins] very soon. And I'm looking forward to it because I'm a big fan of hers and I thought the movie she made [Monster] was great."
"Vision is cool, but I would hate to be any A.I. life form. If I got to come back, I would need to still be somebody who could wisecrack, because my favorite part of the job was that if anybody was going to tease anybody about their diva superhero outfit or whatever, it would be me."
"I don't know if we'll see Agent Coulson again, but I certainly do his voice in their animated series, The Ultimate Spider-Man, and you never know, there may be a flashback or something sometime. I really hit it off with those guys [at Marvel], and I've talked to them lately about some ways I can continue to work with them, perhaps as a writer or director."
"You know The Vision is synthetic with a soul, sort of, and he's an amazing character who I loved when I used to read those comics. I love the idea of Coulson as that guy, but I don't know if that's in the cards."
"I signed a multi-year deal for Agent Coulson when it was just three lines. It just turned into something more. It's always a little nerve-wracking because it's not something you're used to. We have designed obsolescence, we actors. At the same time, the relationship between Agent Coulson and the fans is moving to me, and I don't think it comes along very often, and I've been doing this a while. And some of this stuff is happening to me when I'm not in my 20s, not by a long shot. Once I knew that Joss and his brother Jed and Maurissa, his wife, were involved, and I saw the script, and thought, "This is what it's going to be like," then there's nothing else I'd rather be doing."
"After people see the show, they'll have some clue as to why I'm still there, still breathing. But I don't think they'll know everything..."
"I've been so happy and living this geek fantasy as they kept adding Agent Coulson to everything including The Avengers and then gave him this magnificent, almost Shakespearean death scene, and I found out on that day how much I loved this guy and had come to identify with him partly because of the way fans responded to him, and also because he had such a great niche in those movies. He got to be funny, he got to be, in this case, heroic. And then I got to say good-bye to him, and it was a very emotional day. And yet I feel what Joss did with that was a fantastic conclusion of the character. And even though my friends at Marvel said, "You know, we spent a lot of time talking about how Coulson lives, and we know that there's a movement out there, and there are t-shirts and people paint on bridges 'Coulson Lives', we're going to bring you back", and it's one of the many things people tell you that never ever happens. And then I get this call from Joss saying, "Well…there's a script. And here's what we're thinking, and it's after The Avengers, and here's the concept." By the time Joss finished telling me, I was in."
"Joss is right over there. That's a really good question. I want to go ask him. I don't know. If my schedule doesn't conflict, and they need him in one of the movies, will they come calling? My feeling is that there's no breaks in continuity with this and the Marvel movie universe. It makes sense in that universe, and I certainly feel like his chances of appearing in those movies are far better than when he was far out dead."
"I recently completed a pilot for ABC/Marvel called SHIELD which would represent the resurrection of Agent Phil Coulson of the Avengers series..."
"The Marvel guys were sweet -- they're nerds, so they are also part of Coulson's army -- and they said, "C'mon, maybe he's not that dead." You know, I got this call -- much sooner than I imagined it would come, if it ever came -- and they said, "We want you to come to New York Comic Con. We have some news." And when I saw this video where Joss and Kevin Feige came out, and Kevin was wearing a "Coulson Lives" t-shirt, It was really moving to me, because I felt the fans had brought Coulson back to life. Two days ago, I was shooting my last couple pick-up scenes in a show called Marvel's Agents of S.H.I.E.L.D.."
"I thought they were pranking me a little bit because there was so much blood on the set of The Avengers, I kept waiting to see, are we going to shoot a version where Loki misses? And they didn't, so I was really surprised to get that call and I wanted to make sure it didn't do anything to undermine what we achieved there and when Joss explained the mystery and how they planned to deal with it, with Agent Coulson being around, I was very sold."
"He's [Coulson] back. He's thinks he knows how he's back. We'll have to see."
"I have a feeling if they killed me off again it would be for good so I'm very careful to read the end of the script every time I get one. It's like getting struck by lightning. I kind of hope it hits somebody else first before it comes back to me."
"I can't say this because these guys are like, giant muscular superheroes, but if I had a magical transformation, I wouldn't mind being Captain Marvel. Although, there's a new Captain Marvel in the comics who's a lady alien, and she's hot. I would be a lady alien Captain Marvel."
"What's the deal with Tahiti. Tahiti's a magical place. I keep saying that… it's where I went to recover after being impaled and as I say in the pilot, it was a spectacular experience, I had a beautiful physical therapist and I read Travis McGee novels all day. But every time someone mentions it lately I seem to go into post traumatic stress so I think there's a little more to Tahiti than meets the eye. There's a much darker, more interesting story there. Something much more magical has gone on to bring this guy back to life."
"I know more than the audience but less than the writers. There's plenty they haven't… I know a little bit, I have some hints, know from where Joss told me roughly where we're headed."
"We have another episode coming up that really connects to Thor: The Dark World and kind of may contain some additional story elements. I can't spoil anything, but it's great to be connective tissue. That what I was. Now, it's what the show is. And it's nice when they get to the part where there might be some superheroes and some fighting, and they don't say Coulson's gone now. They say, 'Coulson suit up.' "
"I'm not disappointed. Joss gave me a kind of vague answer [abut Coulson's resurrection], and it was as complex and dark as you might expect from him."
"People have been patient in really wanting to know the true nature of the secrets. ... We're going to get a big fat window at the real truth, and it's going to be very, very surprising. When I read the sequence, I just stopped and put the script down and went 'Wow. That was worth waiting for.' "
"The way our team has kind of turned the back half of this season into a reveal that uses the mystery of Coulson's death not just as a standalone reveal but as an integral part of the bigger reveal, which is that this organization Centipede, run by this person the Clairvoyant, has been part of almost everything we've done and connects on a deep level to everything going forward. Centipede is determined to destroy SHIELD and, to Coulson's chagrin, has some of the same questions about SHIELD that Coulson himself is starting to evolve."
"The fact that they've already managed to kind of make the reveal of what Coulson's doing alive [be] the one thing that the Clairvoyant wants is just part of the way the back half of this season is going to be -- more exciting and more satisfying than the first half of this season, where so much work had to be done to kind of set up this world of these people and this team, and all these separate pieces get kind of woven together."
"While this tragic secret doesn't really have a satisfying answer that he initially seems to feel would benefit Skye, on some level he decides not to tell her. I think it remains to be seen how comfortable he is with that, and one of the things that's being executed quite artfully by the writers is the more that Coulson is denied the truth by Nick Fury and the people he works for, the less comfortable he is keeping secrets from his own team."
"In the present day and age, I don't think you can have an organization like SHIELD exercising that kind of power without raising questions about the possibility of having power like that without abusing it. What I think they've done so artfully that's just starting to be revealed is that Coulson after this traumatic near-death experience is not the same kind of company man that he was in the films. Yet he's trying to stick to that idea, but everyone who knows him from before kind of shows up with a plan and goes 'something's different,' and then he himself starts to realize something's different. ... [It] seems to be manifesting in a kind of lack of ruthlessness or a discomfort with some of the kind of pragmatic decisions that people like Victoria Hand within SHIELD are all too comfortable making."
"What I love most about the movies from Iron Man to The Avengers is the sense of humor, and to have someone in the world who's going to really slam the not taking himself too seriously component out of the park is perfect. I hope Rudd does a lot of films with them and he comes onto our show, I love that idea. I love that idea. I think he's amazing and, for me, what's great about Marvel is the kind of outside the box casting that they've done, starting with Robert who now seems so perfect, but I think was a little bit of a tough sell at the first moment,People who you don't associate initially with superhero movies is what works so well for Ant-Man, who's so smart and has an intellect."
"Those aren't geeks. Those are losers. You start to have people like Deathlok showing up; You start to understand that a bunch of these different episodes were connected. A lot of the geeks that I respect most...are very excited about where we're going. So I'm going to choose to work for them. I guess I don't mean to say that people who have been frustrated by that discovery period are necessarily losers. I just think they should be, perhaps, a little more patient."
"I knew we were going to shoot a pilot right before we started shooting Trust Me, during preproduction I got a call from Joss saying, 'We think you might not be dead,' and I gotta say it felt like a nice vote of confidence going into what was about to be the scariest thing I'd ever done."
"It was so tense and fun, but we do more in eight days in terms of visual FX, action, fight choreography, especially when we finally get to the place where the show interacts with The Winter Soldier and HYDRA is revealed – that's everything cranked up to another level."
"I knew there was going to be some bad stuff that was going to happen in Captain America: The Winter Soldier within S.H.I.E.L.D.. I didn't know that we would potentially become agents of NOTHING. That said, the level to which that's a gamechanger becomes very clear in the season finale and there are a couple things that happen in the season finale that blew my mind and suggests the direction of what might be happening in Season 2. I didn't understand that the level of treachery would reach into my own team and I think it's really cool that it does."
"There's something really fun about getting the scripts together in the room and having special red pages handed to us where we find out there's HYDRA within. Our life is like S.H.I.E.L.D. to see the actual faces of the other actors reacting to this."
"The bastards don't tell me sh*t [about T.A.H.I.T.I. project being related to other Marvel movies]. What I sense as a fan, and this is my opinion is that there's definitely more to the secret of T.A.H.I.T.I. and we had a huge reveal at the end of the last episode when we find out who is in charge of the project and we know that both Coulson and Skye have been saved using this serum from a blue alien. I would be surprised if we don't find out pretty soon what species that is, super-early in Season 2 I'm suspecting, and I have a feeling that the ramifications of what it means to have that inside of you are much more far-reaching than we know."
"I'm in the middle of it and I feel a great responsibility to satisfy the fans. he fans are who brought Coulson back to life. I think 'Coulson Lives' is why there's a show. I want so much for them to like what we're doing. I want it to be great and I feel really protective of my young co-stars and the 200 people who work on that show, supporting their families. When people were frustrated with not having enough superheroes or wanting the pace to move faster, it was hard for me and when people started to click with the show more and the numbers started to build and people seemed to start to get what we were going after, it has really been rewarding to me to see the build as the season went along. It's actually really interesting because due to social media, you really find out a lot more about what people are thinking then you ever used to and in some ways, that can be really hard, in some ways that's really satisfying, but I guess the one thing as an artist that's kind of useful is that you realize that the same moment that is somebody's favorite thing ever, somebody else detests and you kind of go 'Wow! The span of reactions. Everybody is bringing something different to the party.' I watch it with my daughter and if we like it, I'm really happiest now. That's my barometer."
"For the most part, it's one after another but there's carry-over where a lot of times it's so big that they can't get it in eight days so there'll be two different units shooting on the same set or else one on location, some doing the last pick-up day of the episode before, some on the new episode and sometimes there'll be a third unit doing a VFX or action shot from the one ahead or one behind."
"I don't think what we're doing now on the show would be achievable if Marvel didn't have a fantastic system in place and a way to do VFX fast. That's the only thing about the Avengers that's similar is that if you took the Avengers and it was a giant car and you put it into one of those car compactors, it compresses what would be seven weeks of shooting into seven days."
"I'd be really disappointed if I don't get to show up in New York for Daredevil or Iron Fist, he was a huge favorite of mind in comic books as a kid. I've had more than my share so I shouldn't be greedy but it would be a huge geekout moment for me if I got to meet Daniel Rand."
"I think perhaps in a deeper way. I think he's experienced a kind of vulnerability himself that makes people more protective of those who have vulnerability. As a guy who sacrificed the idea of a family to do this job, to protect other people, I think the relationship that he has with Skye and sometimes Simmons and Fitz is as much a family kind of relationship as he has or perhaps will ever have."
"I don't think it's fully played out, but what it turned out to be and all the different layers, I was really excited about that. This mysterious blue gentleman who seems to have brought me back to life, I love the whole idea that the biggest mystery for Coulson in Season One is to find out who's been lying to him and why about how he was really brought back to life, and that the version he was told is completely untrue. The crisis of faith he has with S.H.I.E.L.D. and Director Fury who only in the very last episode of this season do we find out why he's been deceived in a way that restores a lot of his faith in what he's been doing."
"It's going to be lo-fi. You're going back to basics. You've got to rebuild S.H.I.E.L.D. from the ground up in a much more dangerous world where your group is outlawed. So it feels like the early, Sean Connery James Bond with the brass knuckles and not afraid to knock somebody off."
"I thought there were so many things stacked against us last year and one of them was where the ABC television schedule would put us on for three episodes and then take us down for four weeks. Nobody could get a momentum going and when the show started to be on consistently and having story that carried over in an episodic way, that's when things started to click. So the great thing about the announcement was, A., we're moving to nine, where it can be a little darker, like I think Marvel needs to be. Then they're going to show, I believe it's ten [Agents of S.H.I.E.L.D. episodes], eight of [Agent Carter], then twelve [more Agents of S.H.I.E.L.D.]…For the most part, this is straight runs of our show, which is when I think it really works."
"I'm excited by it. I think the Inhumans is a big, cool part of the Marvel universe, a great story. And we'll set up something. We'll get to explore it. I'm glad they're entrusting us with it, and I think that they'll take what they're going to do with it, and it will connect. And yet, we'll have the freedom to kind of make our show be our show. I think our show's working better this year because it is what it is. What happens on our show has to work for our show, and if at some point in the future, because they always think of cool stuff, it becomes something that crosses over with the movie, fantastic."
"Hard to say. I don't know yet. We haven't shot enough that I really have a good answer for that. What I like about it is, it's not your typical origin story. All along S.H.I.E.L.D. has kind of been about protecting people from what they don't know about, which often means people who are on the index -- people who have powers because they've been kind of mutated or given powers by technology or Hydra or various alien artifacts. Inhumans represents a different chapter."
"It's funny: the membrane between me and the character is so thin, I really want to explain to the Avengers, that I didn't just lie to them. So I would really like it for that reason, yes. But I'm having an awfully good time where I am."
"Oh, yeah, he has a comic! The variant covers are all over my study."
"The thing about Inhumans - and I know who the Inhumans are with Attilan - I don't know if that's how they're going to do them. I was very excited when I saw that movie get announced... There are people who evolve differently, and some people think that's okay and a blessing for our species. And there are those who think they need to be put down, which feels very topical to me. It's not a topic that was necessarily available to us - and now it seems to be."
"How do you point that out to people? [Laughs] They keep going "How does Coulson feel about Quake?" And I was like, "He doesn't know any of that!" He doesn't even know that she's been transformed. They haven't even connected these earthquakes to her yet, when we left them. So I think people can expect that the first couple episodes back, at least, are kind of about that mystery and what happened in there. How responsible is Coulson for taking her there and how responsible does she feel for Tripp's death and how responsible does Coulson feel and what are the effects on the team?"
"It's funny, because I had been looking at some stuff online about these amazing insects that can do something to another insect and makes that insect basically become a robot for them and builds them a nest and then kills itself to be food. I feel like it's hard to know whether Coulson has free will. Did he bring her exactly where he was supposed to? He was trying to destroy this place so that HYDRA could use it to transform people and make super warriors. But one could argue that he did exactly what he was programmed to do... Who knows. That's just me thinking out loud!"
"I am. It's just a part of the world that I really love. I always clicked the most with the stuff that feels the most… all my favorite sci-fi, all my favorite comics, they were always about stuff that felt like a way you could look at stuff that was too hard to look at in real life. There's a way that stuff like the Inhumans… Whether it's in X-Men or whether it's inhumans, they always represented people who evolved in a different way where some of them were outcasts or treated like something was wrong with them and yet, perhaps, in many ways represented a vital new part of what we're supposed to be. You can't read the news or watch society change without seeing fertile ways that that represents who we are. All the ways that you watch the headlines, and people are part of super secret organizations slaughtering people on the street... It makes the kind of fight to protect us from them something that's not just a fantasy comic world but connects to real life. Inhumans are a really important part of that for me. I'm really excited to see how they use that part of it on our show. It's one of the things that's fun about being on this show. When you understand what it is, you see Winter Solider and it's "Agents of Nothing." Right when you think you know what that is, there's the attack at the end of the season and he can't stop carving. It keeps adding new elements to it. That said, we're at nine o'clock, with a darker tone - less ICERS, more bullets. I think it's finding its way to be more and more; its own central self that can withstand having things brought into it."
" It's rough. At the same time, the core members of his team have become family. Skye's his kid. These people don't have real families. I love that people come up to me and ask about Fitz and Simmons. Everyone is starting to care so much about these characters and Coulson's one of them. At the same time, he's been given a job where he has to take off and leave them behind. That's a hell of a cool thing to play. I'm excited to see where that goes."
"It's hard to say. What i like about it is they figure out what's the meat of something now and they get down to it. It's kind of a little bit like this year the mystery of what's going on with Coulson's resurrection. I feel like they kind of took care of that and then moved on to Skye. I love the dynamic between Coulson and Cal. He seems so psycho that it's hard for me not to believe that even the inhumans find him a loose canon. There's a score to settle. He beat me up really bad. I want to see that come to a head really soon."
"It's funny you say that. In the scene in Thor when he comes across the Destroyer, and he's got a megaphone and he's just like, "Is this one of Stark's? What is this?" He seemed blasé then. He thought he was un-shockable then. But now he realizes there's still plenty of stuff out there that can totally blow his mind."
"Absolutely. I can't wait to see Ultron. I loved going to see Winter Soldier. Especially to go see the next chapter of a movie that I was in the first time, I love the people involved. I can't wait to see those actors go to the next place. I love Lizzie Olsen. I've done a movie with her. We have some New York connections. To see some of those actors added to that mix… There was something really bonding about making the first Avengers, doing all the press for it, I can't wait to go see that and see where it goes next. And I like that I'm still connected to it in a way. In recent months, Robert and Jeremy have been really cool about being vocal about wanting to see Coulson again whether it's on my show or one of their little shows and I hope that comes true."
"It's a really good question. I think it's a really cool writing choice, when it was revealed to the audience and was done in a way where we don't really quite know what's going on. She's in quarantine, alien biotech is in play, and we don't quite know what happened -- and yet, something clearly happened, and that's really the tension of the first couple episodes back, is what happened to Skye. This is one of the things that I've liked most about this season, in that that relationship got so tight by the end of last season, and only more so this season, and yet she's risen to a place where she's one of the most effective agents he has. And so, he's put in this position where she's a daughter to him. She's the closest thing to a daughter, and what bonds them is their dedication to this cause where, as head of S.H.I.E.L.D., he doesn't get to be quite as touchy-feely as he was Season 1. He has to make choices that are simply for the greater good that S.H.I.E.L.D. provides, which is protecting the world from the strange, the weird -- the line that Joss wrote in the pilot -- and it means putting her in dangerous situations. And I think it makes him feel very responsible for whatever's going on with her."
"I forgot how hard it is to answer this stuff. [Laughs] You'd think at this point I'd be better at this, without saying stuff that will put Coulson in danger again. [Sighs] I can only talk about the first couple of episodes: the Inhumans are something that Clark knows about, because I like comics -- it's certainly not something that Coulson knows about, and they aren't kind of giving out infomercials about who they are, or what Skye's connection to them is. Certainly in the first half of the season, the writing made it clear that we brought Coulson back to life using the blood of this -- we can say -- Kree warrior, and made he and Skye have this connection, that they both had that in them. And he's driven by things out of his consciousness, that's clear. Coulson doesn't know anything about Inhumans. No one in our world does, yet. This awareness of this blue warrior is a kind of first awareness, and then the fact that it led to a temple where the Terrigenesis happens. There's nothing I can say about this, man. We don't know that. We're trying to fight -- all I can answer is that question which is something happened to Skye. Coulson desperately went to this alien city, underground, that his writings had led him to, and it certainly seemed like she was a partner in getting them there. And something happened that has put her in quarantine, which makes her at the same time in jeopardy -- which is the most terrifying thing to Coulson that can happen because of the emotional bond I described. And, also, potentially a threat and connected to something bigger that we don't understand yet."
"Pretty much the dilemma of Coulson has been the dilemma of Coulson in the first half of the season, which is, "Who am I in this job?" He's a huge fan of Nick Fury's in many, many ways, but was close enough to him to not see him as some deity. And what's clear is that he's smart enough to know that you can't do the job by impersonating anybody. The best you can do is bring your best version of yourself. In the episode in Puerto Rico, he kind of says it: "I don't have an acceptable body count. I don't think that's the way you can do this job." And I think that is a concept that is going to be challenged early and often in the back half of the season. The choices you have to make, often, by their nature, require some form of sacrifice. "Heavy is the Head" that wears the crown, was the second or third episode, and I think that could have been a title for what Coulson's got to deal with the whole season. One of the things I love, that became clear early on, is that he went from not being comfortable keeping any secrets from his small team, after realizing that so many secrets had been kept from him in Season 1. So suddenly, it ended with him being handed this magical cube by Nick, and suddenly being the head of S.H.I.E.L.D., very quickly. By the time we came back, in Season 2, he's got more than one team working, and they don't even know about each other. And they collide in the field with kind of positive and kind of disastrous results in that it cost me a chance to hang out with Lucy Lawless more. I think he's determined to keep a team together that will not replicate the rotten version of S.H.I.E.L.D. that we saw in Winter Soldier and the Garrett plot of our back-half of the season."
"To me, that's the real question that we'll be dealing with this season. The Inhumans are different. It's different than Iron Man. It's different than Bruce Banner. It's different than Steve Rogers. Many of those are created by science, either tech, in Tony Stark's case, or experiments gone awry is the classic way, like Spider-Man. The Inhumans are different. Inhumans represent -- and we get into some of that backstory, maybe -- people walking around with a potential that they're not aware of. And I love that part of last season, the kind of discovering that Skye's an 084, and the story of the village that gave their lives to protect her and then finding out how much that was true, and this crazy father walking around. I think the idea that there are people who contain within them the potential to blossom into something else is such a fantastic idea, and it's very different from the other superheroes. The Inhumans in the comics, the graphic novels, are a whole kind of separate, isolated, alien race, where they nurture people when this change happens, and it's a ritual. That's the comic book world, but even in our world, it's hard to imagine that Skye is having that same experience. She's on her own, and so she and Coulson are there to figure out what this means, and the exciting and very scary part of it is, it seems destined to really challenge how real their connection is. It's tricky with Cal. Coulson's love for Skye is deep enough that it's hard to wrap his head around killing her father, and at the same time, he's not so happy with how the last fight went, there's a score he wants to settle, and he wants to protect her from whatever stuff he's got going on. And, to a certain extent, he seems to be connected to whatever's happened to her -- although I shouldn't have said that, because I don't think we start to feel that for a couple of episodes. So maybe I should go before I -- I'm already getting bad looks!"
"If you've ever read any of the Civil War comics, you'll know that S.H.I.E.L.D. is very much part of a group that's trying to register the superheroes, and that really divides and forces some S.H.I.E.L.D. agents – especially those with connections to people who have powers that can feel personal – to really decide which side of that conflict they're on. Iron Man and Cap end up on, in the comics anyway, opposite sides of it."
"There's always changes in the way they do that in the cinematic universe. I think, with the S.H.I.E.L.D. 2.0, you're seeing some of the first ripples of those different points of view on what S.H.I.E.L.D. should be when it's rebuilt. I'm very, very curious to know which side Coulson will end up on in that struggle."
"We know that he has enlisted Skye – who is now Daisy, to help him put together something that might be called Super Warriors at some point, and that might involve some Inhumans. So you might ask 'where are we going to get some more Inhumans', we'll I think it's possible that the fish oil that we saw getting infected by the Terrigen Crystals, caused something like an outbreak, and I think that might be where we're starting."
"That's one of the things I love about our show. The writers are fearless about trashing the whole thing. It kind of reinvents itself every season. Now what's going on is the global outbreak of Terrigenesis, people turning into Inhumans. Coulson's team is very much about finding these poeple and taking care of them in one way and in the other make sure they're not that particular kind of Inhuman that's a threat. That seems to be making what we thought was the number one priority, building Secret Warriors, a bit on the back-burner for the moment."
" Civil War has always been about the registration of superheroes and people with powers. I suspect what we're doing will connect with [[[Captain America: Civil War|that]] in some way. What I like about what Marvel has done with our show is we explore a broader part of what's going on in that stuff. Sometimes it connects in a big way. For instance with Winter Soldier, you're seeing more hours of that dynamic, of suddenly realizing seeing people you've worked your whole life for are part of this evil organization trying to kill you, that personal betrayal we get to play out for hours more."
"The Inhumans movie I suspect will be its own cinematic version. That writer and director will have free reign to do what they want to do with the Inhumans. But hopefully there'll be some way that our Inhumans connect to that. It'd be too bad if that was wasted."
"What's kind of necessary for the show to work is that it is its own thing and it's not dependant upon those crossovers. They're just fun stuff that happens once in a while. They destroy the organization our show is named after and we have to deal with that! I'll be interested to see how it evolves, that crossover stuff."
"Black Widow has been around from day one of this and is portrayed with this kind of heavy-hearted ferocity by Scarlett Johansson - who I think is as good as any actor working today. It seems like it would be tragic, it would be a waste, if that character wasn't given the spotlight in the way that some of the other characters have been. If I know Marvel, they won't let that happen, because she's too valuable an asset."
"Y'know, I have a 13-year-old daughter and one of the things I'm proudest about with our show is that there are very strong, very intelligent women who are just as responsible for SHIELD not being exterminated as Phil Coulson - and that's not lost on my daughter and her friends.​"
"I think it was important to establish that that's not what the show is. It's really up to the people at Marvel. Literally all of the Avengers actors, at different times in different interviews - have been really generous about wanting to be part of it. I hope that seems like the right thing to do at some point."
"To have people around the globe posting pictures of #CoulsonLives carved in some sand in the Sudan, we were like... seriously?! That's so meaningful to me. And y'know, it gets to be the summer and it gets a little saturated and I'm on there much less during my hiatus. It's nice to have a little break. Sometimes I want to be away from it. Certainly sometimes I need to know a little bit less about what people think about how I look in a certain episode!"
"Killing characters seems like a big deal now. People kill people off a lot, on Game of Thrones, Walking Dead, and our show as well! People will be working and having a good day and all of a sudden you look and all the executive producers are by the monitor and everyone's like, 'Don't look at them. Don't look at them!... Oh my God, they're looking at me right now!' And you think, 'This is it.' Kinda recently. It's a good show! People like it. It's fun. On some shows, people get killed off and they're like, 'Hah! See you later, suckers!' But on our show, we get along, so people -- they cry a little."
"I haven't seen it yet. I'm going to go directly from here to the premiere. I may call you in tears in a few hours and find out I'm out of work."
"I was not given a clear answer. I don't know that it's been determined. I thought I was going to find out when I saw Civil War, but it's not at all clear. It all depends when the glorious Nick Fury returns from the cold and the shadows. I suspect, in the wake of the Sokovia Accords and the end of Civil War, the people involved in choosing who the director of S.H.I.E.L.D. will be are other than in-house S.H.I.E.L.D. people. If I know my government bureaucracies, I have a feeling it will be someone somewhat less qualified than Coulson to run S.H.I.E.L.D.. I'd love it if it was her. That would be magnificent. She has earned that right and she is a commander that Coulson would absolutely follow with absolute loyalty."
Trivia