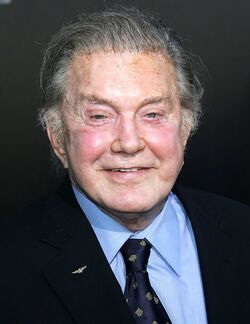 The late Cliff Robertson portrayed Ben Parker in Spider-Man, Spider-Man 2, and Spider-Man 3.
Significant roles
Rod Brown in Rod Brown of the Rocket Rangers (1953-1954)
Alan Benson in Picnic (1955)
Burt Vail/The Big Kahuna in Gidget (1959)
Lt. John F. Kennedy in PT 109 (1963)
Wing Cmndr. Roy Grant in 633 Squadron (1964)
Shame in Batman (1966-1968)
Charly Gordon in Charly (1968)
Cole Younger in The Great Northfield Minnesota Raid (1972)
Ace Eli Walford in Ace Eli and Rodger of the Skies (1973)
Philip Nolan in The Man Without a Country (1973)
Johnny Nolan in A Tree Grows in Brooklyn (1974)
J. Higgins in Three Days of the Condor (1975)
Col. Edwin A. "Buzz" Aldrin Jr. in Return to Earth (1976)
Hugh Hefner in Star 80 (1983)
Dr. Michael Ranson in Falcon Crest (1983-1984)
Colonel James in Renaissance Man (1994)
President in Escape from L.A. (1996)
Mr. Shroud in 13th Child (2002)
Hal Malloy in The Lyon's Den (2003)
Quotes
"I just finished the sequel to Spider-Man. They brought Uncle Ben back, which I can't talk about. Sam Raimi is also a fine director and friend. I also met his family. In a town that is not known for its familial tendencies, he has a lovely relationship with them. Both he and DePalma are among my favorite directors."
"I just got a call that they were going to bring my character back to life again."