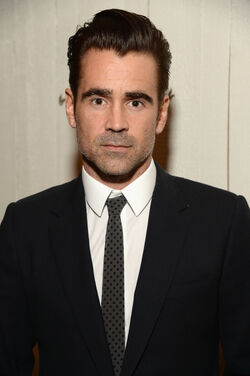 Colin Farrell portrayed Bullseye in Daredevil.
Significant roles
Pvt. Roland Bozz in Tigerland (2000)
Jesse James in American Outlaws (2001)
Danny Witwer in Minority Report (2002)
Jim Street in S.W.A.T. (2003)
Alexander the Great in Alexander (2004)
John Smith in The New World (2005)
Sonny Crockett in Miami Vice (2006)
Ray in In Bruges (2008)
Tony in The Imaginaruim of Doctor Parnassus (2009)
Tommy Sweet in Crazy Heart (2009)
Quotes
"I had to read Frank Miller's comicbooks because the expression on the character's faces in the comic books, and just the way they move sometimes, and the exaggerations of the character I'm playing […] he's so over-the-top that you do draw from that. But it's not exactly a character you can do method acting for... you know, running around New York killing people with paper clips."