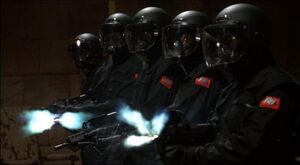 Eli Damaskinos' Security Guards defended Damaskinos and his fortress.
They are normal humans who are equipped with heavy weapons such as the P-90 submachine gun and the G-36 assault rifle. They try to stop Jared Nomak from breaking into the fortress and kill the vampire lord, but they are easily defeated by the Reapers' leader.
Gallery
Community content is available under
CC-BY-SA
unless otherwise noted.