David was Marie D'Ancanto boyfriend at the time her mutant ability manifested. He was put into a coma after his first kiss with Marie D'Ancanto.
Biography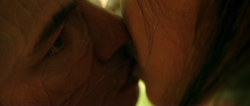 David was visiting his girlfriend Marie at her house in Meridian, Mississippi. She shows him her adventures on a map. Soon, they kiss for the first time. Just as the two were kissing, Marie started sucking the life out of him. She noticed, and screamed with everyone alerted. She told none to touch her. Her parents tried calling an ambulance. This lead her to running away from home. He was left in a comma and she never mentioned him again.
Relationships
Appearances/Actors
Community content is available under
CC-BY-SA
unless otherwise noted.