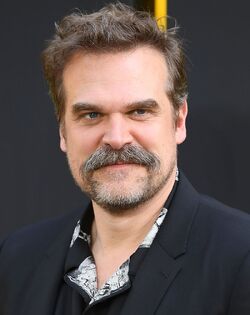 David Harbour will portray Alexi Shostakov/Red Guardian in the upcoming film Black Widow.
Significant roles
Robert Kinsey in Kinsey (2004)
Dock Worker in War of the Worlds (2005)
Randall Malone in Brokeback Mountain (2005)
Dracula in Awake (2007)
Gregg Beam in Quantum of Solace (2008)
Brian in Every Day (2010)
Scanlon in Green Hornet (2011)
Bob Egan in Thin Ice (2011)
Roger Anderson in Pan Am (2011-2012)
Van Hauser in End of Watch (2012)
Elliot Hirsch in The Newsroom (2012-2014)
Todd in X/Y (2014)
David Potter in Rake (2014)
Masters in The Equalizer (2014)
Reed Akley in Manhattan (2014)
David Patrick in State of Affairs (2014-2015)
Dexter Tolliver in Suicide Squad (2016)
Jim Hopper in Stranger Things (2016-2019)
Ronnie in Human Affairs (2018)
Hellboy in Hellboy (2019)
David Harbour III, David Harbour Jr. and Frankenstein in Frankenstein's Monster's Monster, Frankenstein (2019)
Quotes
"He's the Red Guardian, which is the counterpart to Captain America. In the Cold War, the Soviets retaliated with the Red Guardian. And … he'll surprise you. He has this 'thing,' this super-soldier thing. But he'll surprise you with his flaws, and with his complexities. I kinda don't want to give it away, because I want you to be surprised as well."
Community content is available under
CC-BY-SA
unless otherwise noted.