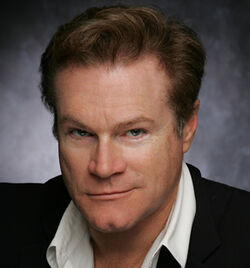 David Keith portrayed Jack Murdock in Daredevil.
Significant roles
Larry Lee Bullen in Brubaker (1980)
Sid Worley in An Officer and a Gentleman (1982)
Will in The Lords of Discipline (1983)
Andy McGee in Firestarter (1984)
Oliver North in Guts and Glory: The Rise and Fall of Oliver North (1989)
Det. Lt. Loach in The Two Jakes (1990)
Arlo Weed in Flesh 'n' Blood (1991)
Jim Bowie in Texas (1994)
Boo-hoo Bone in The Indian in the Cupboard (1995)
Corp. Jim Marsh in High Incident (1996-1997)
Mason Rand in Epoch (2001)
Tom O'Malley in Behind Enemy Lines (2001)
Mason Rand in Epoch: Evolution (2003)
Ben Morgan in Still Life (2003-2004)
Simon Fletcher in Rise Your Voice (2004)
Yonk Allen in The Class (2006-2007)
Quotes
"I didn't need to research, I've read Daredevil my whole life. It's a lot of fun."
Community content is available under
CC-BY-SA
unless otherwise noted.