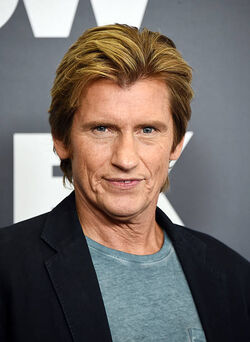 Denis Leary portrayed George Stacy in The Amazing Spider-Man and The Amazing Spider-Man 2.
Significant roles
Mike McCracken in Loaded Weapon 1 (1993)
Edgar Friendly in Demolition Man (1993)
Fallon in Judgment Night (1993)
Gus in The Ref (1994)
Lt. David Poole in Operation Dumbo Drop (1995)
Francis "Frank" O'Brien in Two If by Sea (1996)
John Crown/John Alt in Underworld (1996)
Vinnie Franko in The Second Civil War (1997)
Lono Veccio in Suicide Kings (1997)
Gil Mars in Small Soldiers (1998)
Francis in A Bug's Life (1998)
Bob Findley in True Crime (1999)
Michael McCann in The Thomas Crown Affair (1999)
Bill in Final (2001)
Mike McNeil in The Job (2001-2002)
Doug "Dawg" Munford in Bad Boy (2002)
Diego in The Ice Age (2002)
Slater in The Secret Lives of Dentists (2002)
Tommy Gavin in Rescue Me (2004-2010)
Diego in Ice Age 2: The Meltdown (2006)
Michael Whouley in Recount (2008)
Diego in Ice Age: Dawn of the Dinosaurs (2009)
Diego in Ice Age: Continental Drift (2012)
Quotes
"My wife's favorite superhero is Spider-Man. I'm more of a Batman guy. But I got sucked into the Spider-Man movie because my wife really loves Spider-Man. And my kids. I like big action movies, I enjoy them, but I never expected to be in 'Spider-Man.' If anything, I thought if I was going to be in 'Spider-Man,' I'd be the bad guy. But I'm the good guy, which is kind of strange."
"This nose is going to look huge when Spider-Man comes out. A lot of kids are going to be scared."
"They [Andrew and Emma] are both just fantastic."
"Yes, I'm playing a cop who's chasing Spider-Man, so I have cop hair. This is my cop hair."
"I'm not allowed to say anything about the ending of 'Spider-Man' — or the ending of 'Rescue Me,' "It's verboten! I can't tell you!"
"I just really spent a lot of time with the director and I got some information from Stan Lee and the guys at Marvel," "It's the first time I got to play a comic book guy."
Community content is available under
CC-BY-SA
unless otherwise noted.