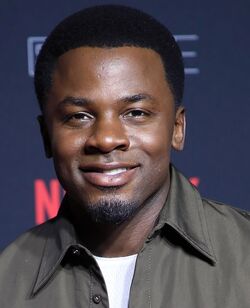 Derek Luke portrayed Gabriel Jones in Captain America: The First Avenger.
Significant roles
Antwone Quenton "Fish" Fisher in Antwone Fisher (2002)
Bobby in Pieces of April (2003)
Kid in Biker Boyz (2003)
Curtis in Spartan (2004)
Boobie Miles in Friday Night Lights (2004)
Bobby Joe Hill in Glory Road (2006)
Patrick Chamusso in Catch a Fire (2006)
Russell T. McCormack in Definitely, Maybe (2008)
Sgt. Aubrey Stamps in Miracle at St. Anna (2008)
Sean "Puffy" Combs in Notorious (2009)
Joshua Hardaway in Madea Goes to Jail (2009)
Camerone Boone in Trauma (2009-2010)
Quotes
With 'Captain America', it was sort of similar to 'Hawthorne'. On 'Hawthorne', it was an idea and I was submitted from a casting director who said, 'I believe that Derek Luke would be great for this project'. Then I had a meeting with Marvel head Kevin Feige. He presented the character that I was playing for Marvel, and at that time it was interesting. We didn't have a script. As a matter of fact, we didn't get scripts until we showed up to shoot. So what 'Hawthorne' and Marvel have in common is that my preparation had to be very organic because 'Hawthorne' was actually shooting when I signed the line. And then Marvel signing the line you had to totally just go on faith. So both of these projects are so dear to me and exciting and that's why I'm smiling right now.
No. There was not much breakdown. And I think in Marvel's defense is that as a nation there's so much just piracy. You have to do so much just on loyalty when it comes down just to actors and fans. You work very hard on a film and sometimes it gets leaked out. So I understood or I was very undemanding to the fact that even though there wasn't a script and there wasn't much of a description of my character, I just believed that Marvel was doing some really great work, great messages in films. The good versus evil and I was just like, 'How can I be down?'
Well, with 'Captain America' and with Marvel you always sign multiple deals, and I had a chance to. So it wasn't necessarily discussed on which one I'll be in but granted that if there are multiple sequels then you will definitely see me. Acting is something that you step out in faith and you just believe that you will be in the right project at the right time.
Community content is available under
CC-BY-SA
unless otherwise noted.