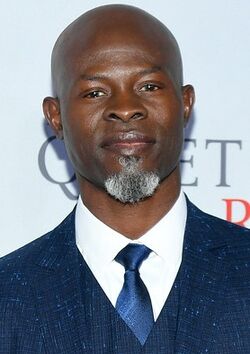 Djimon Hounsou portrayed Korath the Pursuer in Guardians of the Galaxy and Captain Marvel and will portray Neil Kenlock in the upcoming The King's Man. He also voiced Black Panther in the animated series.
Significant roles
Horus in Stargate (1994)
Fyah in Ill Gotten Games (1997)
Mobalage Ikabo in ER (1999)
Juba in ladiator (2000)
Abou Fatma in The Four Feathers (2002)
Mateo in In America (2002)
Motherland in Biker Boyz (2003)
Kosa in Lara Croft Tomb Raider: The Craddle of Life (2003)
Woodhead in Blueberry (2004)
Papa Midnite in Constantine (2005)
Albert Laurent in The Island (2005)
Solomon Vandy in Blood Diamonds (2006)
Ajihad in Eragon (2006)
Jean Roqua in Never Back Down (2008)
Henry Carver in Push (2009)
T'Challa/Black Panther in Black Panther (2010)
Caliban in The Tempest (2010)
Kovax in Special Forces (2011)
Quinton Jamison in Baggage Claim (2013)
Drago Bludvist in How to Train Your Dragon 2 (2014)
Radu in Seventh Son (2015)
Mose Jakande in Furious 7 (2015)
Chief Mbonga in The Legend of Tarzan (2016)
CJ Mitchum in Wayward Pines (2016)
Bedivere in King Arthur: Legend of the Sword (2017)
Fisherman King Ricou in Aquaman (2018)
Duke in Serenity (2019)
The Wizard in Shazam (2019)
Edgar "Bosley" Dessange in Charlie's Angels (2019)
Sumo in Blazing Samurai (2021)
Quotes
"It's been great. I mean I got to go back and finish, but it's been great. Most of my stuff has been shot, yes. I shot and I still have one more week left, one more big scene to do."
"Well, there is but not a lot – I'm doing a quite a bit of action but it's not that much compared to some other films that I've done with kicking and boxing. But this is more contained, yeah, it's quite fun."
"Well, yeah. I'm not really concentrating or thinking about the comedy aspect. I'm just thinking about the variety of flavorful work, if you will. And again, the Marvel world always is interesting for anybody, really. And for your son to see you almost like a superhero, I mean I'm not playing a superhero but like, you know, to see you in that sort of like world is quite fun. It's fun for us as grownups as well to be playing tough boys. At the end of the day it's all about cowboys & Indians."
"I was called in and when I met them and talked about various characters and the director James Gunn is somebody I really like and wanted to work with and so this was a great opportunity to be part of something that I can remember, something that can be instrumental for my son."
"That was a lot of work. It was five hours of makeup on a daily basis and then the wardrobe was uncomfortable...I mean, painfully uncomfortable. Once you put it on, you're sort of like rigid, there was not a lot of moving around… I dreaded going into the costume. Once I was in the costume, I was in a bad mood."
Community content is available under
CC-BY-SA
unless otherwise noted.