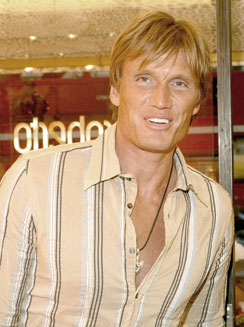 Dolph Lundgren portrayed Frank Castle/The Punisher in The Punisher.
Significant roles
Venz in 007: A View to a Kill (1985)
Cpt. Ivan Drago in Rocky IV (1985)
Adam/He-Man in The Masters of the Universe (1987)
Sgt. Chris Kenner in Showdown in Little Tokyo (1991)
Andrew Scott/GR13 in Universal Soldier (1992)
Wellman Anthony Santee in Joshua Tree (1993)
Eric Brogar in Pentathlon (1994)
Sam Decker in Detention (2003)
Lance Rockford in The Defender (2004)
Nikolai Cherenko in The Mechanik (2005)
Brixos in L'inchiesta - Anno Domini XXXIII (2006)
Xander Ronson in Diamond Dogs (2007)
Ryder in Missionary Man (2007)
Mike Riggins in Direct Contact (2009)
Andrew Scott in Universal Soldier: Regeneration (2009)
Edward Genn/Icarus in Icarus (2010)
Gunner Jensen in The Expendables (2010)
Andrew Scorr in Universal Soldier: A New Dimension (2012)
Gunner Jensen in The Expendables 2 (2012)
Quotes
"I haven't seen the Punisher movies but I heard they were okay."
"There will always be an exploration of new technology in things like The Avengers — that was a great movie, by the way — but I think certainly for part of the audience, if you fire a thousand bullets and there's not a drop of blood, there's something wrong with that. Part of the audience wants to see real explosions and real fights and that kind of real machismo."
Community content is available under
CC-BY-SA
unless otherwise noted.