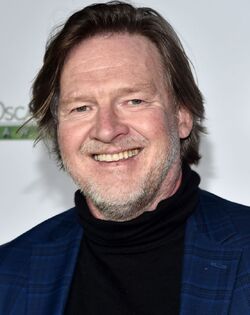 Donal Logue portrayed Quinn in Blade and Randall Mackenzie in Ghost Rider.
Significant roles
Capt. Ellis Spear in Gettysburg (1993)
Jimmy McBride in I Want My TV (1996)
Ken Schuler in Public Morals (1996)
ADA Richard "Dickie" Flood in The Practice (1997-1999)
Dex in The Tao of Steve (2000)
Charley Best in Million Dollar Hotel (2000)
Dan Scott in The Patriot (2000)
Chuck Martin in ER (2003-2005)
Sean Finnerty in Grounded for Life (2001-2005)
Jimbo in The Groomsemen (2006)
Daryll in The Good Life (2007)
Capt. Ken Narlow in Zodiac (2007)
Eugene Gurkin in The Knights of Prosperity (2007)
Det. Alex Balder in Max Payne (2008)
Capt. Kevin Tidwell in Life (2008-2009)
Tink Weatherbee in Charlie St. Cloud (2010)
Quotes
Please add some quotes from this performer about their work in Marvel movies!
"I play his best friend/mechanic kind of guy. He doesn't know Johnny Blaze is Ghost Rider, he can't say it. I keep trying to get information from him and he just gets weirder and weirder."
"We did all that weird stuff, but Nic and I had really kind of normal scenes together which I liked. It wasn't too effects-oriented. But we did do stuff with the motorcycles, jumping, which was a lot of effects. There were a lot of live stunts too. It's a huge movie. It's crazy."