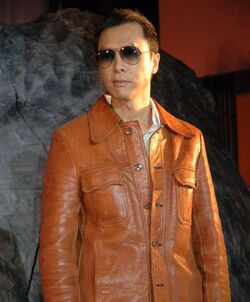 Donnie Yen portrayed Snowman in Blade II. Yen is also The Martial Arts Choreographer in the film.
Significant roles
Wong Kei-Ying in Siu nin Wong Fei Hung ji: Tit Ma Lau (1993)
So Chan in So Hak-Yi (1993)
Cheng Zen in Jing Wu Men (1995)
Iron Monkey in Gaai tau saat sau (1996)
Jin Ke in Highlander: Endgame (2000)
Sky in Hero (2002)
Wu Chow in Shanghai Knights (2003)
Chu Zhao Nan in Seven Swords (2005)
Insp. Ma Kwun in Saat po long (2005)
Det. Sgt. Ma Jun in Dou fo sin (2007)
Muyong Xuehu in Jiang shan mei ren (2008)
Ip Man in Yip Man (2008)
Sum Chung-yang in Shi yue wei cheng (2009)
Ip Man in Yip Man 2 (2010)
Chen Zhen in Jing mo fung wan: Chen Zhen (2010)
Guan Yu in Guan yun chang (2011)
Sun Wukong in Da nao tian gong (2012)
Chirrut Imwe in Rogue One: A Star Wars Story (2016)
Xiang in xXx: Return of Xander Cage (2017)
Quotes
"Actually, Snowman was only a cameo which I took because both the director and Wesley wanted me to appear in the film. My main position was the fight choreographer."
"It depends on what type of film and its characters it is before applying specific styles of fighting. But ultimately, martial arts should only be an enhancement to the story and its characters in my opinion, I'll not have a cop leaping through rooftop like in Crouching Tiger's in a realistic drama and, on the other hand, one-two combinations would be completely boring when audience expect a hero like Blade to get down and move."
"Wesley Snipes is great! Intelligent and humble, with both real martial arts understanding and skills. I had a great time working with him."
Community content is available under
CC-BY-SA
unless otherwise noted.