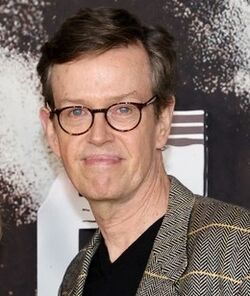 Dylan Baker portrayed Dr. Curt Connors in Spider-Man 2 and Spider-Man 3.
Significant roles
Owen in Planes, Train & Automobiles (1987)
Tunker Thompson in The Long Walk Home (1990)
Prince Geoffrey in Love Potion No. 9 (1992)
Jasper in Radioland Murders (1994)
Philip Blackburn in Disclosure (1994)
Det. Arthur Polson in Murder One (1995-1996)
Bill Maplewood in Happiness (1998)
Robert McNamara in Thirteen Days (2000)
Alexander Rance in Road to Perdition (2002)
The Colonel in The Big Time (2002)
Martin Geller in Head of State (2003)
Bob Pitt in The Pitts (2003)
Roger Paxton in The Book of Daniel (2006)
Bill Robinson in Fido (2006)
John Trimble in Drive (2007)
Marvin in The Stone Angel (2007)
Steven in Trick 'r Treat (2007)
Mad Dog McClure in Diminished Capacity (2008)
Jack Ordway in Revolutionary Road (2008)
William Cross in Kings (2009)
Quotes
"I am in Spider-Man 3, and my wife Becky Ann Baker is also in the movie, she plays James Cromwell's wife and Bryce Dallas Howard's mother. Dr. Conners' wife has not made an appearance yet, at least not that I know of."
"But I think it would have been a little strange, some of the people from the Raimi franchise, even if it was just me, carrying it over to the new film. It was a whole new regime and the guys had a chance to do their whole thing. Tough thing for me was that Sam Raimi kept saying that if he had kept going, that pretty soon he was going to have the Lizard appear and do the whole treatment, and that would have been fun. But I'm glad that The Lizard finally made it and I thought they did a great job with the new film."
Community content is available under
CC-BY-SA
unless otherwise noted.