Doctor Strange in The Multiverse o Madness - The Loop
Play Sound
Earth-199999, known in-universe as Earth-616, is the designated universe number for the Marvel Cinematic Universe, a shared fictional universe which crosses over superhero films and television produced by Marvel Studios. It is home to multiple characters including Iron Man, Captain America, Thor Odinson, Hulk, Black Widow, Hawkeye, the Guardians of the Galaxy, Ant-Man, Dr. Strange, Spider-Man, Black Panther, Captain Marvel, Wanda Maximoff, Captain America, White Wolf, Xu Shang-Chi, Eternals, Hawkeye, Moon Knight and Ms. Marvel.

Timeline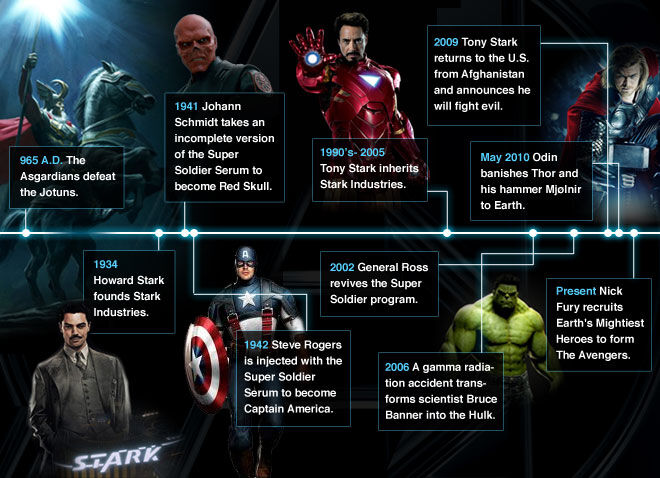 ​​​​​​​​

The Dawn of Time
The Celestials, titan like beings who wield massive cosmic power, led by Arishem who first created planets, suns, and lifeforms throughout the cosmos. In order to create more Celestials who continue to create life in the Universe, seeded planets with nascent Celestials. As the Emergence of a new Celestial required the presence of a large population of sentient beings on the world they were seeded into, the Celestials genetically engineered the Deviants to wipe out the planet's apex predators. (Eternals)
Over time the Deviants evolved and betrayed their original purpose by hunting and wiping out all life. To stop their rogue creations, the Celestials created powerful synthetic beings called Eternals, sending them across the cosmos to eradicate the Deviants and protect sentient life on the planets seeded with Celestials. (Eternals)
Unknown Date
5000 B.C.
2987 B.C.
500 A.D.
Eternals, Sersi and Ikaris, develop feelings for one another, eventually becoming a married couple. (Eternals)
965 A.D.
Unknown Date
Thor and Loki are told the story of Asgard's defeat of the Frost Giants. (Thor)
Xu Wenwu a warrior discovered ten powerful mystical rings. The rings grant him with immortality and unmatched power, allowing him to become a dominating conqueror. Founding the Ten Rings organization, the terrorist syndicate would spread to nearly every corner of the world. (Shang-Chi and the Legend of the Ten Rings)
12th Century
The Asgardian that would come to be known as Elliot Randolph was a stone mason for thousands of years before being recruited for a military mission to Midgard. Tired of his mundane existence in Asgard and desiring to travel the Realms, Randolph signed on. while on Earth, the Asgardian served with an Asgardian army called "The Berserkers" who gained superior strength, even by Asgardian standards, by touching a device known as the Berserker Staff, which brought all of the rage and hatred that the wielder kept suppressed and transformed it into strength. During his time on Earth, Randolph fell in love with the planet and its people, and when the rest of the Asgardian host returned home, Randolph stayed behind. The Berserker Staff was left behind as well. Randolph did not care for the thing or the power it possessed, and so he broke the staff into three pieces and spread them across Europe. (Agents of S.H.I.E.L.D. "The Well")
Unknown Date
1521
Eternals watch as spanish soldiers attack a Aztec city which the same time runs an attack from the last of the Deviants. While fighting them off, Thena's Mahd Wy'ry causes her to momentarily turn on the Eternals, only to be stopped by Gilgamesh. Their leader, Ajak, offers to cure Thena's affliction at the cost of her memories, but Gilgamesh volunteers to watch over her, conceding with the possibility that she may have to be killed if she turns again. Druig, frustrated with how the Eternals have been abstaining from human affairs, deserts them to end the Spanish conflict himself. With the Deviants seemingly eradicated, Ajak releases the Eternals to go their own ways. (Eternals)
Ikaris abandon Sersi after Ajak told him the truth about why the Eternals was sent to Earth. (Eternals)
1546
The Asgardian who would become known as Elliot Randolph lived on Earth for several centuries until the year 1546, when he met and fell in love with a French girl. He told her his story and her brother, who happened to be a priest, wrote the story down and created the legend of "The Warrior Who Stayed". (Agents of S.H.I.E.L.D. "The Well")
1693
Agatha Harkness is held for trial by a coven of witches, for practicing dark magic. As they attempt to kill her, she drains their life from them. (WandaVision "Previously On")
1917
1918
1921
1924
June
1st

In Hell's Kitchen, Manhattan, a young Steve Rogers talks to his mother about his father. (Captain America: First Vengeance, tie-in comic #1)
1930
January
September
1st

In Hell's Kitchen, Manhattan, Steve meets James Buchanan "Bucky" Barnes during a back ally scuffle with some bullies. The two become friends. (Captain America: First Vengeance, Digital Comic #1)
1933
1934
June
30th

Johann Schmidt meets Adolf Hitler, Heinrich Himmler and Ernst Kaufmann, head of the Special Weapon Division, after a Wagner opera and reveals his theory that Norse gods and their magic could be more than myth. (Captain America: First Vengeance)
Dr. Abraham Erskine and Howard Stark meet at an Engineering Conference.
Johann Schmidt assassinates Erst Kaufmann and seizes control of his weapons program. (Captain America: First Vengeance, Digital Comic #3)
July
1937
1939
September
1940
February
Howard Stark begins a demonstration which would showcase vibranium, a metal discovered by Stark Industries researchers in Africa, and then meets with Colonel Chester Phillips. After being attacked by HYDRA assassins Stark agrees to join Col Phillip's newly created Strategic Science Reserve.
Johann Schmidt takes part in an test involving Erskine and his Super Soldier Serum which turns Schmidt into what would become known as the Red Skull. (Captain America: The First Avenger)
1941
1942
March
1943
December
1944
Rogers invades a castle in the Nazi occupied Danish Straits. The castle is controlled by Nazi special weapons unit HYDRA. Here Cap fights a Nazi wearing an arc reactor powered battle suit, as well as an arc powered tank. Schmidt attempts to destroy them by using a mystical Viking runestone, but Rogers slows the relic from exploding to allow time for the Commandos to escape. (Captain America: First Vengeance)
Rogers boards and captures the HYDRA submarine Leviathan. (Captain America & Thor: Avengers!)
Stark was ordered by General John McGinnis of the US Army to design a gas that would keep soldiers awake for days. However, his experiments failed. The final product, which he named the Midnight Oil, caused symptoms similar to sleep deprivation, anger, hallucinations, and psychosis. Stark decided not to hand it over to the Army. However, General McGinnis had other plans, stealing the gas which his soldiers dropped on the Soviet troops near the German town of Finow, hoping to help them crush the German defenses. The gas turned the soldiers into bloodthirsty savages, and hundreds of them killed each other. A day later, Stark arrived at Finow and saw the carnage. He returned from there distressed and began construction of his vault in his mansion. (Agent Carter "The Iron Ceiling")
Fennhoff and three other men are captured by Leviathan and forced to join their organization. One of the men refused and was killed along with his family. (Agent Carter "A Sin to Err")
1945
Agent Carter begins another interrogation of Dr. Reinhardt. He again offers his services to the SSR, citing the deals the organization recently struck with other HYDRA scientists. Agent Carter again refuses, puts him back in his cell, and tells him no one will be coming for him any more. (Agents of S.H.I.E.L.D. "The Things We Bury")
August
April
Dr. Werner Reinhardt uses the Diviner to experiment on prisoners. The first is killed, but the second, a young woman, survives and activates the Diviner. While Dr. Reinhardt is expressing his curiosity on how she could survive touching the item, one of his subordinates informs him of the Red Skull's demise. (Agents of S.H.I.E.L.D. "The Things We Bury")
December
Under the alias Ida Emke, Dottie Underwood dates Howard Stark, who took her to one of his vaults to impress her. Stark told Underwood that he had even more inventions that would impress her in his mansion. (Agent Carter "A Sin to Err")
1946
Peggy Carter mourns Steve Rogers' death and returns to work for the Strategic Scientific Reserve in New York City. The S.S.R. investigates industrialist Howard Stark, who has disappeared, for apparently selling weapons to US enemies. (Agent Carter "Now is Not the End")
Stark reaches out to Carter, and asks her to help him clear his name. Before he leaves, he tells her about his formula for molecular nitramine that is going to be sold at a club. (Agent Carter "Now is Not the End")
Infiltrating the club in disguise, Carter learns that the formula has been weaponized. Carter shows a nitramine bomb to Stark Industries scientist Dr. Anton Vanko, who deduces that it came from a Roxxon Oil refinery. (Agent Carter "Now is Not the End")
Carter and Stark's butler, Edwin Jarvis, investigate the refinery, where they encounter Leet Brannis. Brannis, who works for "Leviathan", escapes with a truck full of the nitramine weapons. Before leaving, Brannis drops a weapon that destroys the entire building as Carter and Jarvis escape. (Agent Carter "Now is Not the End")
Peggy Carter searches for the truck with the weapons and learns of its location. (Agent Carter "Bridge and Tunnel")
The S.S.R. agents interrogate Miles Van Ert, while Agent Daniel Sousa learns of the truck's location as well. (Agent Carter "Bridge and Tunnel")
Carter and Jarvis find the truck and Brannis. They are attacked by Sasha Demidov who works for Leviathan, the organization that Brannis has betrayed. Carter fights the man, who still manages to mortally wound Brannis. The truck careens off a cliff, and the weapons inside implode. Before he dies, Brannis draws a symbol in the dirt. (Agent Carter "Bridge and Tunnel")
S.S.R. agents Roger Dooley, Jack Thompson and Sousa later arrive to find woman's footprints and a hotel key. (Agent Carter "Bridge and Tunnel")
Agent Ray Krzeminski, sifting through the remains of the Roxxon refinery, finds the license plate for Stark's car that Jarvis was using. (Agent Carter "Bridge and Tunnel")
Thompson and Sousa bring Jarvis in for interrogation, and the former threatens him with revealing a former treason charge to the immigration office. Peggy feigning ignorance botches the interrogation to get Jarvis out, and receives a stern reprimand from Dooley. (Agent Carter "Time & Tide")
Jarvis and Peggy follow the sewer system below Howard's vault, through which Brannis took the stolen technology, to the docks where they find the weapons on board The Heartbreak, a ship with Brannis' symbol on it. Jarvis telephones the S.S.R. anonymously giving their location to Sousa, while Peggy fights Jerome Zandow who had been working with Brannis. She and Jarvis are forced to leave Zandow behind as the S.S.R. arrives. (Agent Carter "Time & Tide")
While being transported back to S.S.R. headquarters by Krzemenski, Zandow is about to identify Carter as the woman interfering with the Stark investigation, when an unidentified assassin kills them both. (Agent Carter "Time & Tide")
The next morning, Peggy comes in to work to see everyone sombre and sullen. She sees the flowers on Krzeminski's desk. Sousa is bothered that the anonymous tip came to SSR directly and thinks it means they were targeted. Dooley addresses everyone, reminding them Krzeminski's death is Howard Stark's fault. (Agent Carter "Time & Tide")
After learning that Brannis and the Leviathan attacker, Sasha Demidov, were supposed to have died during the Battle of Finow, Dooley travels to Germany to speak with the Nazi colonel who lead the opposing forces, and though he doesn't learn how Brannis and Demidov survived, Dooley does discover that their Russian forces were seemingly massacred before the Nazis even arrived. With Carter's only job to collect lunch orders, she meets up with Howard, who has secretly returned in the wake of his technology's discovery. Looking at photographs Peggy takes of the weapons, he identifies one of them as the Blitzkrieg Button, which he claims can cause a permanent blackout throughout the city. However, a suspicious Peggy opens the device to find a vial of Steve Rogers' blood. Angry at Howard for lying to her, she hides the vial. Otto Mink, the criminal who smuggled Howard into New York, but was scammed out of his money by Peggy and Jarvis, follows Carter back to her apartment, but he is killed by her new neighbor Dottie Underwood. On the street, Jarvis admits to Peggy that he knew and regrets his part. When she leaves, Jarvis sits next to Howard at shoe shine stand and blames him for taking Peggy for granted. At SSR, Sousa stares at the photo of the mystery blonde from the nightclub then starts coloring the blonde hair in brown. Dooley returns to the office, Thompson reports that one day after the non-battle a plane landed at the nearby airport and that Howard Stark was one of the passengers. Dooley smells conspiracy. Back at the Griffith, Peggy cranks up her radio and starts hammering away at the plaster in her walls. Next door, with Mr. Mink dead under Dottie bed. Peggy hides the Blitzkrieg device with Steve's blood inside in her wall behind a painting. At SSR, Dooley is reviewing the files when suddenly the long-range typewriter starts tapping. (Agent Carter The Blitzkrieg Button)
Peggy's neighbor Dottie begins her day with rigorous sit-ups. Then she puts on a giggly face and has breakfast with Peggy. Dottie "accidentally" knocks over Peggy's purse and swipes her keys. Jarvis finds Peggy at a newsstand and tries again to apologize. Peggy is still angry at Howard Stark for using her to get Steve's blood. Jarvis asks if she honestly thinks her male colleagues will ever give her a chance. At SSR HQ, it's a beehive of activity following the long-range typewriter spitting out a message. A code breaker is having no luck with it, but Peggy decodes it quickly and finds map coordinates and a message setting a time to exchange a purchase. It references Leviathan and a havoc reactor. The message ends with saying the payment is for Howard Stark. Peggy has to argue with Chief Dooley to get to go on the mission to Russia, where she spent three years during the war. Agent Thompson argues against her going, and Dooley is about to agree. Peggy suggests she can get the 107th regiment, who know the terrain better than anyone, and Dooley agrees to let her go if she can. She does with one phone call. Dooley sends her in a team with Thompson and two other agents to the map coordinates she deciphered. Arriving there and teaming up with the Howling Commandos, led by Dum Dum Dugan. They find a Soviet military complex which seems to be a training site for children to infiltrate the United States as sleeper agents. Back in New York, Agent Dooley meets with a reporter to learn more about the Battle of Finau, in which 247 Russians died. He says Stark was there for the clean-up. He picked a fight with General McGuinness and lost badly, but McGuinness resigned a week later. McGuinness died a few months ago. A week after that, Stark cut all ties with the army and walked away from a huge contract. He suggests SSR doesn't have the full story about Howard Stark. During the mission, she and Thompson reach an understanding as she proves her value in the field, and helps Thompson deal with his own insecurities with being back in the line of fire. Back home, Dottie revealed to be a product of the same training site breaks into Peggy's apartment and finds the photos she took of the inventory of Stark's weapons, Dooley realizes there is more to the manhunt against Stark, and Sousa begins to suspect that the mysterious blonde might be Peggy. (Agent Carter The Iron Ceiling)
At SSR, Ivchenko tells Agent Dooley about Leviathan. Peggy peppers him with questions about the young girls trained to kill until Dooley hauls her out of the room. She thinks one of those girls grew up and killed Agent Krezminski. The gun that was used was Russian, and small, best suited to a woman's grip. A woman is also the most plausible explanation for how Howard Stark was manipulated. Dooley shocks Carter by telling her to investigate her hunch. Peggy and Jarvis investigate the women that Stark has been involved with over the last six months, believing that a female Leviathan operative may have been used against Stark and to kill Krzeminski, but their search is unsuccessful. Sousa reveals to Dooley that Carter is an apparent traitor, and all agents are tasked with tracking her down. They eventually corner her and Jarvis, but Carter fights them off. During the commotion, Dr. Ivchenko, who is actually working for Leviathan, hypnotizes Agent Yauch, who reveals that only Dooley can access Stark's weapons. Yauch shows Ivchenko how to get out of the S.S.R., before Ivchenko forces him to commit suicide. Peggy retrieves Steve's blood from her apartment. As she tries to escape the building, she is knocked out by Dottie, but not before realizing that she is the Leviathan operative. Dottie is about to kill Peggy when Thompson and Sousa arrive. She feigns ignorance, and the agents arrest Peggy. (Agent Carter A Sin to Err)
Peggy undergoes interrogation by her former colleagues at the S.S.R. After some time Jarvis appears with a signed confession from Stark, in which he promises to surrender if Peggy is released without charge. Jarvis then confesses to Carter that the document is fake, and she is angry at him for ruining her chances of release. However, Carter spots Dr. Ivchenko communicating in Morse code with Dottie across the street. Carter decides to reveal the truth to Dooley, Sousa and Thompson in order to gain their trust and stop an impending attack. Dooley eventually decides to trust Carter and dispatches Sousa and Thompson to find Dottie while he watches over Dr. Ivchenko. Alone with Dooley, Ivchenko manages to hypnotize him and has him lock Jarvis and Carter in an interrogation room. Ivchenko and Dooley then head to the S.S.R.'s labs to steal an item from the collection of Stark weapons. Meanwhile, Sousa confronts Dottie, but she manages to escape, killing another S.S.R. agent in the process. Ivchenko, now in possession of one of Stark's weapons, hands Dooley an experimental armor vest to wear. Ivchenko then leaves the S.S.R. and is picked up by Dottie. Thompson frees Carter and Jarvis, and the three of them find the hypnotized Dooley in his office wearing the vest. They manage to rouse him, but Jarvis reveals the vest is temperamental and will explode with no way to deactivate it. Left with little choice, Dooley steals Thompson's sidearm, shoots out a window, and jumps moments before the device detonates, killing him but leaving the S.S.R. offices mostly intact. Having escaped from Sousa and Thompson, Dottie arrives at a crowded cinema with a baby carriage containing a gas cylinder, which she activates before leaving and locking the door behind her. The gas makes many in the audience begin to cough loudly before they become maniacal and begin to attack each other violently. An usher arrives with some latecomers, unlocks the door and reveals the entire audience is bloody and dead, causing the usher to scream. (Agent Carter SNAFU )
Following the massacre at the cinema, Howard Stark enters the S.S.R. where he reveals to Peggy Carter, Edwin Jarvis, Jack Thompson, and Daniel Sousa that the gas in question was the Midnight Oil which was a failed experiment that was used to kill the Russian soldiers with Johann Fennhoff, Ivchenko's real name, a survivor bent on revenge. Hearing that Howard Stark has been exonerated, Fennhoff orchestrates Howard's capture at a press conference and brainwashes him to distribute the Midnight Oil on Times Square from the air during V-3. Arriving at Howard's location, Jarvis follows a brainwashed Howard into the air while Peggy fights Dottie which ends with the assassin falling out the window. Fennhoff knocks out Thompson and tries to brainwash Sousa only to be defeated by him since he was wearing earplugs. After Howard was broken free from the brainwashing, Johann was gagged and arrested while Dottie is shown to have gotten away. After leaving the S.S.R., Howard give one of his penthouses to Peggy and Angie to live in, Peggy learns from Jarvis that Howard decided to destroy his inventions as he gives her the vial of Steve's blood. Peggy later dumps the vial's contents in the river, finally able to move on with her life. Meanwhile, at a prison, a special gagged Dr. Fennhoff meets his cellmate Arnim Zola who gives the Russian scientist a pencil and paper so they can exchange ideas. (Agent Carter Valediction )
1947
Chief Jack Thompson and Agent Peggy Carter of the SSR apprehend Soviet spy Dottie Underwood. Newly appointed Chief Daniel Sousa of the Los Angeles SSR office meets with Detective Andrew Henry, who has discovered a woman's body in a frozen lake during a heat wave. Sousa, doubting his inexperienced subordinates, asks Thompson for backup—Carter is sent. An autopsy shows that the body glows in the dark, likely caused by Isodyne Energy's particle accelerator. Carter learns from Isodyne scientist Jason Wilkes that the woman was a physicist there who had an affair with Isodyne owner and prospective senator Calvin Chadwick. Underwood is taken into FBI custody, with Thompson's mentor Vernon Masters warning him that the SSR will soon be replaced by a new, peace-time organization. Henry attempts to kill Wilkes, but is killed himself by a police officer; Henry and the officer were hired to cover up the murder by Chadwick and his actress wife Whitney Frost following the former's affair. (Agent Carter The Lady in the Lake)
Calvin Chadwick meets with the secretive Council of Nine, who shut down his Zero Matter program due to its seeming lack of results, and want him to focus on his senatorial ambitions. Chadwick informs Frost, who is the true brains behind the program while struggling with her acting due to sexism in Hollywood. Jason Wilkes meets with Peggy to help with her investigation, though he is hesitant to turn on Isodyne the only company willing to hire him as a black man. Wilkes explains that Isodyne had attempted to replicate the success of the Manhattan Project and in doing so had discovered Zero Matter. The frozen woman must have come into physical contact with it, though its effects are not limited to that. Carter and Wilkes agree to steal the Zero Matter, but at Isodyne find Council agents destroying the program. Wilkes gets to the Zero Matter, where he is confronted by Frost, who is there to steal it herself. They are exposed to the substance in the ensuing scuffle, leaving Wilkes presumed dead and Frost having absorbed Zero Matter. (Agent Carter A View in the Dark)
At Frost's behest, Chadwick frames Wilkes as a communist spy who had infiltrated Isodyne and attempted to destroy it. Thompson comes to Los Angeles to 'clean-up' the situation at the invitation of Masters, and when Peggy enlists the help of Howard Stark to investigate the Arena Club—whose membership pin was borne by the Council agents and discovers but is unable to prove that the Council has blackmailed Chadwick's senatorial competitor into dropping out of the race, Thompson sends her home. Peggy 'misses' her flight, and after confronting Frost unsuccessfully, is attacked by a Council hitman, barely fending him off. Investigating a gravitational anomaly around Carter, Howard discovers Wilkes alive but temporarily invisible and non-corporeal, and goes in search of his mentor for help in restoring Wilkes's physical body. Frost accidentally kills her sexist director with her new Zero Matter abilities, and Masters introduces Thompson to Chadwick to celebrate the latter's now guaranteed-senatorship. Thompson realizes that Carter was right. (Agent Carter Better Angels)
Peggy and Jarvis kidnap Hunt in an attempt to learn more about the Council. After getting names of members of the Council and locations of transcripts of their meetings, Peggy and Sousa prepare the SSR to infiltrate the Arena Club, but are stopped by Masters. They let a bugged Rufus Hunt escape, and he attempts to blackmail Chadwick in exchange for protection. Displeased with the mess he was causing, Frost absorbs Hunt, revealing her abilities to Chadwick. (Agent Carter Smoke & Mirrors)
Dr. Wilkes becomes drawn to the Zero Matter in a sample of Scott's body, and temporarily regains his physical body while discovering the location of Scott's after absorbing the small amount of the substance. Carter and Jarvis attempt to steal Scott's body, hoping that the rest of the Zero Matter within it will restore Wilkes permanently, but arrive to see Frost taking the Zero Matter for herself, before convincing Chadwick to help her steal an atomic bomb from the Council so she can replicate the original discovery of Zero Matter. They seek help from Frost's ex-boyfriend Joseph Manfredi, a crime lord, who gives them men for the job in exchange for Chadwick's influence in the media. Peggy, Jarvis, Sousa and some SSR allies break into the Roxxon facility holding the bombs and disable them before Frost can reach them. Peggy confronts Frost but is seriously injured, as Sousa helps her he accidentally reveals to his new fiance that he is in love with Carter. Dr. Wilkes comforts Carter as she recuperates, until his form appears to fade away. (Agent Carter The Atomic Job)
Desperate to stabilize himself before he is completely drawn away, Dr.Wilkes designs a containment chamber for himself, but requires more Zero Matter. Peggy realizes that Frost is now the only source of Zero Matter, but is still too injured to get it herself. Instead, she breaks Underwood out of prison, sending her to one of Chadwick's charity events with Jarvis. The event is a cover for a Council meeting, with Chadwick having convinced them to see Frost they usually never speak with outsiders, let alone women. Masters and Thompson are also at the event, Jarvis distracts Thompson while Underwood collects the Zero Matter from Frost, using a device designed by Wilkes. Sousa accidentally reveals to Carter that his fiance left him due to his feelings for her. Dottie eavesdrops on the Council meeting, watching as Chadwick betrays Frost and has her restrained. Frost destroys Chadwick and half of the Council, and proclaims herself leader of the remaining Council members. Masters and Thompson capture Underwood for Frost. (Agent Carter Life of the Party)
Frost and the Council cover up her murder of Chadwick and the other Council members, and Frost makes Manfredi her second-in-command. With the help of Jarvis's wife Ana, Wilkes uses the Zero Matter and containment chamber to restore his physical form, though he knows he cannot leave the chamber for long. Masters tries to interrogate Underwood, before Frost reassigns him to finding the uranium that Peggy and company stole from the Roxxon bombs. Frost interrogates Dottie herself, using her abilities, and learns that Carter wanted the Zero Matter because of Wilkes and his condition. Frost sets a trap, luring Peggy and Jarvis away from Wilkes. Masters attempts to get Sousa to cooperate in getting the uranium, and when he refuses, has men attack him at home, forcing Sousa to take leave Masters takes over SSR L.A. Frost and Manfredi kidnap Wilkes, with Frost hoping to help and study him. To slow down Carter's pursuit of them, Frost shoots Ana, and while Carter and Jarvis are focused on saving Ana, Underwood escapes. (Agent Carter Monsters)
Frost tells Wilkes that if he accepts the power of the Zero Matter within him then he will be able to control it. Peggy and Sousa meet with Frost, giving her fake uranium in exchange for Wilkes. Frost soon realizes the ruse, and pursues them. Wilkes, learning to control his abilities and change between corporeal and non-corporeal states, turns on Carter, demanding that Sousa reveal the location of the real uranium. Sousa directs him to a vault at the SSR. Ana survives surgery, but loses the ability to have children. Thompson overhears Frost telling Masters to retrieve the uranium, but is incapacitated by Masters. Peggy and Sousa join Thompson, and, along with Jarvis and a new gamma cannon courtesy of Howard, travel to the Isodyne atomic testing area. Wilkes is sucked into a rift created by the now armed atomic bomb, but the cannon closes the rift and returns Wilkes, now full of Zero Matter. A revenge-seeking Jarvis shoots Frost, but she survives due to her Zero Matter. Jarvis and Peggy are taken hostage by Manfredi's men. (Agent Carter The Edge of Mystery)
Peggy and Jarvis escape capture while Thompson and Sousa return to the SSR. Manfredi sets up a new lab for Frost in an abandoned facility, where she begins trying to take all of Wilkes' Zero Matter for herself. Thompson convinces Masters to use the gamma cannon against Frost, then visits Frost, warning her of Masters' treachery and offering to turn on him in exchange for a seat on the Council. Thompson then turns on Peggy and Sousa, delaying them, as he actually intends to remote detonate the cannon to kill Frost, Masters, and Wilkes. Thompson turns Masters over to Frost, but the SSR manage to jam his detonator signal before he can detonate the cannon. Peggy tries to get Wilkes out of the building, but he refuses to leave knowing what he has become. Thompson holds the others at gunpoint until his signal is un-jammed, though Peggy is still unwilling for Wilkes to die. As Frost begins killing Masters, he notices that the cannon is being activated. However, Wilkes finds them then, and unleashes all the Zero Matter from within himself. (Agent Carter A Little Song and Dance)
Frost absorbs the Zero Matter released from Wilkes, who is rescued by Peggy, as Howard returns and aids in their escape. Thompson finds in Masters' possession a supposedly incriminating file on Carter and a secret Council key. Manfredi becomes concerned with Frost's behavior, and her new obsession with opening another rift, this time with a machine of her own design. He meets with Stark—an old friend of his—and the others, and agrees to distract Frost while Peggy and Sousa photograph the blueprints for Frost's machine, which Howard and Wilkes build themselves. They open a new rift, and Frost is drawn to it. They use the gamma cannon to knock the Zero Matter from her, into the other dimension. Frost is left insane from her time controlled by the Zero Matter, and is placed in a mental asylum. Thompson gives the secret key to Carter, who is convinced to stay in Los Angeles to be with Sousa. Thompson prepares to return to New York, but is shot in his hotel room. the shooter takes the file on Peggy. (Agent Carter Hollywood Ending)
1948
Peggy Carter works for Agent John Flynn. She gains intel of the location of the criminal organization known as Zodiac. (Agent Carter)
Carter infiltrates the Zodiac base, takes out the Zodiac members single handed and is able to retrieve the serum. (Agent Carter)
Agent Flynn reprimands Peggy for not going through the proper procedures. (Agent Carter)
Howard Stark recruits Agent Carter to co-run the newly created S.H.I.E.L.D.. (Agent Carter)
During Operation Paperclip, Arnim Zola is recruited to S.H.I.E.L.D., he used that opportunity to secretly rebuild HYDRA. (Captain America: The Winter Soldier)
In the care of the newly recreated HYDRA now working underneath S.H.I.E.L.D.'s nose, Barnes underwent further experimentation at the hands of Arnim Zola and various other doctors. Removing the remnants of his severed arm, the doctors replaced the missing limb with a prosthetic one. Bucky was also subjected to multiple mind control methods to keep him under their command. Over time, Bucky would lose all memory of his former life and became nothing more than a weapon. (Captain America: The Winter Soldier)
1953
1963
1964
1967
1969
1970s
During the Cold War, Fury was sent on a mission to Russia. (Nick Fury: Spies Like Us)
Emil Blonsky is born in Russia.
Tony Stark is born in Manhattan, New York.
A a group of radicals in the Soviet-controlled East Berlin discover a piece of HYDRA technology. (Ant-Man Prelude)
The leaders of S.H.I.E.L.D. send an agent to Berlin and stop the radicals from reverse-engineering the HYDRA technology. (Ant-Man Prelude)
Howard Stark confronts S.H.I.E.L.D. Consultant Henry Pym about giving S.H.I.E.L.D. his Ant-Man Suit. Pym is unwilling to give his suit to anyone else, so Agent Peggy Carter convinces him to go to Berlin personally. (Ant-Man Prelude)
In Berlin, Pym successfully crossed the Berlin Wall only to be spotted by a guard dog. Pym manages to escape by jumping on an anti-personnel device which then fired him to safety. He made his way into the radicals' headquarters by controlling a flying ant. He discovered that the group had not even built the device yet. He heard screams and found a group of HYDRA scientists torturing a prisoner. Hank intervened and defeated them, liberating the prisoner in the process. (Ant-Man Prelude)
At the S.H.I.E.L.D. Headquarters, Stark thanked Pym and told him that was his last mission but Pym refused, realizing there were more problems in the world. Still only trusting himself to wear the Ant-Man suit, Pym decides to continue to do field missions. (Ant-Man Prelude)
1972
Arnim Zola dies, though his mind continued to live in cyberspace, from which he was able to provide easy passage into the agency for HYDRA sleeper agents that either managed to escape justice during the war or were corrupted from within. (Captain America: The Winter Soldier)
1973
1974
1980s
1982
1983
1984
1987
March
1988
July
1989
1990s
1990-1991
1990-1999
1994
October
1995
1996
Wenwu over the millennia still not satisfied with the powers the rings granted him hearding of the ancient village of Ta Lo, he sought to enter the realm for its mythical creatures. Wenwu ventured into a bamboo maze and comes across Ying Li, a woman guarding the entrance to Ta Lo, who told that he is unwelcome in their village. Wenwu refuse to back down, leading them to fight. The two lock eyes, and while Li manages to defeat him, he soon return to meet her. The two fell in love and marry. Wenwu shutdown the Ten Rings and even forsake the power of the Rings and Li left her home. They made a peaceful life together. (Shang-Chi and the Legend of the Ten Rings)
1997
1998
1999
December
2000
January
2004
2002-2008
Peter Parker is born in Queens.
Li tell story to her and Wenwu live to her son Shang-Chi, then giving him a green pendant to find his way to her home. One night, a group known as the Iron Gang, who had are Wenwu old enemy, infiltrated their home wanted revenge. While Li tried to fight them, she ended up being murdered. When Wenwu return home and find Li dead he took Shang-Chi with him and made him witness as he used the rings to slaughter the Iron Gang. (Shang-Chi and the Legend of the Ten Rings)
Wenwu rededicated himself to the Ten Rings, and trained Shang-Chi in martial arts, before sending him out at the age of fourteen to assassinate the leader of the Iron Gang. After killing his target, agitated and enraged by the criminal world his father got him into, Shang-Chi escaped the Ten Rings and fled to the United States. He never returned for for his sister Xialing. While there, he moved to San Francisco, and changed his name to Shaun to ensure his father would be unable to track him, though he did not realize that he was already being tracked. (Shang-Chi and the Legend of the Ten Rings)
Akela Amador spends four years caged in a copper mine in the Shanxi Province. Amador's jailers performed multiple types of surgery on Amador, eventually installing a bionic eye in her head. Through this eye, she received instructions for jobs she was to perform. At first, she ignored the instructions, but found that she experienced great pain if she did. (Agents of S.H.I.E.L.D. "Eye-Spy")
A gamma radiation accident transformed scientist Bruce Banner into the Hulk. During his ensuing rampage, Banner hospitalizes his then lover, Betty Ross, General Ross' daughter. Banner goes on the run from General Thaddeus Ross, who wants to use Banner's power as a weapon. (The Incredible Hulk)
Nick Fury meets with Banner in a bar, to see what he can do and in attempt to find a Super Soldier for themselves. Hulk escapes the bar. After this encounter, Fury declares that everything else including Banner is secondary, and that General Ross is who they must deal with. (The Incredible Hulk: The Fury Files)
HYDRA's personal assassin, the Winter Soldier is sent to kill a nuclear scientist. He found his target being escorted by KGB Agent, Natasha Romanoff. Without hesitation, he attacked his target, sending him and Romanoff over a cliff. Finding Romanoff saved the target from falling to his death, the Winter Soldier fired a single round through Romanoff's stomach and into the scientist, effectively killing him. He then made his getaway without pursuit. (Captain America: The Winter Soldier)
While Bruce Banner was on the run, he hid on a truck heading to Canada where he was arrested by the police as the truck was passing by the borders, Banner ended up transforming into the Hulk and causing a lot of mess. (The Incredible Hulk: The Big Picture)
Intergalactic criminal duo Rocket Raccoon and Groot arrive at the Hub in search of work. There, they are hired by Stygian crimelord

Zade Scraggot

to hunt down the local Scalluscs. (Guardians of the Galaxy Prelude)
A price is put on Rocket's head by a bounty hunter who had enough of Rocket and Groot taking all the bounties, this caused Groot to turn against Rocket. Betrayed Rocket tries to get away, when he meets face to face with the man who started the manhunt. The man reveals to Rocket why he did it and Groot overhears. Groot bursts into the room and scares the bounty hunter into cancelling the manhunt for Rocket. (Guardians of the Galaxy: Galaxy's Most Wanted)
Skye became obsessed with finding out the truth about her parents and eventually she ran away and joined the Rising Tide, a computer activist group. Skye and the Rising Tide shared certain beliefs about the freedom and accessibility of information. It was through the Rising Tide, that Skye bonded and became involved with master hacker Miles Lydon. (Agents of S.H.I.E.L.D. "Girl In The Flower Dress")
2007
2008
2009
2010
May
June
On June 25, Aldrich Killian begins work on Extremis, using it on various people with missing limbs and disabilities. (Iron Man 3)
August
Stark escapes using his Iron Man armor prototype. During the escape, Yinsen is killed and Stark learns the terrorist cell was armed with weapons created by Stark Industries. Dismayed, Stark returns to the US and announces he will no longer make weapons. (Iron Man)
September
October
2011
April
May (Fury's Big Week)
June
July-December
2012
January-March
April
Loki Laufeyson's self-exile brings him into contact with Thanos who gives him knowledge not only of the Tesseract, a cosmic cube left on earth, but also ancient knowledge of more potent magic as well. Thanos gives him a golden scepter with a blue gem that acted both as a weapon and as a mind control device. Thanos introduced Loki to the leader of the Chitauri and the three formed a pact that would allow him to become ruler of the Earth. (The Avengers, Thor: The Dark World Prelude)
Frigga sees the meeting between Loki and Thanos, discovering that he was still alive. (Thor: The Dark World Prelude)
Tony Stark completes the construction on Stark Tower and uses an Arc Reactor as a power supply to have it power itself for over a year. (The Avengers)
The Tesseract begins to emit low levels of Gamma Radiation. Nick Fury arrives at the scene moments before Loki Laufeyson travels through a portal generated by the Tesseract and assaults the base. Loki then posseses Clint Barton, Erik Selvig and several S.H.I.E.L.D. Agents with the Chitauri scepter given to him by Thanos before escaping the facility with the Tesseract. Nick Fury proclaims that Earth is now at war and reactivates The Avengers Initiative. (The Avengers)
Natasha Romanoff interrogates Georgi Luchkov. Agent Coulson calls and tells her that Clint Barton has been compromised. (The Avengers)
Heimdall confirms that Loki is on Earth after the Tesseract. (Thor: The Dark World Prelude)
Nick Fury sends Natasha Romanoff to find Bruce Banner and convince him to help them trace the Gamma Radiation traces given off by the Tesseract, and sends Phil Coulson to meet with Tony Stark to convice him to assist S.H.I.E.L.D. in finding the Tesseract. Meanwhile, Fury visits Steve Rogers and gets him to join the Avengers Initiative. (The Avengers)
S.H.I.E.L.D. contacts Jane Foster and Darcy Lewis and send them to Tromso, Norway. (Thor: The Dark World Prelude)
Loki Laufeyson sets up shop in an unknown location and gains enough support to allow Selvig to build the device to open the gateway for the Chitauri forces to come through. He is eventually contacted by the Other, emissary of Thanos and is reminded that if he fails, there will be no place in the universe he will be able to hide. Now fearful of any kind of failure, he consults with Barton on what was the next step which is getting iridium to help stabilize the wormhole and knows where to get it. (The Avengers)
Arriving on S.H.I.E.L.D.'s main base, the Helicarrier, Rogers, Romanoff and Banner all meet with Fury and see the Helicarrier in action. (The Avengers)
Loki is spotted in Stuttgart, Germany. Rogers is then sent to go after him, armed with his trusty shield and a new modified uniform, along side Romanoff. (The Avengers)
Odin uses Dark energy to send back Thor to Midgard, as Thor heads back he ends up landing in a forest. (Thor: The Dark World Prelude)
Captain America confronts Loki. Iron Man joins him and Loki surrenders to S.H.I.E.L.D. (The Avengers)
En route back to the Helicarrier, Thor returns to get Loki and the Tesseract back. Thor tries to reason with Loki but is stopped by Stark and after a battle with him that is intervened by Captain America, do they realize they are after the same thing and escort Loki to the Helicarrier. (The Avengers)
the Avengers begin to argue with one another about Loki, the Tesseract being used to possibly create weapons as deterrence to future threats and to some extent, with one another. At the same time, Barton, along with other brainwashed agents, attack the Helicarrier to free Loki. Stark and Rogers try to fix the damaged engine, while Romanoff had to fend off the threat of Banner, now transformed into the Hulk but survives only with the intervention of Thor. (The Avengers)
Loki escapes but kills Phil Coulson and jettisons Thor out of the Helicarrier, trapped in an cage meant to be used for the Hulk. The Hulk is also jettisoned out of the Helicarrier. However, the death of Coulson finally brings the team together. Rogers, Stark, Romanoff and Barton, now freed of Loki's control, decide to go to New York after Loki. (The Avengers)
War Machine arrives in Hong Kong and continues fighting the Ten Rings organization. (Iron Man 3 Prelude)
Loki commandeers Stark Tower to be used as the location to open the wormhole for the Chitauri to invade as it has a clean supply of energy thanks to the Arc Reactor powering it, But also as a means to satisfy his own ego. Tony Stark arrives and confronts Loki to "threaten" him, assuring Loki that the Avengers will defeat him. Selvig activates the device powered by the Tesseract, opening the gateway for the Chitauri forces to come through and begin their attack on the city. (The Avengers)
Tony contacts Rhodes, asking him if he can help him on New York. But Rhodes is unable to make it in time. (Iron Man 3 Prelude)
The Avengers rally in defense of New York and follow the command of Captain America. The Hulk beats Loki into submission. The team hold off the invasion well but are outnumbered by the aliens. (The Avengers)
Kate Bishop was with her wealthy parents Eleanor and Derek Bishop in New York City when their upscale penthouse is attacked during a Chitauri invasion. One of the Chitauri targets Kate, but she is saved by Hawkeye. She and Eleanor survive the battle, but Derek were killed. (Hawkeye (Disney+ series) Never Meet Your Heroes)
A nuclear missile is sent by the World Security Council to destroy the city. Iron Man intercepts the missile and throws it through the portal, destroying the Chitauri fleet. The invaders die immediately. Hulk catches an unconscious Stark, who is revived. The Avengers arrest Loki. (The Avengers)
Tony Stark and the federal government create the U.S. Department of Damage Control (D.O.D.C.), driving salvage company owner Adrian Toomes out of business. Toomes convinces his crew to not surrender the Chitauri technology already scavenged from the Battle of New York and use it to further a criminal agenda. (Spider-Man: Homecoming)
At Derrick funeral, Kate decides to take up archery in order to protect her mother when another such threat come. Kate was inspired by watching Hawkeye during the Battle for New York. (Hawkeye (Disney+ series) Never Meet Your Heroes)
After the battle, the Avengers head to a Shawarma restaurant to eat. (The Avengers)
James Rhodes meets the Avengers. (Iron Man 3 Prelude)
Thor returns to Asgard with the Tesseract and Loki. (The Avengers)
The Avengers go their separate ways: Barton and Romanoff return to S.H.I.E.L.D., Banner and Stark leave for new horizons and Rogers rides off to explore the world he is now a part of. However, Fury realizes, reminded by Maria Hill, that should another similar threat come, the Avengers would be needed again. (The Avengers)
The Other informs Thanos of Loki's defeat and warns him that going against Earth would be to court death. Thanos smiles. (The Avengers)
Loki and Thor make it back to Asgard, Odin no longer considers Loki his son and sends him to the Dungeons. (Thor: The Dark World Prelude)
Tony Stark begins building his Iron Legion army. (Iron Man 3 Prelude)
Pepper Potts goes to live with Stark. (Iron Man 3 Prelude)
A member of A.I.M reports to The Mandarin that they're hidden agents under the disguise of Ten Rings members managed to scan the War Machine armor, thus obtaining invaluable information data for use against Tony Stark. (Iron Man 3 Prelude)
Claire Weiss and Benjamin Pollock find a Chitauri gun and start using it to get anything they want. (Item 47)
May-November
December
2013
Skye spent two years living out of her van and using her skills to reveal classified data to the public while searching for information about her parents. However, in all of her searching, the only evidence she was able to find about them was a document with all of the pertinent data redacted by S.H.I.E.L.D. It was then that she came on to the idea to infiltrate S.H.I.E.L.D. (Agents of S.H.I.E.L.D. "Girl In The Flower Dress")
January
Tony Stark goes to speak to Bruce Banner about the Mandarin and Killian incident, but Banner falls asleep as Stark begins his story, stating he's not that type of doctor. (Iron Man 3)
February-December
Coulson returned to S.H.I.E.L.D. where only agents in Level 7 can know he survived Loki's attack. The Centipede Group begin experimenting with Extremis, using an device called the Centipede, injecting Mike Peterson and another person with it. During one of the Extremis explosions, Mike saves Debbie, he appears on the news as result, Skye records all this. Skye meets up with Mike Peterson and warns him about S.H.I.E.L.D. After broadcasting a threat to S.H.I.E.L.D., Coulson and Agent Ward takes her in, planning to inject her with a truth serum to know more about Peterson. Later Mike Peterson confronts his former boss, Gary, as he looks desperately for work that will allow him to take care of his son. He ends the interaction by killing his boss. Peterson takes Skye hostage in an attempt to save her and himself, also requesting that she delete any and all of his presence so he can effectively disappear and keep himself and his son safe from the powers behind Centipede. Skye skillfully triggers a security breach and gives Coulson the coordinates of her position. A fight breaks out as Peterson tries to escape both Coulson's team and the assassin that the doctor had instructed to kill him, and results in Ward being forced to shoot Mike in the head. Fortunately, due to his superhuman abilities, Mike Peterson survives and recovers from his wounds. Skye and Coulson are driving Lola, Coulson's hovercraft vintage red car toward what Agent Ward called a "0-8-4", after Coulson requests that Skye seriously consider joining the team long-term and helping them further their cause. (Agents of S.H.I.E.L.D. "Pilot")
The team heads to Peru to find the "0-8-4" item which was left behind by the Germans and was powered by the Tesseract, in there Coulson meets up with Camilla Reyes, who betrays him and ended in the Bus being damaged. She was taken into custody and they got rid of the item. Sometime later Fury meets with Coulson after his mission in Peru and is enraged about the damage made to the plane. (Agents of S.H.I.E.L.D. "0-8-4")
Ian Quinn discovers gravitonium. He kidnaps Dr. Franklin Hall, Hall then "allies" with Quinn to aid him with the gravitonium. In reality, Hall wants to sabotage the project. Coulson's team goes to rescue Hall, Ian Quinn escapes. Coulson apparently kills Hall when he's fused with the gravitonium. The gravitonium is taken by S.H.I.E.L.D. with Hall still inside, Hall moves his arms in an attempt to break out the gravitonium revealing that he's still alive. (Agents of S.H.I.E.L.D. "The Asset")
Akela Amador's handler sent her on a number of jewelry heists, including one in Stockholm Sweden, totaling 30 million dollars. The complexity of these thefts put her back on Coulson's radar. Phil Coulson's team was able to hijack the signal to Akela Amador's eye, which allowed Agent Grant Ward to carry out her mission without alerting her handler to the fact that she had been compromised. While this was happening, Coulson's science team, Agents Leo Fitz and Jemma Simmons, performed surgery on Amador, removing her bionic eye. When Melinda May tracked down the location of Akela Amador's handler, Coulson confronted him. As soon as he did, the handler's own eye-piece activated its own failsafe, killing him instantly. In the end, Amador's handler was as much of victim as she was. Finally freed from her unknown masters, Akela Amador was taken into S.H.I.E.L.D. custody. Coulson assured her that she would get a fair trial and that he would testify on her behalf. (Agents of S.H.I.E.L.D. "Eye-Spy")
Skye's teammate in Rising Tide, Miles Lydon hacks S.H.I.E.L.D. and sells info on super-powered beings to Raina, a member of The Centipide working with A.I.M. in order to stabilize Extremis. she kidnaps the magician Chan Ho Yin who can manipulate fire. S.H.I.E.L.D. goes after Miles. He and Skye re-encounter each other and they make up, only to be discovered by S.H.I.E.L.D. Skye is arrested for treachery alongside Miles. who reveals what he did. Chan Ho Yin is injected with Extremis, The Centipide tries to remove his powers and S.H.I.E.L.D. arrives to save him, but he turns against them, thinking they will do the same, killing a S.H.I.E.L.D. agent and a doctor in the process. Chan is killed when the Extremis becomes unstable and explodes. Coulson is angry with Skye for her treachery, but she explains why she joined the Rising Tide and became interested in S.H.I.E.L.D. in order to find the truth about her parents as S.H.I.E.L.D. censored a file about them, Coulson promises to help her out. (Agents of S.H.I.E.L.D. "Girl In The Flower Dress")
Sometime after the battle of New York, some firefighters takes one of the Chitauri helmets and they get infected with a virus that kills them which is contagious, S.H.I.E.L.D. takes custody of the helmet, but Jemma is infected in the process. she and Fitz tries to find a cure, but when all hope seems lost Jemma tries to commit suicide by jumping out of Bus, but after a cure is made. Ward goes to save her and injects her with the cure. Coulson's team brings the helmet to Agent Blake, who notices that Coulson acts different, but Coulson tells him to get used to it. (Agents of S.H.I.E.L.D. "FZZT")
Fitz and Ward are sent to a Level 8 mission to Russia. Coulson gets some info on Skye's past, which reveals that she was left behind to an orphanage, but he doesn't tell her why. Coulson tries to get access to the file about his "death", but he doesn't have the permission to do so. (Agents of S.H.I.E.L.D. "The Hub")
The Asgardians prepare for fight the Marauders and protect the Nine Realms from them. (Thor: The Dark World Prelude)
Erik Selvig begins to suffer mental issues after Loki took over his mind, he goes to Stonehenge completely naked and is taken by the police. Odin sentences Loki to the dungeons after one final conversation with him. Thor, Sif and the Warriors Three battle the Marauders in Vanaheim. After the battle is won, Thor tells Hogun to stay there with his people as the rest of them go back to Asgard. Jane Foster, Darcy Lewis and Ian Boothby investigate the Convergence in London. Jane Foster finds the Aether. Thor takes Jane Foster to Asgard. Malekith feels the call of the Aether and plants Algrim among the captured Marauders. Algrim becomes the last of the Kursed and breaks out of the holding cell. (Thor: The Dark World)
During the breakout, Lorelei escapes and leaves Asgard. (Agents of S.H.I.E.L.D. "Yes Men")
Frigga is killed by Kurse. Thor burns half of Malekith's face with a lightning strike. Malekith and Kurse escape. A funeral is held for the dead Asgardians including Frigga. Heimdall, Sif, Volstagg and Fandral help Thor, Loki and Jane escape Asgard into Svartalfheim. Loki pretends to betray Thor and Malekith absorbs the Aether. Kurse is stabbed by Loki, stabs Loki in return and then is killed by being sucked through a Black Hole Grenade. Loki apparently dies. Thor and Jane Foster find a portal to Earth. Loki disguises himself as an Einherjar and returns to Asgard where he lies to Odin telling him that Loki is dead. Darcy Lewis and Ian Boothby find Erik Selvig in a mental hospital and have him released. They meet up with Jane Foster and Thor. Malekith and the Dark Elves begin to attack Earth in order to use the Convergence to plunge the universe back into darkness. Thor battles him, travelling through various portals to other realms including Jotunheim where the Frost Beast follows them through the portal back to Earth. Malekith starts to release the Aether. Thor used Erik's devices to teleport Malekith back to Svartalfheim. Erik Selvig transports the Harrow back to Svartalfheim where it crushes and kills Malekith. Thor returns to Asgard and tells Loki, disguised as Odin, that he does not want the throne. Sif and Volstagg take the Aether to The Collector. (Thor: The Dark World)
The Collector hires Gamora to find The Orb and bring it to him. (Guardians of the Galaxy Prequel Infinite Comic)
Thor returns to Midgard to be with Jane. The Frost Beast still remains in London. (Thor: The Dark World)
Coulson's team goes to Greenwich to clean up in the aftermath of Malekith's defeat. Jakob Nystrom and Petra Larsen find one of the pieces of the Berserker Staff. Coulson's team goes to ask Elliot Randolph about the staff. Later, he finds a second piece of his staff, and his Asgardian status is revealed. The team finds the final part of the staff and defeats Jakob, Petra and their team. (Agents of S.H.I.E.L.D. "The Well")
Tobias Ford, a man who is stuck between Earth and Hell, haunts his old friend Hannah Hutchins. He thinks that if Hannah forgives him, he will be out of Hell. When Coulson's team gets on the case, Hannah tells Tobias that only God can forgive him and Melinda May states that he will not forgive him for what he did and tells him to let go of Hannah, he does and is stuck in Hell permanently. (Agents of S.H.I.E.L.D. "Repairs")
Mike Peterson joins S.H.I.E.L.D. after Edison Po escapes prison. Po and Raina become interested in Peterson and Coulson. Skye finds out that Coulson won't tell her the truth about her parents. Raina kidnaps Ace Peterson in order to exchange him for Coulson. Coulson is taken away and Mike is apparently killed. (Agents of S.H.I.E.L.D. "The Bridge")
2014
January
Edison Po is killed. Coulson's team try to find Coulson as he learns that he was captured in order to find out how he was resurrected in order to resurrect fallen Centipide soldiers, using a machine Coulson is able to remember bits of his Resurrection, but he's rescued before he can reveal to Raina how he returned. Coulson meets with Dr. Streiten. Streiten confirmed that the process had been ordered by Director Fury himself and that Fury had brought Streiten in with the seventh procedure to restore Coulson. Streiten informed Coulson that the process to restore him had robbed him of his will to live and that they had implanted the false memory of Tahiti to help restore the man he had been. Mike Peterson was recovered by Centipede agents, badly burned, missing his right leg, and implanted with a monitoring ocular implant similar to Akela Amador's Backscatter X-Ray Eye Implant. (Agents of S.H.I.E.L.D. "The Magical Place")
Coulson's Team goes to Jamaica, tipped off by John Garrett, to find a mysterious weapon that is connected to Ian Quinn. There, Grant Ward and Melinda May fight the weapon's guards but they escape with help from Phil Coulson. (Agents of S.H.I.E.L.D.: The Chase")
Leo Fitz and Jemma Simmons learn that the weapon is Chitauri-inspired but augmented with Overkill technology. (Agents of S.H.I.E.L.D.: The Chase")
Ian Quinn attempted to buy Donnie Gill's freezing device, and his request for a demonstration led to the formation of an icy 'superstorm' over the S.H.I.E.L.D. Academy. May and Coulson went to Mexico to find Richard Lumley in order to find more of Skye's past and about the murder of the woman who left her in the orphanage. Lumley warns them to stay away from Skye. Coulson later tells Skye about this. While testing the freezing device, Donnie's friend Seth is killed, Donnie is taken into custody by S.H.I.E.L.D. after obtaining ice powers. Coulson made a call to Quinn's personal phone to warned him against his malicious dealings. Quinn retaliates with a cryptic mention of "the Clairvoyant", revealing that he has had some form of dealings with the enigmatic figure. (Agents of S.H.I.E.L.D. "Seeds")
20th
February
The Mandarin sends Jackson Norriss to capture Trevor Slattery, posing as a documentary filmmaker. ("All Hail the King")
After the mission at the S.H.I.E.L.D. Academy, the team found a lead to the whereabouts of the Clairvoyant through Ian Quinn. Tracking a mysterious package that Quinn acquired from Cybertek Technologies, the team went undercover and boarded the train transferring the package to Quinn's care. The team was jeopardized by Luca Russo, and Cybertek sent operatives to neutralize them. In the ensuing chaos, the group was separated. Leo and Skye arrived at Quinn's compound, where Skye proceeded inside alone and was shocked to find Michael Peterson, still alive but horribly scarred. Skye is shot by Quinn as Coulson's team arrives and arrests Quinn, while Mike escapes. Skye is put inside a Hyperbaric Chamber in order to keep her alive. (Agents of S.H.I.E.L.D. "T.R.A.C.K.S.")
March
April
May
Raina discovers some information on Skye's past. Coulson's Team discovers that Garrett was the first Deathlok subject. HYDRA captures Fitz and Simmons. Garrett's life is saved with the serum. Ward ejects Fitz and Simmons outside the plane causing them to fall into the water. (Agents of S.H.I.E.L.D. "Ragtag")
Coulson team conduct an attack on the Cybertek facility, with Skye going to save Ace Peterson, May fighting Grant Ward, and Coulson going after Garrett. During the attack, Quinn and Raina steal the Gravitonium and depart, having no real loyalty to HYDRA. Meanwhile at the bottom of the sea, Leo Fitz discovers a way to save Jemma Simmons from the chamber, believing it will cost him his own life. Simmons is able to drag him to the surface, where they are rescued by Nick Fury. Simmons survives, though Fitz is left in a dire state. Coulson engages Garrett but is quickly overwhelmed until Fury arrives for support. Coulson and Fury push Garrett back, with Deathlok delivering a fatal blow once he learns Skye has saved his son. The US Army invades the factory and all the Centipede-enhanced soldiers are defeated and taken into custody. the badly wounded Garrett attempts to transform himself into a new Deathlok, only for Coulson to vaporize him a mere moment later with the 0-8-4 from Peru, In the aftermath, Ward, severely injured from May, and the Centipede soldiers are arrested and Ace is reunited with his aunt Mindy Peterson. Mike Peterson, unable to face his son, goes off on his own to redeem himself. Fury appoints Coulson as the new Director of S.H.I.E.L.D., asking him to rebuild it the right way and gives him the Toolbox. This leads Coulson and his team to a secret base run by Agent Billy Koenig, Eric Koenig's twin brother. Raina delivers a photo of Skye to a mysterious, blood-soaked entity (Agents of S.H.I.E.L.D. "Beginning of the End")
July
August
On the planet Morag, Peter Quill also known as Star-Lord is searching for a The Orb. He finds it as Korath the Pursuer and his henchmen find him. Peter escapes Korath and steals the Orb. His mentor Yondu calls and tells him to give him the Orb. Quill decides he's going to sell it on his own. (Guardians of the Galaxy)
On the Kree Warship, the Dark Aster, Korath reports to Ronan the Accuser that he failed in getting the Orb and that it's in the hands of Quill. Ronan sends assassin Nebula after him, but before she can go, Gamora volunteers instead. (Guardians of the Galaxy)
On the planet Xandar, Quill takes the Orb to the Broker and asks what it is because Ronan's goons were after it too. The Broker suddenly doesn't want anything to do with it and kicks Peter out of his shop. Outside, Gamora jumps Peter and tries to retrieve the Orb herself. Nearby, Rocket and Groot see there's a bounty on Quill's head, so they join in the fight. It is not too long before they're all arrested by Nova Corps and sent to a space prison called The Kyln. (Guardians of the Galaxy)
Inside the Kyln, all the prisoners want to kill Gamora because she's the adopted daughter of Thanos. A prisoner called Drax the Destroyer has a personal vendetta against her because Ronan killed his wife and daughter, so he wants to avenge them by taking the life of one of his family members in return. Gamora explains that she's also against Ronan and was planning on double crossing him. Quill steps in and helps argue in Gamora's favor. (Guardians of the Galaxy)
At Sanctuary, Ronan reports to Thanos that Gamora is a traitor. Thanos tells him to take care of her and get the Orb. He also notes that Gamora is his favorite daughter, which enraged Nebula. (Guardians of the Galaxy)
Gamora has a plan to sell the Orb to someone else. Quill, Rocket and Groot agree to help and split the reward. Rocket has a plan to escape the prison. He needs one of the guards wrist devices, a prisoners prosthetic leg and a battery from a tall column in the prison. As he explains that its very important to take the battery last, Groot grabs it first. The alarms go off and security droids fly in. Gamora goes to get a wrist device as Quill negotiates the prisoners leg. Drax decides to join in the escape too realizing that eventually Ronan will go after Gamora and then he can kill Ronan himself. (Guardians of the Galaxy)
The group gets the stuff they need and make it to a guard station near the top of the prison. Rocket rigs up the stuff to turn off the gravity in the prison and to use the security droids as jets to fly the guard station out of the prison. They escape, but Quill goes back and gets his walkman from one of the guards. Yondu goes to the Broker and finds out Quill still has the Orb. (Guardians of the Galaxy)
The group on Quill's ship gets to know one another better. They don't like each other at all. Soon they arrive at Knowhere to meet with The Collector. While they wait for their appointment, Drax, Rocket and Groot get drunk and gamble. Gamora and Quill bond over music. He explains that his mom made him the mix tape of her favorite songs. She listens and likes it. He asks her to dance, but she doesn't. He makes a pass at her, but she says she's not one of the doe eyed girls he's used to and she won't fall for his pelvic sorcery. Before they can meet with The Collector, Drax, Rocket and Groot, all drunk, get into a big fight. Drax thinks Groot is dumb and Rocket is tired of people calling him a rodent. The Collector's assistant fetches them and they all go to meet him. Drax goes off on his own and makes a call. The Collector opens up the Orb to reveal an Infinity Stone. He explains that its an all-powerful thing. There are more of them. They can destroy planets. His assistant is fed up with him and grabs the stone to destroy him. She and everything in the area blows up. Everyone manages to escape, with the Infinity Stone. They decide the safest place to take it is Nova HQ. It's too dangerous to be anywhere else. (Guardians of the Galaxy)
Suddenly, the group is ambushed by Ronan and his crew. That's the call Drax made. He was tired of waiting to face Ronan. Yondu shows up, too. Gamora, Rocket and Quill take off in little mining ships while Nebula and soon goons chase after. Drax tries to fight Ronan, but gets his ass handed to him. Ronan says he doesn't even remember killing his family, nor will he remember killing Drax. Nebula chases Gamora's ship above the atmosphere and blows it up. She gets the Infinity Stone and leaves Gamora floating in space to die. Quill calls Yondu to tell him where he is, then exits his ship, and gives Gamora his mask to keep her alive. Yondu abducts Quill and Gamora right before they die. Onboard the Dark Aster, Ronan tells Thanos that he decided to cut him out of the deal and will destroy Xandar himself and then go after Thanos. (Guardians of the Galaxy)
Yondu is going to kill Quill for double crossing him, but doesn't when Quill says that he has a plan to get the Orb back. Onboard the Milano, the group asks if he really has a plan or was lying. He says he has the start of a plan. 12% of a plan. Everyone scoffs. Quill points out that they've already lost so much, that at this point they have nothing to lose. Together, they form a plan. Quill warns Nova HQ on Xandar that Ronan is coming to destroy them and they should get ready. Rocket is going to blow a hole in Ronan's ship so Quill, Groot, Drax and Gamora can board it. Gamora is going to cut the power for Ronan's security and then they're going to blow him up with a cannon that Rocket made. They start the plan. Rocket blows a hole in the Dark Aster and then helps Yondu and his men defend Xandar against Ronan's fighter ships. Yondu is shot down and uses his arrow weapon to take out an entire platoon of goons. (Guardians of the Galaxy)
On the Dark Aster, Gamora and Nebula fight each other, while Drax, Quill and Groot go to the bridge of the ship. The Nova ships form a giant net and slow the descent of the Dark Aster. Gamora finally beats Nebula, who falls, landing on a Ravager ship and commandeers it, throwing the Ravager out the window. Ronan orders his ships to kamikaze into Xandar. Rocket and Yondu's men shoot as many of the ships down as they can. (Guardians of the Galaxy)
Almost to the bridge, Drax kills Korath. Groot makes a shish-kebob out of a bunch of goons and whips them around taking out even more. Everyone makes it to the bridge to fight Ronan. Again, he's too strong for them, but Quill manages to shoot him with Rockets super cannon. It does nothing. Rocket crashes the Milano into the bridge and seems to have destroyed Ronan. The entire ship is plummeting towards Xandar, so Groot forms a giant nest around the Guardians for safety. Rocket is upset because he knows that Groot is doing will end up killing Groot. Groot, who up to this point has only said, "I Am Groot" responds with, "We are Groot". The ship crashes. (Guardians of the Galaxy)
Ronan is still alive. He sarcastically called Quill and his crew the Guardians of the Galaxy. Quill stands up to him and starts to sing the song Ooh-ooh Child. Ronan asks what he's doing, he responds, "distracting you" as Drax and Rocket shoot Ronan again. Quill grabs the Infinity Stone from Ronan. It's going to kill him, but Gamora tells him to take her hand. He remembers not having the courage to take his mom's hand, so he grabs Gamora's. Drax and Rocket grab him, too, and the power from it is spread between the four of them. They kill Ronan. (Guardians of the Galaxy)
Yondu shows up and demands the Stone as per his original deal with Quill. Quill hands him the Orb. As Yondu and his men take off, Kraglin notes that he likes Quill and they're glad they didn't take him back to his father like they were supposed to all those years ago. (Guardians of the Galaxy)
Gamora is upset that Quill gave up the stone, but he reveals that he still has the Orb with the stone. At Nova HQ, Quill learns he's only half human and half something else. (Guardians of the Galaxy)
Yondu opens his Orb and sees the Quill tricked him. Inside is a Troll doll, much to his amusement. (Guardians of the Galaxy)
Quill finally opens the last present he received from his mother; a cassette tape filled with her favorite songs. He asks the Guardians where they want to go. Gamora says, "You lead, Star-Lord". He asks if they want to do something good or something bad then decides on both. Rocket holds a tiny Groot planted in a pot. (Guardians of the Galaxy)
Groot dances to the Jackson 5 while Drax cleans his daggers. (Guardians of the Galaxy)
The Collector sits in his destroyed archive where he is licked by Cosmo the Space Dog, and mocked by one of his collections Howard the Duck. (Guardians of the Galaxy)
September
October
November
December
The team splits up, with Coulson and Morse leading a group to begin searching for the hidden city under San Juan, and May, Skye, and Hunter leaving to help Sam and Billy Koenig rescue Raina from a Hydra attempt to kidnap her in Vancouver. Raina tells Skye that they are two of the "worthy ones" who could enter the temple in the city, and that any others who try will die. She also reveals that the temple and the Diviner was built by the Kree. Skye tries to warn the main team, but Whitehall blocks their communications, and Ward boards the Bus to take Raina. He also takes Skye, promising to take her to her father, and in exchange agrees to let the others go. Mack has already entered the city where he touches a pattern on the floor which causes him great pain and compels him to attack the others, until he is subdued and falls down a shaft back into the city. Whitehall is surprised to learn that Ward took Skye, and did not destroy the Bus as ordered, and so gives Agent 33 orders to do so. (Agents of S.H.I.E.L.D. ...Ye Who Enter Here)
May evades HYDRA's attempt to shoot down the Bus, while Ward brings Skye to meet her father. He tells her that his name is Cal, that hers is Daisy, and that Whitehall killed her mother. Whitehall then arrives at the Hydra base in San Juan where they are drilling directly into the temple. He immobilizes Cal and menaces Skye, but is interrupted as Coulson's team assaults the base. Coulson kills Whitehall, devastating Cal, who attempts to avenge the loss of his own opportunity at vengeance by trying to kill Coulson himself. Skye shoots Ward and forces Cal to leave, before following Raina and the Diviner into the temple. Agent 33, now with no purpose since Whitehall's death, assists Ward in escaping. Coulson and Triplett race to the temple to help Skye, with Triplett making it in and Coulson being delayed by Mack, who soon after breaks from the city's control when the temple closes itself, and the Diviner opens, revealing Terrigen Crystals, it subsequently releases a small burst of Terrigen Mist. Skye and Raina are encased in cocoons, while Triplett is killed by the Diviner. Skye erupts out of her cocoon, her new earthquake abilities causing tremors around the city. Elsewhere, another Diviner reveals to a man with no eyes that "there's a new one". (Agents of S.H.I.E.L.D. "What They Become")
2015
In the wake of Whitehall's death Coulson looks to hit back at Hydra, who are looking at the imprisoned Bakshi as a potential replacement for the leadership role. S.H.I.E.L.D. enacts a plan that sees Bakshi escaping and leading them to other high-ranking Hydra agents, who are then killed. In Puerto Rico, the alien city is flooded, but not before Raina escapes, having transformed into a monstrous creature. When Cal turns his back on her, reminding her that she got what she wanted, Raina attempts to commit suicide, but she is taken by the man with no eyes, Gordon, who can teleport. Fitz and Skye realize that she has also been transformed she created the earthquake in San Juan, but has no control over this ability. Fitz agrees to keep her secret, and hides the truth from the rest of the team. Meanwhile, a model car that Mack built for Coulson scans the latter's office and finds the "toolbox" that previous S.H.I.E.L.D. Director Nick Fury gave to Coulson. Mack secretly reports this to Morse. (Agents of S.H.I.E.L.D. "Aftershocks")
March
April
May
In Eastern European country of Sokovia, The Avengers: Tony Stark, Steve Rogers, Thor, Bruce Banner, Natasha Romanoff, and Clint Barton raid a Hydra outpost led by Baron Wolfgang von Strucker, who has been experimenting on humans using the scepter previously wielded by Loki. They encounter two of Strucker's experiments, twins Pietro, who has superhuman speed, and Wanda Maximoff, who can manipulate minds and project energy and apprehend Strucker, while Stark retrieves Loki's scepter. (Avengers: Age of Ultron)
Stark and Banner discover an artificial intelligence within the scepter's gem, and secretly use it to complete Stark's "Ultron" program. The unexpectedly sentient Ultron, believing he must eradicate humanity to save Earth, eliminates Stark's A.I. J.A.R.V.I.S. and attacks the Avengers. Escaping with the scepter, Ultron uses the resources in Strucker's Sokovia base to upgrade his rudimentary body and build an army of robot drones. Having killed Strucker, he recruits the Maximoffs, who hold Stark responsible for their parents' deaths by his weapons. Together, they visit the base of arms dealer Ulysses Klaue in an African shipyard to obtain Vibranium. The Avengers pursue them, but Wanda subdues the heroes with haunting visions, causing the Hulk to rampage until Stark stops him with the Hulkbuster armor. (Avengers: Age of Ultron)
A worldwide backlash over the resulting destruction, and the fears Wanda's hallucinations incited, send the team into hiding at Barton's safehouse. This turned out to be his farm, where Barton had constituted a family with his wife Laura. Thor departs to consult with Dr. Erik Selvig on the meaning of the apocalyptic future he saw in his hallucination, while Romanoff and Banner plan to flee together after realizing a mutual attraction. However, Nick Fury arrives and encourages the team to form a plan to stop Ultron. In Seoul, Ultron forces the team's friend Dr. Helen Cho to use her synthetic tissue technology, vibranium, and the scepter's gem to perfect a body for him. When Ultron begins uploading himself into the body, Wanda is able to read his mind; discovering his plan for human extinction, the Maximoffs turn on Ultron. Rogers, Romanoff, and Barton find Ultron and retrieve the synthetic body, but Ultron captures Romanoff. (Avengers: Age of Ultron)
The Avengers fight amongst themselves when Stark secretly uploads J.A.R.V.I.S. who is still operational after hiding from Ultron inside the Internet, into the synthetic body. Thor returns to help activate the body with lightning, explaining that the gem on its brow one of the six Infinity Stones, the most powerful objects in existence was part of his vision. This "Vision" and the Maximoffs join the Avengers to Sokovia, where Ultron has used the remaining vibranium to build a machine to lift a large part of the capital city skyward, intending to crash it into the ground to cause global extinction. Banner rescues Romanoff, who awakens the Hulk for the battle. The Avengers fight Ultron's army while Fury arrives in a Helicarrier with Maria Hill, James Rhodes and S.H.I.E.L.D. agents to assist in evacuating civilians. Pietro dies when he shields Barton from a barrage of fire, and a grieving Wanda abandons her post to destroy Ultron's primary body in revenge, which allows one of his drones to activate the machine. The landmass plummets, but Stark and Thor overload the machine and shatter the city into pieces. In the aftermath, the Hulk, unwilling to endanger Romanoff by being with her, departs in a Quinjet, while Vision confronts Ultron's last remaining body. (Avengers: Age of Ultron)
Thor and Stark each had their own agendas to pursue, with Thor needing to investigate the matter of yet another Infinity Stones coming within reach. Barton meanwhile had a new baby to attend to and left the Avengers to return to his wife. Rogers and Romanoff proceeded to a new Avengers facility in New York, and welcomed a new quartet to the fold. They were joined by Falcon, War Machine and the Vision, Wanda Maximoff. (Avengers: Age of Ultron)
Thanos, dissatisfied by the failures of Loki and Ronan, dons the Infinity Gauntlet, and vows to personally hunt for the Infinity Stones. (Avengers: Age of Ultron)
The new S.H.I.E.L.D. board is grateful to Coulson after Fury uses Coulson's secret helicarrier to help the Avengers save the world, and they agree to merge their factions, with Coulson remaining as director, and the board acting as his oversight and advisory council. Raina has a vision of an ancient Kree weapon, designed to destroy the Inhumans, those who were altered by the Kree. Gordon takes her to search for it, finding it in the cargo hold of Gonzales' ship. S.H.I.E.L.D. discovers the intruders, and uses Hydra technology to track them when they teleport away, learning the location of Afterlife. Palamas reveals Ward's true plan when she helps him kidnap Morse. Gonzales leads a delegation to Afterlife to meet Jiaying and index the community. Raina foresees war if Jiaying meets with S.H.I.E.L.D. but it is assumed that she is lying in order to seize power. When Jiaying and Gonzales meet, she delivers Cal into S.H.I.E.L.D. custody, before killing Gonzales and shooting herself to start a war with S.H.I.E.L.D. rather than let her people be indexed. (Agents of S.H.I.E.L.D. "Scars")
S.H.I.E.L.D. quickly realizes Jiaying's ruse, but the people of Afterlife, including Skye, fall for it, and agree to fight alongside her. Ward tortures Morse, wanting her to confess to the fact that she had revealed Palamas' location to Hydra while undercover there. Realizing that Morse is confident in her actions, Ward sets a trap that will end with a S.H.I.E.L.D. agent, presumably Hunter, being killed in front of her. However, Morse takes the bullet for Hunter, barely surviving, while Ward accidentally kills Palamas while she is disguised as May. As part of Jiaying's plan, Cal takes a serum that he created to give himself Inhuman strength. However, it is killing him, and Coulson helps him see the truth: Jiaying is the true monster, and ever since he had pieced her back together she had been convincing him to do terrible things, including bringing her humans, whose life she absorbs in order to heal and remain young. Cal asks Coulson to let him help them save Skye. (Agents of S.H.I.E.L.D. "S.O.S. Part One")
After failing to convince Skye that Jiaying is dangerous, Raina confronts Jiaying, who kills her. Seeing this, Skye turns her back on Jiaying. The Inhumans take her prisoner, and attack the S.H.I.E.L.D. ship, planning to use their artificial Terrigen crystals (laced with Diviner metal) to reveal all Inhumans, and kill all humans. Mack frees Skye, who warns Coulson of Jiaying's plan; Coulson, Fitz, and Cal infiltrate the ship. Fitz kills Gordon, preventing him from unleashing Terrigen mist through the ship's ventilation, but Coulson loses an arm when he stops one of the crystals from shattering. Skye confronts Jiaying, who is attempting to spread more crystals around the world with a Quinjet. When Skye pushes the plane into the ocean, Jiaying begins draining her life, until Cal kills her. S.H.I.E.L.D. later wipes Cal's memories, allowing him to live a new life in peace, while Skye joins a new S.H.I.E.L.D. team of gifted people, May takes a break from S.H.I.E.L.D. with Garner, and Ward plans to lead Hydra against S.H.I.E.L.D. in revenge. As traces of the crystals from the ocean make their way around the world anyway, the Kree weapon absorbs Simmons. (Agents of S.H.I.E.L.D. "S.O.S. Part Two")
July
August
1th

Scott had dinner with Maggie and Cassie. After, Scott went to see Hank. Hank asked Scott about the quantum realm after his battle with Darren. He tells Hank he don't remember much about it. Hank has hope that Janet may still be alive. Scott than kissed Hope just before Hank walked in on them much to his surprise. Later, Luis tells Scott that there is an Avenger looking for him. (Ant-Man)
Hank showed Hope something he and Janet had been working on before she was lost, a new Wasp suit. Hank thought it might be time for the two of them to complete it together. (Ant-Man)
September
November
At dinner with Coulson, Price reveals plans to confront Malick before being abruptly sniped by Ward and dying in Coulson's arms. Promoting Mack to interim director of S.H.I.E.L.D., Coulson sets out for revenge and goes off-book with Hunter and Morse to kidnap Ward's younger brother Thomas. Fitz and Simmons go with Banks to investigate the ATCU, but Banks is killed and the two are captured by HYDRA. Simmons is tortured until Fitz agrees to help HYDRA return the Inhuman to Earth, while Coulson uses a phone call between the Ward brothers, where Grant attempts to justify himself and his past actions to Thomas, to locate HYDRA they have set up base at the English castle. Mack clears Gutierrez and Campbell for field duty, and mobilizes the rest of S.H.I.E.L.D. for a rescue mission. HYDRA reopens the portal, and Malick convinces Ward to lead a HYDRA team through it with Fitz, and return with the Inhuman, promising that Coulson will die when they return. Determined to kill Ward, Coulson manages to enter the portal as well. (Agents of S.H.I.E.L.D. "Closure")
Fitz finds Daniels and convinces Ward that they will need him to find the exit point. Mack sends May and The Caterpillars Daisy, Lincoln, and Joey to find Simmons while he, Bobbi, and Hunter infiltrate the castle and secure the portal room. Simmons escapes herself after Campbell shuts down HYDRA's power, and discovers several Inhumans that Malick has gathered as an army, including Garner. Simmons agrees to unleash Lash on HYDRA before making her way to the others. Fitz and Daniels lead Ward to the ruins of an ancient civilization where they manage to get away, while Coulson catches up to Ward and overpowers him, forcing him to follow them. At the exit, Daniels attacks Fitz, the Inhuman had killed Will Daniels as Simmons escaped, and now inhabits his body. Ward attacks Coulson when he is distracted by Fitz, but Coulson uses his prosthetic hand to kill Ward, while Fitz uses a flare to destroy Daniels' body. Fitz and Coulson return to Earth, but the Inhuman, secretly does as well now inhabiting Ward's body. (Agents of S.H.I.E.L.D. "Maveth")
S.H.I.E.L.D agents in Bogotá investigating an Inhuman who is stealing weapons from the police. The woman, Elena Rodriguez, is apprehended despite her super speed with the limitation of returning to where she began moving from after each heartbeat, and reveals that she was destroying the weapons to prevent their misuse by the corrupt police officers. Coulson uses the machine that restored his memories on Werner who is in a vegetative state following brutal treatment by Malick's men and discovers where he contacted Malick. Coulson uses the phone there to find many of Malick's facilities, which are promptly sold by Malick. The police kidnap Morse and Hunter using their own Inhuman, who can temporarily petrify anyone using eye contact, and Rodriguez aids S.H.I.E.L.D. in rescuing them. Though the other Inhuman is captured by HYDRA. Rodriguez agrees to join the Secret Warriors, she remains in Colombia, on call. President Ellis informs Coulson that the new ATCU head, Glenn Talbot will report directly to S.H.I.E.L.D. (Agents of S.H.I.E.L.D. "Bouncing Back")
2016
January
Coulson and Talbot meet with delegates from several countries to discuss Inhumans, accompanied by Carl Creel a human who survived terrigenisis thanks to his powers, and whose blood Simmons believes could be used to "cure" Inhumans who have not yet transitioned. Coulson suspects that one of the delegates is an inside man for Malick, and sends Hunter, Bobbi, and May to find who, with Hunter, seeing Creel acting suspiciously, discovers Talbot's son in ATCU stasis. They also discover that the Australian government has captured an Inhuman, Eden Fesi, for experimentation. Talbot turns on Coulson when Malick arrives, the latter convincing the delegates that Coulson is HYDRA, and that they should carry out their plans with Malick instead, namely the building of an Inhuman sanctuary in Russia. May saves Talbot's son, allowing him to escape with Coulson. Hunter and Bobbi track Malick to Russia, S.H.I.E.L.D. agents rescue Fesi, and Hive restores Ward's corpse to full strength by sacrificing several humans. (Agents of S.H.I.E.L.D. "The Inside Man")
February
In Kathmandu, Nepal, a group of rogue sorcerers infiltrate the Kamar-Taj, an enclave that is known only to the Masters of the Mystic Arts. After beheading the librarian, the group's leader Kaecilius steals a forbidden ritual from a book owned by his former mentor, the Ancient One who is the Sorcerer Supreme. As the Zealots escape through a portal to London, the Ancient One traps them in a Mirror Dimension that is invisible to the public. She takes down several Zealots but fails to stop Kaecilius and his surviving followers from escaping with the ritual.
March
Hunter and Bobbi follow Malick to a decommissioned facility in Siberia, where Russian delegate Anton Petrov wishes to build the sanctuary, against the wishes of Russian Prime Minister Dmitry Olshenko. Olshenko sends his attache to shut down the operation, but he is murdered by General Androvich, an opposition minister and Inhuman whose shadow is made of sentient darkforce. Malick suggests that the Prime Minister be invited to the facility himself, and that Androvich be unleashed upon him. Hunter kills Petrov to protect Olshenko, while Morse kills Androvich to destroy his shadow. Olshenko, unaware of the attempt on his life, has the two arrested. Their Interpol interrogator threatens to turn them over to the Russians for execution unless they confirm that S.H.I.E.L.D. still exists, but Morse and Hunter refuse. Ellis intervenes with Coulson; they save the pair's lives, on the condition that they never work for the U.S. government again. With the option of working in secret out of the field, Bobbi and Hunter instead choose to leave S.H.I.E.L.D. (Agents of S.H.I.E.L.D. "Parting Shot")
April
May
June
After months trying experimental surgeries on his hands, and using all his resources, Strange seeks out Jonathan Pangborn, a paraplegic who mysteriously was able to walk again. Pangborn directs Strange to the secret compound Kamar-Taj, where he is taken in by another sorcerer under the Ancient One, Karl Mordo. The Ancient One shows Strange her power, revealing the Astral plane and other dimensions such as the Mirror Dimension. Strange begs her to teach him, and she eventually agrees despite his arrogance, which reminds her of Kaecilius. (Doctor Strange)
July
Strange begins his tutelage under the Ancient One and Mordo, and learns from the ancient books in the library which is now protected by the master Wong. It is explained that Earth is protected from other dimensions by a spell formed from three buldings called Sanctums, found in New York City, London, and Hong Kong. The task of the sorcerers is to protect the Sanctums, though Pangborn chose to forgo this responsibility in favor of channeling energy into walking again; Strange will have to decide between regaining the use of his hands and defending the world. (Doctor Strange)
August
Strange advances quickly over several months, even secretly reading from the forbidden texts and learning to bend time with the mystical Eye of Agamotto. Mordo and Wong warn Strange against using such power and breaking the laws of nature, comparing his arrogant yearning for power to that of Kaecilius, who believes that everyone should live as long as the Ancient One after the deaths of his loved ones. (Doctor Strange)
September
Daisy has left S.H.I.E.L.D. and began operating as a vigilante, know as "Quake" by the press. Coulson no longer S.H.I.E.L.D.'s director and Mack almost track her down as she arranges the relocation of Charles Hinton's wife Polly and daughter Robin, but she escapes after directing Polly to Cal's veterinary practice. In an end tag Radcliffe is revealed to have been working on a robotics project, the 'Life Model Decoy', as part of which he uploads his artificial intelligence AIDA into the prototype android. (Agents of S.H.I.E.L.D. "Ascension")
Daisy Johnson, now the vigilante "Quake", is hunting gang members in Los Angeles when they are murdered by the fiery "Ghost Rider". Meanwhile, Agents Phil Coulson and Mack, who were forbidden from searching for Daisy by the new Director of S.H.I.E.L.D, are tipped off to her location by Agent Melinda May. S.H.I.E.L.D. ally Holden Radcliffe shows his creation, the android AIDA, to Agent Leo Fitz, who agrees to help perfect her. He keeps this a secret from his girlfriend, Agent Jemma Simmons, who is in the paranoid Director's inner circle, and takes daily lie-detector tests. Simmons discovers that Coulson and Mack are investigating Daisy, and orders May to stop them. She arrives to find them surveilling potential targets of Quake, gang members who have obtained a new weapon, a mystical being, who turns the gang members berserk, and secretly infects May as well. Daisy tracks down the Ghost Rider, but he defeats her. She later sees his human form, Robbie Reyes, looking after his disabled brother, Gabe Reyes. (Agents of S.H.I.E.L.D. "The Ghost")
S.H.I.E.L.D. and Daisy independently investigate the figure, an apparent ghost of a woman named Lucy, both concluding that she originated from an abandoned facility. Daisy confronts Robbie again, and he once more overpowers her. Restraining her, Reyes searches her belongings for a reason to justify killing her, and discovers her research of the facility. He leaves and Daisy escapes her restraints. Meanwhile Director Jeffrey Mace plans to officially announce S.H.I.E.L.D. as a legitimate organization again, the infected May grows increasingly paranoid, seeing all people as monsters, and eventually attacking other agents. Director Mace restrains May with his Inhuman strength, and promises Coulson to take care of her. Mack and Fitz arrive at the facility to find more ghosts, who attempt to blow it up with them inside. Robbie turn into Ghost Rider and intervenes, destroying one of the ghosts, and Daisy arrives to stop S.H.I.E.L.D. from taking him in. Rather than rejoin S.H.I.E.L.D., Daisy agrees to work with Robbie, who believes that the ghosts are tied to him. (Agents of S.H.I.E.L.D. "Meet the New Boss")
October
Inhuman S.H.I.E.L.D. asset Elena "Yo-Yo" Rodriguez is caught in a blackout in Miami. Robbie and Daisy are caught in another in Los Angeles. A group claiming to be the Inhuman resistance, fighting registration with the Sokovia Accords, take responsibility. Robbie explains that his uncle, Eli Morrow, use to work at Momentum Labs, and believes that atoning for Morrow's sins will pay his debt to the Devil, ridding himself of the Ghost Rider. At the Reyes' house, Gabe realizes that Daisy is Quake and asks her to leave Robbie alone. Radcliffe uses AIDA's power cell to help Simmons 'restart' May and cure her. Coulson, Mack, and Fitz save Rodriguez from a group of Watchdogs, and find the EMP that caused the blackout—it was set off by the Watchdogs, who have backing from someone with access to the government list of registered Inhumans, this is Senator Rota Nadeer, whose brother is encased in an Inhuman terrigen cocoon. Hoping to assuage public fears of the Inhumans, Director Mace announces the return of S.H.I.E.L.D. to the public. (Agents of S.H.I.E.L.D. "Uprising")
Daisy forces Simmons to help track the Watchdogs' actions. They discover that the group hacked an Inhuman's monitoring device, and race to save the next Inhuman on the list. Coulson visits Eli Morrow in prison, but gets no answers. Robbie arrives to talk to Morrow, and Mack recognizes him as the Ghost Rider. They capture Robbie, and earn his trust. AIDA supervises May's recovery, as a Turing test by Radcliffe. Daisy and Simmons find the Inhuman J.T. James and destroy his monitor. Robbie visits Eli while Coulson and Mack listening on, and learns that the Momentum explosion was caused by a group of scientists studying the Darkhold, a mysterious book. Only Lucy's husband Joseph, whom Morrow had put in a coma trying to stop the experiments, survived. James betrays Daisy he hates being an Inhuman, and gave the Watchdogs access to his monitor. Coulson, Mack, and Robbie save Johnson and Simmons, alerted by the monitor's destruction. They then get May to help find the Darkhold, and when Simmons sees AIDA she deduces her true nature. (Agents of S.H.I.E.L.D. "Let Me Stand Next to Your Fire")
After, Lucy wakes Joseph to find where he hid the Darkhold. Coulson arrives, and is able to learn of this before Joseph dies from her ghostly infection. Coulson decides to use Morrow against Lucy, but doesn't tell Director Mace. The latter, whose public approval was high after heroics during a bombing in Vienna, becomes more popular after he reveals his Inhuman status in a television debate with Nadeer. Mace exempts Simmons from any lie-detection tests after she threatens to reveal the truth about Vienna to keep AIDA secret. At the prison, Lucy infects the staff, who attack Coulson and May. Daisy saves them while Mack and Robbie break Morrow out. Robbie confronts the last member of the "Fifth Street Locos" gang who had paralyzed Gabe in a paid. Reyes loses control, and the Ghost Rider kills the prisoner. This allows Lucy to kidnap Morrow, whose help she needs in becoming human again and finishing their work. Mace secretly meets with Nadeer, who threatens to release footage of Ghost Rider killing the prisoner while working with S.H.I.E.L.D. (Agents of S.H.I.E.L.D. "Lockup")
November
December
Coulson tells Director Mace that Aida is an android, and he agrees to use her to fight Eli Morrow. He also approves a strike team consisting of Yo-Yo, Robbie, and Daisy, as long as the latter two keep a low profile. The team attempts to enter an abandoned building that Morrow has barricaded himself in using his growing abilities, but at first only Robbie can make it through one of Morrow's traps. Seeing through a camera on Robbie, Fitz deduces that Morrow draws his power from the other dimension, and has created a demon core which could destroy half the city if activated. Aida creates a new dimensional portal beneath the demon core, through which the device and Morrow are dragged. Robbie also falls through the portal after using the Ghost Rider to hold Morrow in place. Daisy is seen by local media, and Mace publicly clears her name, reinstating her as an agent of S.H.I.E.L.D. He then allows Radcliffe to continuing working on his Life Model Decoy (LMD) program given the success of Aida, though she has secretly replaced May with an android LMD. (Agents of S.H.I.E.L.D. "The Laws of Inferno Dynamics")
2017
January
February
Coulson and Mack locate Agnes Kitsworth, Radcliffe's former lover and partner. Radcliffe left Kitsworth after she was diagnosed with terminal cancer, and modeled Aida after her. Coulson convinces Kitsworth to meet with Radcliffe. In case Nadeer is an Inhuman like her brother, Ivanov sends Watchdog Tucker Shockley to expose her to terrigen provided by Radcliffe, but the substance transforms him instead. Shockley explodes, killing Nadeer, and then his molecules reassemble. Ivanov agrees to use Shockley's new ability against S.H.I.E.L.D. Radcliffe meets with Kitsworth and convinces her he can save her life if she escapes with him before S.H.I.E.L.D. captures them. Daisy confronts Shockley, and distracts him long enough for Fitz and Simmons to contain him in a specially made device. Ivanov uses this as a distraction to attack and kidnap Mace, who has learned that each time he uses his Patriot serum there is a chance that it will kill him. As Kitsworth dies of the cancer, Radcliffe places her consciousness in the virtual "Framework" with May. (Agents of S.H.I.E.L.D. "BOOM")
Years ago, Coulson and May recovered an unknown object from a Russian outpost, besting an SVR team that included Anton Ivanov. Coulson and May developed feelings toward each other then. For the failure, the SVR agents other than Ivanov were tortured and killed. In the present, Ivanov leads S.H.I.E.L.D. on a treasure hunt around the world, including to that outpost, in their search for Mace, whom Ivanov continuously tortures. The team eventually finds Ivanov, and Daisy engages and overpowers him. Coulson and Mack save Mace, while Fitz and Simmons attempt to locate any sign of the Framework in hopes of finding May. Unsuccessful, the pair reunite with the others and they return to base. Aida, whom Radcliffe has left to carry out his plans while he spends time in the Framework, finds Ivanov. At base, Fitz and Simmons are alerted by their LMD security system, learning that Coulson, Mack, Mace, and Daisy were all replaced with LMDs by Aida while Fitz and Simmons were separated from the group. The Coulson LMD wakes the May LMD from storage. (Agents of S.H.I.E.L.D. "The Man Behind the Shield")
The new LMDs are aware of their nature, and plan to carry out Ivanov's goal of destroying all Inhumans. Simmons soon discovers that Coulson Mack, Mace, and later Fitz are the other new LMDs, and Jemma overpowers Fitz. Daisy also discovers the subterfuge, and plans with Simmons to escape the base and hack into the Framework remotely to find the others from the inside. Daisy overpowers the Mace LMD, Mack, and Coulson LMDs, while Simmons recruits other S.H.I.E.L.D. agents. They find the May LMD waiting for them at the base entrance, tasked with detonating a large explosive to prevent their escape. The May LMD instead lets them leave, and destroys the base with the LMDs inside. In the Framework, the agents find an altered reality, Johnson is in a relationship with the dead traitor Grant Ward. Simmons is dead, Fitz is rich, Coulson is an anti-Inhuman teacher. Mack's child is alive. and May works for HYDRA, who have replaced S.H.I.E.L.D. In the real world, Aida severs Ivanov's head from his crippled body and builds an android body for his mind to control. (Agents of S.H.I.E.L.D. "Self Control")
March
April
May
After Daisy and Simmons entered the Framework, their bodies were protected by Yo-Yo and the others agents aboard the S.H.I.E.L.D. aircraft Zephyr One. With their connection to the Framework draining the plane's power, Yo-Yo chose to shut off its cloaking ability, revealing their location to the Superior and his men. In the Framework, Simmons visits and accidentally kills Fitz's father Alistair, and Fitz begins hunting her with help from Radcliffe, Fitz offers to send Radcliffe through the machine, restoring his living body. Ophelia initiates her transference into her new body. Daisy takes the group to Radcliffe's exit point, where she, Coulson, and May cross back into the real world. Fitz arrives and confronts Simmons, but is overpowered by Radcliffe, who regrets all his actions since he first saw and wanted the Darkhold. Radcliffe sends Fitz through, followed by Simmons. Mack decides to stay, not wanting to live in a world without Hope. At the Superior's platform, the newly human Ophelia confronts Coulson, May, and Fitz, teleporting away with the latter. (Agents of S.H.I.E.L.D. Farewell, Cruel World!)
The agents on Zephyr One fight off Ivanov's men and race to the platform to save Coulson and May from Ivanov's android bodies. Ivanov launches torpedoes at the platform that threaten Mack's body, but the latter is saved by Ophelia, convinced by Fitz to put to good use the Inhuman abilities his machine had given her new body. In isolation at S.H.I.E.L.D., Fitz and Ophelia discuss her newly discovered human emotions and the fact that he remembers all the terrible things he did inside the Framework. He admits that he ultimately still loves Simmons over her, outraging Ophelia. Talbot arrives at the ruined S.H.I.E.L.D. base, where Ophelia kills several of his soldiers and other S.H.I.E.L.D. agents. Coulson and the others flee in the Zephyr once more, while Ophelia returns to Ivanov, who plans to use knowledge from the Darkhold to apply the changed reality of the Framework to the real world. Meanwhile, Robbie Reyes returns through a portal from the other dimension and Yo-Yo enters the Framework herself to try convince Mack to leave. (Agents of S.H.I.E.L.D. The Return)
Anton Ivanov takes the Darkhold to an international meeting on S.H.I.E.L.D. and the recent events. He proposes to use the book against the Inhumans, which is timed with an attack on the group by an LMD of Daisy Johnson, who shoots Talbot in the head leaving him comatose. In the ensuing fight, S.H.I.E.L.D. is able to retrieve the Darkhold with Reyes' help. In the Framework, Yo-Yo is unable to convince Mack to leave, but he returns with her after Hope's code is deleted as a result of Ophelia shutting down the Framework. Radcliffe is also deleted, after accepting that immortality without Agnes Kitsworth would not have been worth it. Ophelia comes for the Darkhold, and Coulson surprises her by turning into the Spirit of Vengeance himself, having made a deal to become the Ghost Rider for a short time. He incinerates Ophelia. Reyes, now the Ghost Rider again, takes the Darkhold through a portal. The S.H.I.E.L.D. agents then wait to be arrested by the government, but are instead taken by a mysterious group. Sometime later, Coulson is working in space. (Agents of S.H.I.E.L.D. World's End)
June
To be added
July
September
October
To be added
December
2018
January
April
Outside Wakanda, at James Barnes' cabin, the Dora Milaje member Ayo try to activate Bucky's Winter Soldier programming with the trigger code words. But they no longer have any effect him. Bucky broke down with tears of joy. (The Falcon and the Winter Soldier "The Whole World Is Watching")
Thor has been captured by mysterious enemy forces. He rambles towards a skeleton sharing his cage about seeking the Infinity Stones but having found nothing. He says that sometimes you have to get captured to get a straight answer out of someone with that someone being Surtur. Thor drop from his cage, Surtur taunts him with the knowledge that Odin is no longer on Asgard and Thor's absence leaves it vulnerable. He announces that Ragnarok is coming to Asgard at his hand and there is nothing Thor can do to stop it, while foolishly confessing that his crown is the source of his powers. Thor used Mjölnir to escape and destroy Surtur, take his crown. Thor than fight off Surtur's minions and tries to return to Asgard, Heimdall does not respond. His replacement, Skurge, only notices Thor's call when one of the women he is trying to impress points it out. (Thor: Ragnarok)
Returning to Asgard, Skurge tells Thor that Heimdall has been declared an enemy of the people and is on the run. Thor is unimpressed and goes to find Odin, finding him watching a play about the valiant death of Loki and laying around being pampered by women. Thor eventually sees through "Odin's" deception and forces Loki to drop the charade and has Skurge transport him and Loki to Earth to find Odin, but the retirement home Loki put him in has been demolished. Thor revealed that Jane Foster had broken up with Thor although Thor insists to a fan that it was a "mutual dumping". Loki than suddenly snatched away, leaving an address card behind, which points Thor towards Bleecker Street where he finds Doctor Strange in the New York Sanctum. Doctor Strange insists on knowing why Loki and Thor are there and whether or not they will leave when they are done. Thor says they are there to find Odin and will immediately leave when this is done. Strange reveals he knows where Odin is, in Norway, and sends Thor and Loki there. (Thor: Ragnarok)
Thor and Loki find Odin having shaken off the spell Loki placed on him, but he is despondent and dying. In his last moments, he makes a confession Hela, the sister Thor and Loki did not know they had and the Goddess of Death will be released once he dies. She is far more powerful than her brothers and will grow stronger when she returns to Asgard. Odin transforms into energy and presumably dies. Almost immediately Hela escapes from her prison and attacks them. Thor throws Mjolnir toward her but she easily catches it and shatters it in her hands. Loki panics and calls for the Bifrost. However, during their transport, Hela intercepts them and forces both Thor and Loki out of the beam. Hela then turns her eyes towards Asgard, arriving via the Bifrost and easily kills Volstagg and Fandral. She recruits Skurge to her side before almost effortlessly crushing the entire Asgardian army, led by Hogun who is the last to fall. She takes the throne and destroys the mural of her father above it, revealing the original behind it. In fact, it is revealed that she had always been Odin's most powerful weapon, which he used to create the mighty Asgardian empire and only when her ambition outgrew his did he imprison her. (Thor: Ragnarok)
Hela than breaks into the trophy room, declaring the Infinity Gauntlet as a fake, the Casket of Ancient Winters as a useless object, views Surtur's crown as 'smaller than she thought', becomes interested in the Tesseract but declares the Eternal Flame the greatest of all. She smashes through the floor to the mausoleum underneath, reviving the fallen Asgardian soldiers and her pet Fenris Wolf using the power of the flame, before dubbing Skurge her executioner. However, Heimdall sneaks into the Bifrost room and steals the sword, rendering the Bifrost useless, before organising a resistance against her. Hela, now unable to begin her conquest of all the realms without it, sends her new soldiers to hunt down this resistance and retrieve the sword. Skurge has civilians rounded up to demand the location of the sword. When nobody would speak, Hela tells him to execute a randomly chosen woman, though Skurge seems to be uncomfortable with this. Just before he can do so, a civillian agrees to tell Hela what she wants to know rather than see an innocent put to death. (Thor: Ragnarok)
Back in their time, Coulson and the team meet Noah, Enoch's successor, a Chronicom who has been monitoring the world from the Lighthouse in their absence. Fitting with Voss' description as the first signs of the end, Coulson, May, Fitz, Simmons, and Mack investigate a beacon originating from the Earth. Reluctant to join the team, Daisy stays behind and discovers that Deke survived the explosion. After being arrested, Daisy is forced to leave the bunker to save him and prevent him from exposing the team, who are now Most Wanted. Upon finding the beacon, Coulson and the team reunite with Agent Piper, who is later revealed to be working for General Hale. The team are then ambushed by a group of Hale's robotic soldiers, led by a mask assassin. During the fight, the assassin attempts to kill Mack with her chakram, but Yo-Yo blocks the attack and loses both her arms. Piper realigns with the team as they retreat to the Lighthouse with the beacon, which detonates as Noah sacrifices himself to save Simmons and Fitz. Later, General Hale criticizes the assassin, revealed to be her daughter, Ruby, for jeopardizing the operation. In Philadelphia, General Hale recruits Carl Creel to join her team, which he reluctantly agrees to. (Agents of S.H.I.E.L.D. "All the Comforts of Home")
The destruction of the three Monoliths caused by the beacon's explosion creates a dimensional tear, manifesting the fears of Coulson's team into reality. Fitz creates a device capable of sealing the tear using Gravitonium, but while attempting to argue with the team over his decision to volunteer for the task, Coulson collapses momentarily. The team finds out about his infection, which is a result of the Ghost Rider burning off the Kree blood within him, causing him to slowly die. The team is forced to accelerate their plan when Yo-Yo is attacked in bed by a Simmons LMD. Deke is sent to the surface to call for backup, while Coulson goes in alone to seal the tear. He encounters a manifestation of Mike Peterson, who claims that everything that Coulson has experienced thus far is a dream, and he's dying on an operating table. Coulson manages to overcome his fear, and is saved by the real Peterson, who arrives with several other S.H.I.E.L.D. agents after responding to Deke's call. Coulson and Peterson fight off more manifestations, including Lash and Hive, before managing to close the tear for good. Later, the team organize a wedding ceremony for Fitz and Simmons. General Hale, who came to River's End after learning of Daisy's sighting, investigates the holding cell where Deke was kept it is revealed through her finding, and through Deke's conversation with Peterson, that he is the grandson of Fitz and Simmons. (Agents of S.H.I.E.L.D. "The Real Deal")
While the rift is contained, Fitz sends the team to search for more Gravitonium, which went missing with the Principia, a Cybertek ship. The team hunt down a lead in New Orleans, reuniting Mack with his old school mate, Tony Caine, who has been helping redeem scientists coerced into working for HYDRA. The team ask Caine about the Deathlok Program, hoping to find a way to save Coulson and give Yo-Yo cybernetic arms, but he states the program failed. Meanwhile, General Hale continues to form her team by transferring Werner Von Strucker to Blue Raven Ridge. Since being zapped, Strucker's cognitive abilities have intensified, allowing him to remember everything. Strucker denies Hale's offer, leading her to ask Ruby to change his mind. After experiencing a manifestation of his mother, Deke realizes the Gravitonium may have been activated by the lightning storm, sending the Principia into the sky. Sure enough, the team find the Principia suspended in the atmosphere and discover most of the Gravitonium is gone, leaving only a small portion to sustain the ship. As Mack collects the remaining Gravitonium, a group of Hale's robotic soldiers ambush them. Coulson, Daisy, and Mack fend off the robots and successfully get off the ship before it plummets back to Earth. Upon hearing his mother's saying in an exchange between Simmons and Yo-Yo, Deke realizes Fitz and Simmons are his grandparents. Elsewhere, Ruby convinces Strucker to stay and introduces him to Creel. (Agents of S.H.I.E.L.D. "Principia")
As Fitz struggles to figure out a solution to compressing the Gravitonium, he encounters his Framework self, The Doctor, who claims to finish what he had started before. He reprograms the robotic soldiers the team recovered from the Principia to keep Mack, Simmons and Yo-Yo at bay while he incapacitates Daisy and restrains her in order to operate on her and remove her power inhibitor, as he believes it to be the solution to the Gravitonium problem. Simmons, upon finding Fitz and Daisy, realizes that The Doctor was not a manifestation from the fear dimension, and that Fitz had hallucinated his other self while committing the aforementioned deeds. Fitz successfully removes the inhibitor and restores Daisy's power, and was able to compress the Gravitonium. However, he cannot bring himself to face the others due to his actions. Deke attempts to comfort Simmons, while also revealing to her that he is her grandson. Meanwhile, Coulson and the others manage to lure Hale into a trap and capture her for interrogation, but she demands Coulson to accompany her back, along with Creel and Anton Ivanov who threaten to detonate explosives on the Zephyr. Coulson reluctantly agrees to go with them, in hope of learning what Hale knows about the imminent threat. Later, Hale speaks to her mysterious superior, who hands her a vial of odium and remind her of her HYDRA allegiance. (Agents of S.H.I.E.L.D. "The Devil Complex")
In the past, a young Hale is assigned by Daniel Whitehall to infiltrate the U.S. Air Force, as well as being impregnated with Ruby via in vitro fertilization as HYDRA's next leader. In the present, Hale attempts to convince a recently awakened Talbot to hand over confiscated HYDRA contraband and has Ruby interrogate him when he refused to cooperate. She also reveals to Coulson that HYDRA had made contact with an alien alliance called the Confederacy, warning of an impending invasion, but Coulson fears Earth becoming enslaved as the price of their help. When Hale reveals her plans to use an old machine of Whitehall's combined with gravitonium and Daisy's powers to create a Destroyer of Worlds, Coulson reveals his trip to the future, but she doesn't believe him. Meanwhile, Daisy has been left as de facto head of S.H.I.E.L.D. but refuses to trust Fitz to help and instead goes to find Robin for help in finding Coulson. Simmons later visits Fitz and reveals that Deke is their grandson. (Agents of S.H.I.E.L.D. "Rise and Shine")
Hank Pym and Hope van Dyne manage to briefly open a tunnel to the Quantum Realm. Both Hank and Hope are in hiding after Scott secretly helps Steve Rogers during the Avengers civil war that violation of the Sokovia Accords. Scott made a deal to placed under house arrest. Scott Lang receives an apparent message from Janet van Dyne, who he is quantumly entangled with. Despite having only days left of house arrest, Scott decides to call Hank. Hope kidnaps him, leaving a decoy so as not to arouse suspicion from the FBI agent Jimmy Woo. Seeing the message as confirmation that Janet is alive, Hank and Hope work to create a stable tunnel so Hope can take a vehicle to the quantum realm and retrieve Janet. Hope arranges to buy a part needed for the tunnel from black market dealer Sonny Burch, but Burch has realized the potential profit that can be earned from Hank and Hope's research and double-crosses them. Hope fights Burch and his men off wearing her Wasp suit, until she is attacked by a quantumly unstable masked woman, referred to as the Ghost. Scott help fight off the Ghost, with the new Ant-Man suit, but she escapes with Hank's portable lab. (Ant-Man and the Wasp)
Hank reluctantly visits his estranged former partner Bill Foster who helps them locate the lab. The ghost restrains Scott, Hope, and Hank when they arrive, and reveals herself to be Ava Starr. Her father Elihas Starr, another former partner of Pym's, accidentally killed himself and his wife during a quantum experiment that caused Ava's unstable state. Foster reveals that he has been helping Ava after the accident, who they plan to cure using Janet's quantum energy. Believing that this will kill Janet in the Quantum Realm, Hank refuses to help them and the trio manage to escape. Opening a stable version of the tunnel this time, Hank and Hope are able to contact Janet who gives them a precise location to find her, but warns that they only have two hours before the unstable nature of the realm separates them for centuries. Burch learns their location from Scott's business partners Luis, Dave and Kurt, and informs a contact at the FBI. Luis warns Scott, who rushes home before Woo can see him breaking his house arrest. This leaves Pym and Hope to be arrested, and for their lab to be taken by Burch. (Ant-Man and the Wasp)
Scott is able to help Hank and Hope escape custody, and they steal the lab back from Burch. Lang and Hope distract Ava while Pym enters the quantum realm to retrieve Janet, but end up fighting Burch and his men allowing Ava to begin the process of taking Janet's energy. Luis, Dave, and Kurt help apprehend Burch, so Scott and Hope can stop Ava. Hank and Janet arrive safely from the quantum realm, and Janet voluntarily gifts some of her energy to Ava to temporarily heal her. Scott returns home once again, in time for a suspicious Woo to release him at the end of his house arrest. Ava and Foster go into hiding, Hank brings Janet to the beach where they set up a new house that he grows. Scott, Hope, and Cassie in a shrink car so they can use a laptop as a screen like a drive-in movie. They are then bothered by a large moths. (Ant-Man and the Wasp)
Hale attempts to use Creel as a test subject for the particle-infusion chamber, infuriating Ruby who continues to conspire with Strucker in hope of earning her place as the Destroyer of Worlds. Creel's temporary exposure to the Gravitonium causes him to see memories of Franklin Hall. He determines to get answers from Coulson, who then leads him to Talbot's cell. Hale sends Ruby to capture Creel and eliminate the other two, but they use the Confederacy's teleportation device to escape to a snowy mountain area, while Creel remains behind to fight Ruby. Daisy and May locate Robin, who has stopped drawing her visions for some times after seeing her own death in the future. Upon seeing May, Robin begins to draw again, this time showing Coulson and Talbot's location. Back at the Lighthouse, Simmons convinces Yo-Yo to help her free Fitz in order to pursue possible leads on HYDRA's Gravitonium-powered weapon. Together, they trick Mack into releasing Fitz then lock him up. A flashback to four years ago reveals that Ian Quinn was tricked by Raina into being absorbed by the Gravitonium. (Agents of S.H.I.E.L.D. "Inside Voices")
Ruby pursues Coulson and Talbot at the mountains, but Daisy arrives in time to save them. Deke, in an attempt to cover for Daisy, is shot by Hale and her men, forcing S.H.I.E.L.D. to retreat. Deke is taken back to the Lighthouse, where Mack and Piper operate on him and successfully save him. Ruby, furious about her mother's attitude, decides to rebel and lock Hale in her cell, while she takes over and works with Strucker. FitzSimmons and Yo-Yo travel to a HYDRA facility in England, where they find the particle infusion chamber. Fitz damages one of the components to render it useless, but they are then surrounded by the robot soldiers. Yo-Yo attempts to escape and call for backup, but is forced to fight Ivanov. As she emerges victorious, she learns that Ivanov's body is linked to all the robots, thus is able to disable them altogether. However, Ruby and Strucker arrive and decide to capture FitzSimmons in order to have them repair the infusion chamber. Daisy later attempts to help Talbot contact his family, but in the middle of his phone call with his wife, Hale's subordinate has her reading a script, activating Talbot's brainwashing. (Agents of S.H.I.E.L.D. "The Honeymoon")
S.H.I.E.L.D. locates Hale's secret base and sends Daisy and May in to apprehend Hale. Hale, who has just learned from Creel about Quinn and Hall's consciousnesses living inside the Gravitonium, willingly surrenders to them, and reveals Ruby's location to them and her plan to infuse with the Gravitonium. They arrive at the site just as the particle infusion chamber is fixed. Ruby begins the infusion process, but is unable to withstand it, forcing Strucker to stop the process at 8%. Unable to control the element, Ruby inadvertently crushes Strucker's skull, killing him. Daisy and Hale remain stationed to attempt to calm Ruby down, while May extracts Fitz and Simmons. Yo-Yo arrives, and upon realizing Ruby is the Destroyer and the one who cut her arms off, she slices Ruby's neck with her own chakram and kills her. Ruby's body begins to float and releases a blast of energy. In the aftermath, Hale mysteriously disappears. Meanwhile at the Lighthouse, Talbot attempts to carry out his programming and kidnap Robin, but Coulson and Mack manage to talk him down before subduing him, preventing him from killing himself. Later, Hale is seen in the Confederacy ship, where she reveals to Qovas of S.H.I.E.L.D.'s possession of the Gravitonium. (Agents of S.H.I.E.L.D. "All Roads Lead...")
Elsewhere, Thor is deposited on an alien planet, Sakaar where time move differently. There are portals from other places all over the sky, where junk and debris from other worlds fall through to the surface. Thor is then approached by hostile scavengers which he easily fights off without Mjolnir until one of them uses an electrified net to capture him. The scavengers proceed to beat Thor until a drunk woman appears from her ship, claiming Thor to be "hers". The woman fights off the scavengers, seemingly rescuing Thor but the woman throws a small disc at his neck and this allows her to electrocute and render him unconscious. With the disc connected to his neck preventing him from escaping, the woman takes him to the planet's supreme ruler, The Grandmaster who intends to use him as a gladiator in the games that keep him in power. However, due to the unusual relativistic effects of how they got there, Loki has been there for weeks, earning the Grandmaster's favour. The Grandmaster pays the woman for Thor and tells him that he can have his freedom if he defeats the arena's champion. Thor is thrown in to the gladiator's quarters where he meets Korg, an exiled Kronan resistance fighter, and his friend Miek. Korg states that no one has ever escaped or beaten this champion. Thor is prepared to fight this man, having his hair cut by someone strangely familiar and choosing his weapons. He finds the woman there who he recognises as an Asgardian Valkyrie. When she is unsympathetic to the plight of her home, he calls her a coward before being forced to go out and fight. (Thor: Ragnarok)
The champion is revealed to be the Hulk. Thor, overjoyed at seeing his former teammate, attempts to talk as well as negotiate with him, but makes the mistake of calling him "Banner". He even tries Natalia Romanoff's calming technique, but it fails to work. Hulk overpowers him during the battle and is close to killing him but Thor sees a vision of his father causing his powers to surge. As the fight continues, the tables have turned and Thor is winning, but the Grandmaster, unwilling to see Hulk lose since he is a fan favorite, cheats and "fixes" the fight by activating the disc on Thor's neck. A bruised Thor awakes in luxurious quarters with Hulk. Hulk refuses to return Earth because he believes he is hated there and therefore will not leave. He is shown to be friends and sparring partners with Valkyrie but agrees to trick her into coming to his quarters so Thor can steal her control device and remove the disc from his neck. (Thor: Ragnarok)
Thor tries to get to the Quinjet that brought Hulk to Sakaar, but Hulk damages it, not wanting to leave. It is only when Thor accidentally activates a recording of Natasha's attempts to get Hulk to turn the Quinjet around that Hulk is pacified and transforms back to Bruce Banner himself. Banner has been in Hulk form since Sokovia and as a result, the Hulk had completely taken over. Because of this, Banner was powerless and does not remember anything that has happened for the past two years since. He fears that if he becomes the Hulk again, Banner will be gone forever. The Grandmaster orders Valkyrie and Loki to track Thor and Banner down. Valkyrie finds them but agrees to help, having knocked out Loki after he made her see a vision of herself and her sisters falling at Hela's hands millennia ago when she was the only survivor which caused her to turn to drink in misery on Sakaar. Loki, not wanting to be stuck on Sakaar, tells Thor he has the Grandmaster's security codes which give him control over his systems. (Thor: Ragnarok)
Heimdall has told Thor that they need to go through the largest portal in the sky which has the unfortunate nickname "The Devil's Anus" to escape, but Valkyrie's ship is not up to the job. They break Korg and Miek out so they can begin a slave revolt as a distraction so they can steal the Grandmaster's personal ship. Loki, inevitably betrays them as they are escaping but Thor quietly placed one of the discs on his back, leaving him being shocked on the floor. Thor tells his brother that he knows Loki will always be the God of Mischief, but had hoped that he would have shown some capacity for growth before leaving with Loki still being shocked and the remote intentionally left out of reach. However, Korg arrives with a group of slaves and turns off the device later. Loki takes leadership of the group and steals a large ship with them. (Thor: Ragnarok)
Thor, Valkyrie and Banner arrive on Asgard. Hela begins an assault on the fortress where Heimdall is hiding the Asgardian civilians but Thor calls her back to the throne room to fight. Banner and Valkyrie fight to help the civilians escape via the Bifrost but they are cut off from behind by the undead army and in front by the enormous Fenris. Despite knowing he may never turn back, Banner jumps off the ship and is splayed on the Bifrost in front of the Fenris still as Banner, seemingly killing himself but transforms into the Hulk seconds later to fight the Fenris and Loki arrives with Korg and the Sakaaran slaves on the Statesman. Thor is overpowered by Hela who strikes him across the face, cutting out his eye. She is too much for him and once again Thor has a vision of his father. He tells him that Asgard is not a place, it is a people. Thor states he cannot defeat Hela without Mjolnir, but Odin reminds Thor that he is not a god of hammers, that Mjolnir was only ever a focus for his powers and they are greater than Odin's. With his powers in full force, Thor manages to resist Hela and carves through her army but he realises she is still too much for him. He and Loki agree that as long as Asgard exists she will grow more powerful. The prophecy says that in order for Ragnarok must happen, Asgard must fall and it is their place to ensure it, not to stop it. Thor and Valkyrie hold her off while Loki goes to the trophy room to retrieve Surtur's crown, spying the Tesseract along the way. He places it in the fires of Asgard and Surtur is reborn. (Thor: Ragnarok)
The now much more powerful Surtur begins laying waste to Asgard and even Hela is unable to stop him. She tries to stop the ship carrying the Asgardian refugees and the Sakaaran slaves from leaving but Skurge, who has sneaked aboard in disguise, turns on her and fights off her soldiers before she kills him. Hulk attacks Surtur but Thor calls him off. He carries Thor and Valkyrie aboard the ship which escapes as Asgard is utterly destroyed, leaving only asteroids behind. Thor, wearing an eye patch like his father, is crowned King and decides that they should set course for Earth to rebuild Asgard, perhaps in Norway as Odin suggested. (Thor: Ragnarok)
Loki asks Thor whether he will be welcome on Earth and Thor assures him he will be. Thor is sure everything will be fine, but Thanos' much larger ship, the Sanctuary II, appears behind them. Meanwhile On Sakaar, the Grandmaster is faced down by the slaves he had previously been master of. He tries to declare the revolt "a draw" but they are not impressed. (Thor: Ragnarok)
Thanos and his adopted children the Black Order, track down the Statesman, the Sakaaran vessel ferrying the survivors of Hela's attack on Asgard. Storming the vessel, Thanos and his minions mercilessly slaughter half the Asgardians until only Thor and Loki remain. Having taken the Tesseract from Asgard shortly before its destruction, Loki is confronted by Thanos, managing to stall him long enough for the Hulk to engage him in battle. But Thanos is able to easily beat the Hulk and prepares to kill him. Heimdall, moments before being slaughtered by Thanos, uses the power of the Bifrost to send Hulk to Earth with the last of his strength. Thanos threatens to kill Thor with the Power Stone unless Loki gives him the Tesseract. Initially, Loki tells Thanos to go ahead, but has a change of heart and gives him the Tesseract after Thor's head is severely burned by the Power Stone. Thanos shatters the Tesseract to reveal the Space Stone and sends his children to hunt the Infinity Stones from Earth and Loki offers himself as a guide. He feigns loyalty to Thanos and attempts to stab him, but the Space Stone holds Loki in place while Thanos crushes his neck and kills him and then destroys the rest of the Statesman with the Power Stone, leaving Thor drifting in space. (Avengers: Infinity War)
Hulk crash lands into the New York Sanctum Sanctorum on Earth, where he transforms back into Bruce Banner and warns Doctor Stephen Strange and Wong about the impending threat of Thanos. The three meet with Tony Stark, who learns that Thanos provided Loki the tools when he attacked New York six years earlier. Bruce suggests that Thanos will come to Earth for the Vision's Mind Stone and Strange's Time Stone. Tony reveals that Vision has gone missing, and Banner suggests calling Steve Rogers to find him. Tony is reluctant and brings Bruce up to speed on everything that happened after he left Earth Steve is now a wanted man not following the Sokovia Accords, they are no longer on good terms and the Avengers have disbanded. Bruce convinces Tony that what is happening is bigger than anything they can handle alone, so Tony reluctantly agrees to call Steve for help. Before he can, however, Manhattan suddenly falls under attack by Ebony Maw and Cull Obsidian. As the group fight, Peter Parker, on a nearby school excursion, senses the attack and joins in to help. (Avengers: Infinity War)
During the fight, Maw is able to incapacitate and abduct Doctor Strange, taking him to one of Thanos' ships. Tony is able to stow away on the ship while Peter, who was tasked by Tony to rescue Strange and who ended up being beamed to the ship clings to the outside as it takes off. As the ship leaves Earth's atmosphere and Peter runs out of oxygen, Tony calls for the Iron Spider Armor he made for Peter when he was offered membership in the Avengers the suit, built to operate in space, saves his life. Tony then attempts to send the boy back to Earth's surface, but Peter remains on-board. On Earth, Wong returns to the New York Sanctum to defend it with Strange gone, while Banner finds the phone containing Rogers' number. (Avengers: Infinity War)
Coulson puts the base on lockdown as Qovas and his Confederacy ship appear above River's End. Despite this, Qovas' troops, the Remorath scavengers, are able to teleport inside in pursuit of the gravitonium. While Coulson, May, Mack, Fitz, and Deke defend the control room, Yo-Yo retrieves Talbot and proceeds to the lab where Simmons, Piper, and Davis are guarding the gravitonium. Yo-Yo, Piper, and Davis attempt to clear the halls when Talbot ices Simmons and places himself in the particle infusion chamber, absorbing the remaining gravitonium. With his new powers, he is able to rescue the S.H.I.E.L.D. agents, before taking off with Coulson to the Confederacy ship. Meanwhile, Daisy relocates Robin and Polly with the help of Tony Caine, who also gives her the Centipede Serum, which was once used to keep John Garrett alive. However, Caine fails to retrieve a special ingredient, prompting Daisy to dig up her mother's grave. (Agents of S.H.I.E.L.D. "Option Two")
In space, Thor is found drifting through space by the Guardians of the Galaxy, who responded to the Statesman's distress call. When Thor reveals Thanos' goals to the group, Gamora explains that if Thanos is able to obtain all six Infinity Stone, he would be able to wipe out half of the universe with the snap of his fingers. Thor knows that Thanos will next be heading to Knowhere to collect the Reality Stone, which the Asgardians left in the care of The Collector after the Dark Elves attacked Earth. In order to kill Thanos, Thor will need to obtain a new weapon. The group split, with Thor, Rocket Raccoon and Teen Groot heading off to Nidavellir to forge a new weapon to replace Mjölnir, while Peter Quill, Gamora, Drax the Destroyer and Mantis travel to Knowhere to try and retrieve the Reality Stone before Thanos. Gamora makes Peter promise to kill her if Thanos gets a hold of her, as she has information that he cannot be allowed to have. Although reluctant, Peter agrees and the two share a kiss. (Avengers: Infinity War)
On Earth, Vision and Wanda Maximoff have been living in Scotland since the Avengers separated, having fallening in love with one another. While walking the streets, the pair is attacked by Proxima Midnight and Corvus Glaive, who begins removing the Mind Stone, before they are stopped by Steve Rogers, Natasha Romanoff, and Sam Wilson. Steve, Natasha, Sam, Vision, and Wanda then travel to the New Avengers Facility where they meet James Rhodes and Banner. Vision suggests that Wanda destroys the Mind Stone in his head, but she refuses, as doing so would kill him. The team heads to Wakanda in the hopes that Shuri will be able to separate the stone from Vision so Wanda can destroy it without her killing him before Thanos take it. (Avengers: Infinity War)
Coulson and Talbot enter the Confederacy ship, and the latter takes over and demands an audience with the Confederacy leadership. After killing one of the leaders and taking his seat, Talbot is convinced by Kasius' father, Taryan to dig up the Earth and find an untapped resource of gravitonium to power him up, in order to save the world from Thanos' imminent invasion. Coulson and Hale fail to convince Talbot of Taryan's true plan, and are forced to comply. Back at the Lighthouse, Mack has a brief encounter with an odium-powered Remorath warrior, who later succumbs to the substance and dies during interrogation. Simmons proceeds to dissect the Remorath and study the odium, but Daisy returns to the Lighthouse with Jiaying's corpse and the Centipede serum, and tasks the former with working on a cure for Coulson instead. Later, the team manages to modify the Zephyr to be capable of space travel, and heads for the Confederacy ship. Daisy and May infiltrate the ship, but Talbot neutralizes Daisy and forces May to surrender for Coulson's survival, while Hale is killed after attempting to trigger Talbot's brainwashing. Later, Daisy is delivered to Taryan, who plans to take her back to his homeworld. (Agents of S.H.I.E.L.D. "The One Who Will Save Us All")
Taryan expresses his desire for Inhumans as Daisy attempts to use her powers against him, though is prevented from doing so as only her consciousness is projected to Taryan's location via a device, while her body remains on the ship. After Talbot leaves on the Quinjet for Earth, Deke rescues Coulson and May, then reunites with Daisy, who escaped imprisonment by cracking the device. At the hospital, Talbot approaches Creel and offers him peace by absorbing him. Mack and Yo-Yo attempt to track his movements and deduce that he would visit his family next. Though Talbot confronts the two, his son, George, is able to connect with him and prevent him from causing further destruction, prompting him to leave to prove his heroism. After Coulson gave in for his feelings for May by finally kissing her, Coulson than leaves with Daisy on the Zephyr, while May duels with Qovas as Deke redirects the missiles to target the ship itself. May and Deke successfully teleport back to Earth as Qovas perishes with the ship. On the Zephyr, Coulson begins to bleed out as his condition worsens. Reunited at the Lighthouse, the team is faced with a difficult decision as Simmons' cure, created from the last remaining Centipede Serum combined with either odium or Jiaying's DNA, could be used to save the world or Coulson. Elsewhere, Talbot has retrieved Polly and Robin, asking the latter for the gravitonium's location. (Agents of S.H.I.E.L.D. "The Force of Gravity")
After debating on what to do, May destroys the odium vial and Daisy decides that they would save Coulson. Deke advises Daisy to help unite the team and settle their differences. After forcing Robin to tell him where more gravitonium can be found, Talbot travels to Chicago and finds an underground deposit to absorb more gravitonium. Mack is chosen as the leader of S.H.I.E.L.D., and he orders the group evacuate and rescue as many civilians as possible. May rescues Robin as Coulson and Daisy approach Talbot. Having been given the decision on what to do with the Centipede serum, Coulson decides not to take it and assures Daisy that she can face Talbot alone. Daisy attempts to talk some sense into Talbot, but he refuses to listen and they fight around Chicago. May, Fitz and Mack rescue Polly, but Talbot's actions causes Fitz to be trapped under rubble. With Coulson secretly placing the Centipede serum in Daisy's gloves, Daisy takes the serum and uses her enhanced abilities to blast Talbot into space, where he freezes May and Mack realize that Fitz has been mortally wounded by the debris, and they stay by his side as he dies. Coulson decides to retire from S.H.I.E.L.D. and Simmons decides to find present-day Fitz, who is still suspended in space. May accompanies Coulson as he decides to spend his last days in Tahiti, and the remaining agents leave for their next mission. (Agents of S.H.I.E.L.D. "The End")
In deep space, Maw tortures Strange in an attempt to learn how he has hidden the Time Stone. While doing so, Peter and Tony are able to blast a hole in the side of the ship, dislodging Maw out into space where he dies from exposure. With Strange saved, Peter and Strange exchange formalities before Tony and Strange argue over heading back to Earth or heading to Titan, the planet where Maw intended to meet with Thanos, to fight the Thanos there in an attempt to catch him off guard. Strange informs his rescuers that his priorities lie with protecting the Time Stone over their lives. Reluctantly, he admits that he will go along with them to Titan and Tony declares Spider-Man an "official Avenger". Meanwhile, the Guardians arrive on Knowhere, where they witness Thanos torturing the Collector for the Reality Stone. Gamora is able to attack and seemingly kill Thanos. However, Thanos reveals that he has already obtained the Reality Stone and used it to manipulate their surroundings, Knowhere having already been largely decimated. He easily incapacitates Drax and Mantis and grabs Gamora. She begs Quill to kill her, as he had promised to do so earlier, and then confesses her love to Quill. Thanos taunts Quill's inability to shoot Gamora until Quill pulls the trigger, but the gun fails, Thanos having already used the Reality Stone to alter the gun to shoot bubbles. Thanos then teleports away with Gamora. (Avengers: Infinity War)
Thor, Groot and Rocket arrive at Nidavellir, a large, artificial ring-shaped megastructure encircling a dying star. They find the structure abandoned, with only the dwarf king Eitri left. He reveals that Thanos had arrived on Nidavellir and forced the dwarves to construct the Infinity Gauntlet, a device that would allow him to utilize the power of all the Infinity Stones at once, and then slaughtered the other dwarves once they did so. With Eitri's help, Thor is able to restart the dying star and create an ax called Stormbreaker, which has both the power of Thor's old hammer, Mjölnir, and the Bifrost. Back on Earth, Shuri finds a method to separate the stone from Vision and begins working. Rogers, Banner, Vision, Maximoff, and Romanoff arrive in Wakanda where they are greeted by King T'Challa, the Dora Milaje General Okoye, and James Barnes, who has recovered from his brainwashing and has been given a new Vibranium arm. (Avengers: Infinity War)
On the Sanctuary II, Thanos reveals his motives to Gamora he believes that the universe is overpopulated, and that this will eventually cause the depletion of all valuable resources and destroy the universe entirely. His solution is to use the Infinity Stones' combined power to exterminate a half of the universe's population, maintaining balance and preserving life. When Gamora was a child, Thanos and his army massacred half the population of her homeworld, Zen-Whoberi, when the planet fell under similar threat. Thanos reveals that he has captured Gamora's sister Nebula, and through torture, discovered that Gamora had discovered the location of the Soul Stone. In exchange for Nebula's life, Gamora agrees to lead him to it. Gamora and Thanos travel to Vormir where they meet Johann Schmidt, condemned to guarding the Soul Stone for eternity after his disappearance in 1945. Schmidt guides them to the top of a nearby cliff, where he explains to Thanos that obtaining the stone requires the sacrifice of a loved one. Despite her initial confidance that Thanos is a heartless monster who loves no one, Gamora is horrified when Thanos tearfully sacrifices Gamora, having truly love her, earning the Soul Stone. while back on the Sanctuary II, Nebula is able to escape from her confinement and alerts Quill, Drax, and Mantis, instructing them to meet her on Titan to ambush Thanos. Tony, Strange and Parker arrive on Titan as well and are attacked by the Guardians, the two groups mistaking each other for Thanos' ally. After clearing things up, the Guardians, Tony, Strange, and Peter devise a plan to ambush Thanos and remove the gauntlet from his hand. Strange uses the Time Stone to see into the future, where he reveals that there is only one outcome out of 14 million available where the Avengers and their allies stand victorious against Thanos. (Avengers: Infinity War)
Back on Earth, the Wakandan army, led by T'Challa and M'Baku and the Jabari Tribe, begin their defense against the Black Order Glaive, Obsidian and Midnight. The battle quickly turns in the favor of the Black Order as the Wakandan forces, Steve, Wanda, Natasha, Rhodes, bucky, and Wilson are overwhelmed by Thanos' enormous army of Outriders, who begin penetrating Wakanda's shields. Shuri is unable to complete her operation on the Mind Stone as Glaive attacks the tower in which Vision is held, forcing him to flee to the battlefield. However, the tide turns in favor of the Avengers when Thor, Groot, and Rocket arrive with the newly-fashioned Stormbreaker. With Thor now back on Earth, the team is able to kill Obsidian, Midnight and Glaive, as well as the herd of attacking Outriders. (Avengers: Infinity War)
On Titan, Thanos arrives and is greeted by Strange. In a brief but impassioned speech, Thanos explains that Titan used to be his home before overpopulation drove it to ruin. He suggested killing half the population to enable them to survive, but was ignored. Witnessing the destruction of his homeworld influenced Thanos' life goal to rid the universe of half of all being. Refusing to let this come to pass, Strange, Tony, Peter, and the three Guardians engage Thanos in a brutal battle, which Nebula joins by crashing a small ship into Thanos, and they manage to get all his limbs pinned down while Mantis uses her empathic powers to incapacitate him. As Stark and Parker work on getting the gauntlet off, Nebula realizes that Gamora has been killed. As the gauntlet finally starts to come off, Quill is unable to contain his rage and attacks, which breaks Mantis' concentration and allows Thanos to recover and reclaim the gauntlet just as it is finally removed. Thanos then overpowers the team by using the Power Stone to shatter Titan's moon and raining its fragments down upon the heroes. Thanos defeats Strange and seriously wound Tony and prepares to execute him, but is stopped by Strange, who exchanges Stark's life for the Time Stone. With five of the six stones, Thanos teleports away to Earth. (Avengers: Infinity War)
Thanos arrives in Wakanda to claim the Mind Stone from Vision and complete the Infinity Gauntlet, effortlessly trashing around the heroes who try to stop him. wanda, at Vision's behest, tearfully destroys the Mind Stone, killing Vision, but Thanos uses the Time Stone to reverse the destruction and pulls the Mind Stone from Vision's head, severing the neural connections and killing Vision once more. Thanos places the Mind Stone into the Infinity Gauntlet, completing it and unlocking its full power. He is then attacked and mortally injured by Thor using Stormbreaker, which lodges into Thanos' chest. However, Thanos is undeterred, musing that Thor should have gone for the head, and succesfully snaps his fingers. Thanos goes into a state of limbo, finding himself in a mysterious landscape where he encounters a young Gamora. Thanos tells the vision of Gamora that he has accomplished his goal and Gamora asks what it cost. Solemnly, Thanos replies that it cost him everything. Returning to reality, Thanos disappears through a portal as an ominous rumbling can be heard throughout the universe. (Avengers: Infinity War)
Back at Wakanda, Steve watches Bucky turn to ash as the devastation that Thanos made with the Infinity Gauntlet begins to take effect. Half the Wakandan army disintegrates, as does T'Challa, Groot, Wilson and Wanda. Steve, Banner, Thor, Rocket, Rhodes, M'Baku, Okoye and Natasha are left with their spirits broken as they realize just what they've lost. Back on Titan, Mantis, Drax, Quill and Strange also disappear into dust. Finally, Peter collapses and fades away in Tony's arms. Nebula, being the only other survivor on Titan, remarks in despair that Thanos has accomplished his goals to wape out half the universe as a distraught Tony. (Avengers: Infinity War)
On an another planet somewhere across the galaxy, Thanos has taken residence, having fully healed from his injuries from Thor in Wakanda. He gazes out peacefully upon the setting sun with a smile on his face. (Avengers: Infinity War)
Nick Fury and Maria Hill witness New York City fall into chaos as people begin to disappear. As Hill fades away, Fury establishes a Code Red and sends a distress signal on an old 1990's pager just as he vanishes as well. The pager falls to the ground and successfully connects to its recipient, represented by a starburst pattern on a red and blue background. (Avengers: Infinity War)
Hank, Hope, and Janet are all disintegrate while Scott is harvesting more quantum energy for Ava. Leaving Scott trap in the Quantum Realm. At Scott's house a oversized ant is playing his drum kit while the TV is broadcasting a state of emergency. (Ant-Man and the Wasp)
Clint Barton, while under house arrest, trains his daughter Lila in archery at him home. Under his tutelage, she scores a bullseye and he congratulates her on her efforts. Nearby, Laura prepares a picnic while their two sons, Nathaniel and Cooper, play catch. Clint turns his attention away from Lila for a moment to respond to his wife, but when returns that attention back to Lila, she is gone. Surprised but visibly startled, he calls out to his family, but they too have vanished victims of Thanos's Decimation. (Avengers: Endgame)
Yelena Belova with a fellow Black Widow ambush another Black Widow assassin at her home. They attempt to used Red Dust on her, but finds she is not under General Dreykov's control. The three sit down to discuss Belova's campaign to liberate the Black Widows from Dreykov, but when she excuses herself to the bathroom where Yelena disintegrate to dust. (Hawkeye (Disney+ series) "Ronin")
May
Three weeks after the Decimation, Tony Stark and Nebula are adrift in space aboard the Benatar. Nearly depleted of supplies, Tony uses the helmet from the Mark L to chronicle their possible final moments to Pepper Potts before falling asleep. Nebula, having developed an friendship with Tony during their journey, places him in the pilot's seat and retreats into the corridors of the ship. Tony's sleep is disturbed by the arrival of Carol Danvers, who carries the ship back to New Avengers Facility on Earth. Tony is reunited with Pepper and Steve Rogers and the remaining Avengers who survived, including Natasha Romanoff, Bruce Banner, James Rhodes. Tony tells Steve that he lost Peter Parker. Rocket sees Nebula alone and realizes that all his friends are gone. The two sit together and hold hands in silent grief. (Avengers: Endgame)
Steve asks Tony if he has any clues as to where Thanos may be, to which Tony erupts into a furious tirade stemming from unresolved issues between them from the Avengers civil war, telling him that if they had stood together, instead of apart then they may have been able to defeat Thanos. After this outburst, Tony faints, exhausted and emaciated from his trip through space. He is given a sedative that will put him out for a day. Carol says she will reach out to her contacts on other planets. Nebula says there is no need because she knows where Thanos is, referencing "The Garden" that Thanos had planned to retreat to after achieving his goal. Based on her information, Rocket pulls up a 3-D diagram of its location and states that when Thanos used the stones on Earth, it let out a large burst of energy. The same signature, he states, appeared two days ago on a planet. With this new clue, the Avengers set out to confront Thanos to retrieve the Infinity Stones in hopes of bringing half the universe's population back, while Tony is left behind in the infirmary. Thor, blaming himself for what happened as he ignored his chance to kill Thanos before did the snap, the team on sent out determined to make up for his mistake. (Avengers: Endgame)
Tracking the signal to Thanos' farm on the Garden, Carol first heads onto the planet to scout the planet. She finds that no defenses exist and that Thanos is alone and unguarded. In his simple house, Thanos goes about his daily routine however he is now seen to have been afflicted with horrific burns. Suddenly, the Avengers burst into the farm, quickly pin an already weakened Thanos down after which Thor severs Thanos' left arm and the Infinity Gauntlet completely with Stormbreaker. To the Avengers' surprise, Thanos' gauntlet does not contain any of the stones. Thanos explains that the stones would offer "nothing but a temptation," should he keep them. He explains that after completing his goal, the Stones had served their purpose and thus why he used them to destroy themselves so that no one could never reverse it. The Avengers accuse him of lying, to which Nebula responds that while her father is many things, he is not a liar. Thanos thanks his "daughter" for believing him. Enraged, Thor swiftly decapitates Thanos, killing the Mad Titan. When Rocket asks what he has done, Thor replies that this time, he "went for the head". The Avengers are forced to accept that there is no way to bring back those who were lost. (Avengers: Endgame)
October
Castle resuming his duties as the Punisher, were waiting outside of a warehouse when suddenly Madani called who joined the CIA what allowed her to use the Agency equipment to track down Castle. She offered him a job but Castle turn down her offer. Spotting gang members entered the warehouse, Castle put on his Skull Vest and grabbed his weapons than walked in than Castle violently gun them all down without mercy. (The Punisher "The Whirlwind")
2019
2020
2021
Maya was returning from training when Ronin attack her father's autoshop. Maya find her father fatally injured, and embraces him before he die. Maya than vows revenge on Ronin. (Hawkeye (Disney+ series) "Echoes")
2022
2023
October
November
2024
April
Sam Wilson, also known as Falcon, works with the U.S. Air Force to track a plane hijacked by Georges Batroc and members of the terrorist group LAF. Wilson defeats the terrorists and recovers a hostage from the plane with support from Air Force member Joaquin Torres. Wilson was given the mantle of Captain America by Steve Rogers, but he struggles with this idea and instead decides to give Rogers' shield to The Captain America Exhibit in the Smithsonian so it can be displayed in a museum with Rogers' suit. Elsewhere, Bucky Barnes attends government mandated therapy, where he discusses his attempts to make amends for his time as the brainwashed assassin, known as the Winter Soldier. Torres investigates another terrorist group, the Flag Smashers, who believe life was better during the blip. Torres keeps Wilson informed about what he finds. Wilson wants to help his sister Sarah with the family business, but they are unable to get a bank loan. He learns that the government has named a new Captain America, John Walker. (The Falcon and the Winter Soldier "New World Order")
Walker makes an appearance on Good Morning America as Captain America at his old High School and reveals his desire to live up to Rogers' mantle. Meanwhile, Wilson and Barnes struggle to work together as Barnes expresses disapproval in Wilson's decision to surrender Rogers' shield. They travel to Germany and find the Flag-Smashers smuggling medicine. Wilson identifies a possible hostage that is revealed to be the group's leader, Karli Morgenthau. The Flag-Smashers, all with superhuman strength, quickly overpower Barnes and Wilson until Walker and Lemar Hoskins come to their aid, although the Flag-Smashers escape. Walker requests Barnes and Wilson join him in aiding the Global Repatriation Council (GRC) to quash the ongoing violent post-Blip revolutions, but they refuse. Traveling to Baltimore, Barnes introduces Wilson to Isaiah Bradley, a veteran super soldier active during the Korean War, but he refuses to help them due to his troubled past with the U.S. and Barnes. Barnes is arrested for missing a court-mandated therapy appointment, but is released when Walker intervenes. He once again asks Barnes and Wilson to work with him to track down the Flag-Smashers, but they refuse and Walker warns them to stay out of his way. Barnes suggests they visit Helmut Zemo, in prison in Berlin, to gather intelligence related to the Flash-Smashers. (The Falcon and the Winter Soldier "The Star-Spangled Man")
Unbeknownst to Wilson, Barnes orchestrates a prison riot to help Zemo escape and he agrees to help stop the Flag Smashers. The three travel to Madripoor, a criminal sanctuary city-state, and meet with high-ranking criminal Selby. She reveals it was former HYDRA scientist Dr. Wilfred Nagel who was hired by the Power Broker to recreate the Super Soldier Serum. Wilson's identity is exposed, Selby is killed, and a bounty is subsequently placed on Wilson, Barnes, and Zemo as they escape. Sharon Carter, who has been living as a fugitive, saves them from bounty hunters and brings them to Nagel's lab. They learn he recreated twenty doses of the serum, which Morgenthau stole. Zemo unexpectedly kills Nagel and the lab is destroyed, but Zemo steals a getaway vehicle. Carter stays behind, and Wilson agrees to obtain her a pardon. Meanwhile, Walker and Hoskins arrive in Berlin and deduce that Barnes and Wilson helped Zemo escape. While the Flag Smashers raid a GRC storage facility in Lithuania for supplies, Zemo, Barnes, and Wilson travel to Latvia in search of Morgenthau. Barnes spot Kimoyo Beads in the street and confronts Dora Milaje Ayo, who demands Zemo. (The Falcon and the Winter Soldier "Power Broker")
Barnes persuades Ayo to allow him and Wilson more time with Zemo. They track Morgenthau to a funeral for her adopted mother but are intercepted by Walker and Hoskins. Wilson speaks with Morgenthau alone and attempts to persuade her to end the violence. Walker intervenes, and a fight ensues. Zemo shoots Morgenthau, forcing her to drop the remaining vials of Super Soldier Serum, which he destroys. Walker apprehends Zemo and secretly retrieves a single remaining vial while Morgenthau escapes. Ayo and the Dora Milaje come for Zemo and Walker refuses to hand him over. They fight, ending with Walker being humiliated by the Dora Milaje, and Zemo flees. Morgenthau threatens Sarah Wilson and both her sons, forcing Sam to meet with her, and she attempts to persuade him to join her cause. Walker and Hoskins arrive and engage other members of the Flag Smashers. During the fight, Morgenthau accidentally kills Hoskins. Filled with rage and having taken the serum, Walker kills Nico with the shield in front of horrified spectators who film his actions on their mobile phones. (The Falcon and the Winter Soldier "The Whole World Is Watching")
Wilson and Barnes track down Walker and demand the shield from him, eventually taking it after a intense fight in which Walker's arm is broken and Wilson's Falcon suit destroyed. Walker receives an other than honorable discharge and is stripped of his role as Captain America. Later, he is met by Valentina Allegra de Fontaine. Wilson leaves the damaged Falcon suit with Torres and returns to the US to visit Bradley, who reveals more about his past, including his imprisonment after rescuing fellow soldiers who had also been experimented on. Barnes finds Zemo in Sokovia and hands him over to the Dora Milaje. Wilson returns home and helps Sarah fix the family boat, with assistance from several of their neighbors and Barnes, who delivers to Wilson a briefcase from the Wakandans. While training with the shield, Wilson and Barnes agree to move on from their differences and work together. The Flag Smashers plan an attack on the GRC conference and are joined by Batroc, who has been released from prison with help from Carter. Before the assault, Torres is able to locate the Flag Smashers in New York and send their location to Wilson. The Flag Smashers and their supporters infiltrate the GRC building before they pass the Patch Act, a bill which would force millions of displaced people to relocate. Wilson opens the Wakandan briefcase, and is marveled with what is inside it. Meanwhile, Walker build a new shield from scrap metal and his war medals. (The Falcon and the Winter Soldier "Truth")
Wilson, now in his Captain America Uniform with flight capabilities, arrives in New York to save the GRC from the Flag Smashers' attack with the help of Barnes, Carter, and Walker. Carter was revealed to be the Power Broker, separates Morgenthau from the others and confronts her. Batroc threatens to expose Carter, but she killed him. Wilson attempts to reason with Morgenthau, but Carter kills her when she points a gun at him. After carrying out Morgenthau's body, Wilson convinces the GRC to postpone the forced relocation vote and make efforts to help the people Morgenthau died fighting for. Meanwhile, on route to the Raft, the remaining serum-enhanced Flag Smashers are blown up by Zemo's butler. He also has a memorial dedicated to Bradley added to the Captain America Exhibit. De Fontaine give Walker a black version of his uniform and asks him to become America super soldier codenamed U.S. Agent. Barnes makes amends by telling Nakajima that he killed his son when he was the Winter Soldier. Carter is given a full pardon and an offer to rejoin the CIA, Carter than calls one of her contacts, telling them to inform their buyers they now have access to government resources. (The Falcon and the Winter Soldier "One World, One People")
In San Francisco, "Shaun" and his best friend Katy Chen work as hotel valets. This comes as a minor annoyance to their friends Soo and John, along with Chen's parents, as Chen and Shaun are capable of much more than parking cars. One morning, while they ride the bus to work, Shaun is suddenly attacked by men seeking his pendant. As he manages to hold his own against them, Chen is forced to take over the wheel after the bus driver is knocked unconscious. After Shaun throws his attackers off the bus, Razor Fist emerges and attempts to kill him with his machete limb. While Shaun escapes unharmed, the assassin, working for the Ten Rings, has seized his pendant. Recalling a postcard supposedly sent by his sister Xu Xialing, Shaun prepares to depart for Macau. Chen insists on tagging along with him, determined to learn who Shaun truly is. On the flight, Shaun reveals his true name is Shang-Chi. Telling her his life before meeting her. After landing in Macau, Shang-Chi and Chen locate the address of the postcard, finding the Golden Daggers Club. However, as Shang-Chi had signed a when he first entered the building, he unknowingly had placed his name in for a fight on the grand stage. (Shang-Chi and the Legend of the Ten Rings)
As Chen spectates, Shang-Chi faces a new opponent a woman whom he immediately recognizes as Xialing. Shang-Chi refuses to fight and attempts to tell her about their father, but he is knocked out. Xialing, bitter at her brother for abandoning her when he fled for San Francisco, reveals that she was not the one who sent the postcard. The Ten Rings infiltrate the Club searching for Xialing's pendant; Shang-Chi and Chen are left by themselves when Xialing deserts them in the elevator. They attempt to scale the scaffolding outside to reach another elevator, but the terrorists attack them there. Shang-Chi fails to catch Chen when she begins to fall, but Xialing saves her. Death Dealer appears to snatch Xialing's pendant, prompting Shang-Chi to give chase and fight him. Shang-Chi prepares to kill his mentor, recalling his harsh treatment during his childhood training. However, Shang-Chi is stopped by Wenwu, who has already captured Xialing and Chen. They are taken back to the Ten Rings Headquarters, where Wenwu reveals that his late wife has been calling out for him to come and save her. Recounting that she had left her village to be with him, he believes that the people of Ta Lo have imprisoned her for being with him. Then, using the pendants from both his children, he generates a magical map made of water. The map illustrates a clear path through the bamboo forest to Ta Lo, which only opens before the Qingling Festival. (Shang-Chi and the Legend of the Ten Rings)
Wenwu reveals his intention to burn the village of Ta Lo down if they don't release his wife, a plan which alienates his children and Chen into raising their objections. For this, they are thrown into a cell. They eventually meet an imprisoned Trevor Slattery and his Dijiang pet Morris, who reveals there's a way to pass through Ta Lo's forest maze without waiting for the clear path to be revealed. Using an escape route discovered by Xialing, the party infiltrates the garage. After hijacking Razor Fist's car, they fight off the Ten Rings and flee from the compound. Approaching the forest maze, Chen is guided by Morris and Slattery as she maneuvers through the shifting bamboo to reach Ta Lo. They manage to make it through unscathed. As they drive into Ta Lo's village, they are confronted by the locals, who urge them to turn back. However, Li's sister Ying Nan intervenes, finally meeting her niece and nephew. Nan takes them through the history of the realm: Once a prospering civilization, the emergence of the Dweller-in-Darkness and its army of Soul Eaters devastated Ta Lo to near-destruction. Fortunately, the Great Protector intervened, and The Dweller was sealed off in a cavern, where it would begin to lure people to it by imitating the voices of their loved ones. (Shang-Chi and the Legend of the Ten Rings)
Nan suspects that Wenwu had fallen victim to the Dweller's influence. As she trains Shang-Chi in aerokinetic martial arts, Xialing practices with a new rope dart, while Chen learns archery, all in preparation for Wenwu's arrival. One night, Shang-Chi sits alone at the lake and remembers the night of his mother's death at the hands of the Iron Gang. He reveals to Chen that he lied about not carrying out the hit against the gang's leader on his first mission. He declares his intention to kill his father for his involvement. The following day, Wenwu and the Ten Rings begin their invasion. Shang-Chi confronts his father, but Wenwu overpowers him and casts Shang-Chi into the lake. Wenwu approaches the barrier and begins to attack it, which releases the Soul Eaters. Death Dealer is immediately killed when his soul is taken, prompting Razor Fist to ally the Ten Rings with Ta Lo's guardians to confront the new threat. In the lake, the Great Protector saves Shang-Chi, who arrives at the barrier to confront his father once more. Wenwu loses control of his rings to Shang-Chi during the fight but is spared by Shang-Chi declares that his family needs him. Soon after, the Dweller-in-Darkness emerges from the weakened barrier and devours Wenwu's soul, but not before he is able to save his son, passing his rings unto him. The Great Protector is nearly killed by Soul Eaters and the Dweller, but is saved by Xialing and Chen. With the help of his sister, Shang-Chi uses the rings to tear the Dweller into pieces, ending the battle. The people of Ta Lo who survived the battle, hold a vigil to honor the dead. Shang-Chi bids goodbye to his father. (Shang-Chi and the Legend of the Ten Rings)
Shang and Chen return to San Francisco, recounting their adventure to Soo and John, who do not believe them. Wong emerges from a portal and brings Shang-Chi and Chen to the New York to the Sanctum Sanctorum to discuss the origin of his father's rings. Carol Danvers and Bruce Banner are contacted for help, but they turn out to be clueless. The mystical relics are shown to have a beacon transmitting a mysterious message. Meanwhile, Xialing returns to the Ten Rings Headquarters and becomes the new leader of the organization. (Shang-Chi and the Legend of the Ten Rings)
June
July
In Berlin, Peter attempts to expose Beck's plan to Fury and Hill, but Beck, knowing Peter has figured out his deception, intercepts him first. He torments him with various illusions, before tricking him into the path of a train. Beck has his subordinates reroute the Midtown Tech class trip to London, intending to kill Leeds, Brant, and Jones, as they can also expose his plans. Peter wakes up in a holding cell in the Netherlands, and calls for Hogan to rescue him. En route to London, Peter develops a new Spider-Man suit. (Spider-Man: Far From Home)
Peter skydives into London just as Beck launches his attack with the Elemental Fusion. Peter battles a swarm of Beck's drones and destroys the Elemental Fusion illusion. Peter confronts Beck in the Tower Bridge, where he reclaims the E.D.I.T.H. glasses and calls off the attack, saving his classmates in the process. Beck, who had accidentally been caught in the crossfire of one his attack drones in the battle, succumbs to his wounds and apparently dies. Peter and MJ embrace and kiss amid the ruins of the bridge. One of Beck's accomplices, William Ginter Riva, recovers all of Beck's drone files after the battle. Returning to New York, Leeds reveals that he and Brant have ended their short-lived relationship, whereas Hogan and May are just starting one. While taking MJ on a date as Spider-Man across the city, altered footage of Spider-Man battle with Mysterio in London is broadcast on several billboards in the city, incriminating Spider-Man for the attacks. Much to Peter's horror, J. Jonah Jameson broadcasts a confession tape from Beck, that reveals Spider-Man's identity as Peter Parker to the world. (Spider-Man: Far From Home)
With Peter Parker identity exposed as Spider-Man to the world, while also being framed by Mysterio as the individual responsible for Mysterio's attack of London. Numerous civilians nearby begin to surround Peter and MJ, forcing them to flee from the media and the police. They hide in Peter's apartment and reunite with May Parker and Happy Hogan, who reveal that they have broke up. Not long after, Damage Control agents take them along with Ned Leeds in their custody for interrogation. (Spider-Man: No Way Home)
Edward Brock and his partner symbiote, Venom were in hiding on a tropical island, when they found themselves teleported to a different universe from there own. On the TV, Eddie and Venom see a news report from J. Jonah Jameson about Spider-Man. Venom growl and licks Spider Man's image on the screen. (Venom: Let There Be Carnage)
Fury and Hill are revealed to be Talos and his wife, Soren, who has been impersonating Nick Fury and Maria Hill on Earth at Fury's behest. Talos issues a rendezvous of the Elemental attacks to the real Fury, who is on his own "vacation" on a Skrull spaceship. Fury informs the Skrulls that he needs to go "back to work". (Spider-Man: Far From Home)
In custody, Damage Control agent Albert Cleary attempted to interrogate Peter about the drones that were use in the London attack. Much to Peter's shock, when he tried to state the truth, saying that Nick Fury could vouch for him, he discovered that Fury had actually been off planet for a year. However before he could say anything eles, May and MJ told him not to say anything, until he got himself a lawyer. (Spider-Man: No Way Home)
May hired Matt Murdock to represent Peter, who successfully got his criminal charges dropped. Despite his criminal charges getting dropped by Murdock, he was warned by the latter that despite getting rid of legal troubles, things will still be much worse, as there was still the court of public opinion, and Happy would also need a really good lawyer to defend himself against any lawsuits as it was his responsiblity that Peter used Stark Tech that potentially caused damage. Much to Peter's shock, when a Mysterio supporter suddenly threw in a brick towards Parker, the blind Matt catch the brick before Peter. When Peter ask Murdock on how he did that, he just said that he's a really good lawyer. (Spider-Man: No Way Home)
Peter and May moved into Happy's Apartment, with the latter happily providing them all the support that they need. Peter discovered the apartment had a workshop of Stark tech, similiar to the one that he used to build his suit. Later on that night, Peter called MJ, where they both talk about their applications to get into MIT Peter told MJ that ever since he got bit by the spider that gave him his powers, he only had one week where he felt normal was when she found out his identity as Spider-Man, and everyone finding out his true identity ruined that for him. However, their special moment was ruined by Happy who told them to wrap it up as he was trying to sleep. (Spider-Man: No Way Home)
September
Peter, MJ and Ned return to Midtown High for their senior year. Their first day they are surrounded by the Media and police and on lookers who continuously questioned them. Peter's teacher and principal, welcomed him back into Midtown High, the principal made up a mural of him with all of his awards and pictures, while the janitor who believe Mysterio was a hero, called Peter a murder. Peter and MJ decided to go to the roof of Midtown High, to get a moment of peace. MJ trie to cheer Peter up by reading to him how male spiders hypontise females. They both laugh were about to kiss when they Ned found them. The three hope to get into MIT together (Spider-Man: No Way Home)
October
November
December
With the world no longer know who he is, Peter tried to reconnect with MJ and Ned who is now going to MIT, but after seeing MJ' wounds from the battle he decide not to. He visit May's grave to pay his respects and is joined by Happy, who is also now a stranger to him. Contending to carry on with his new life, Peter move into a new apartment alone and begin studying to earn his GED. Alerted to criminal activity on his phone, he stitches together a simpler suit and heroics as Spider-Man, honoring May's memory helping others and living life with responsibility. (Spider-Man: No Way Home)
At a bar in Mexico, Eddie Brock learned about Thanos and the Infinity Stones and also the Snap. Eddie did not believe the story about superpower people and space stones, as he believed all aliens had Venom's singular desire to eat brains. When Eddie decided to go to New York City and meet Spider-Man, the bartender reminded him that he needed to pay the bill. Eddie along with Venom, were enveloped in a bright light. Realizing what happening, Venom stated that it did not want to go yet and transported them back to their universe. However Eddie unknowingly leaves behind a small remnant of the Venom symbiote in his place which began to move on its own. (Spider-Man: No Way Home)
19th

Clinton Barton spends time with his children in New York for Christmas. Elsewhere, Kate Bishop attends a charity auction gala with her mother Eleanor, and learns that she is engaged to Jack Duquesne. Underneath the gala, she stumbles onto a black market auction featuring items recovered from the Avengers compound, finding Dusquene and his uncle Armand Dusquene III among the attendees. The auction is interrupted by the Tracksuit Mafia, a Russian street gang who attempts to recover a watch among the items. Bishop recovers Barton's Ronin suit and defeats the Tracksuits while wearing it. She escapes to her apartment after rescuing a stray dog from the Tracksuits, then tracks down Armand to investigate further. Bishop discovers that Armand has been murdered in his home while running away from the crime scene, she is cornered by the Tracksuits but is rescued by Barton, who saw a news report of the Ronin's return. (Hawkeye (Disney+ series) "Never Meet Your Heroes")

20th

Kate takes Barton back to her apartment, but ends up being attacked by the Tracksuits, and the pair is forced to evacuate, leaving the Ronin suit behind. After relocating to a new safehouse, Barton sends his children back home, promising to return by Christmas day. He escorts Bishop to her workplace, then recovers the Ronin suit from a LARP event. Later, during dinner, Kate fails to convince Eleanor of Dusquene's involvement in Armand's death. She tries to contact Barton, not knowing that he allowed himself to be captured by the Tracksuits. She tracks down Barton's location, but ends up being captured herself. The Tracksuits then inform their leader, Maya Lopez, of Barton and Kate's capture. (Hawkeye (Disney+ series) "Hide and Seek")

21st

Maya interrogates Clint and Bishop about Ronin, who killed her Father in the past. Barton manage to free himself and fend off the Tracksuit Mafia, though Maya breaks his hearing aid in the process. After Bishop is freed, the pair escapes the Tracksuits and gets Barton's hearing aid fixed by an audiologist. Moving to another location, Kazimierz Kazimierczak tells Maya about his disappointment that none of the Tracksuits members have brushed up on their ASL and advise her not to get into trouble with her "uncle". Intending to learn more about the Tracksuits as well as Duquesne, Bishop convince Clint to infiltrate Eleanor's penthouse and use her company account to look up Bishop Security's criminal database. However, Bishop is locked out of the system when attempting to bypass security, while Barton encounters Duquesne, who threatens him with Ronin's sword. (Hawkeye (Disney+ series) "Echoes")
Duquesne hold Clint at swordpoint but lower it when Eleanor and Kate arrive in the room. Eleanor was notified of Kate's usage of her account to breach into Bishop Security, prompting her to reveal that she and Barton is working together to bring down criminals. Kate attempt to excuse herself out, but is stopped by Eleanor. Following Barton to the elevator, she tells him to keep her daughter safe. Clint leave with the Ronin's sword. Kate tries to tell her mother about Duquesne's secret again, but is silenced as the couple prepare to arrange a party. (Hawkeye (Disney+ series) "Partners, Am I Right?")

22nd

At the safe house, Clint with the help of his wife Laura Barton discover that Duquesne is the CEO of Sloan Limited, a shell corporation that launders money for the Tracksuit Mafia. Clint is than joined by Kate and the dog Lucky as they plan their next course of action while having a Christmas movies marathon and tree decorating. But as they are enjoying their time, Barton ends up telling Kate how he first met Natasha Romanoff. Kate deduce that Clint was Ronin. Barton locate Kazi and ask him to talk Maya out of her vendetta against Ronin while Kate enlists the Larpers in retrieving the arrows. Afterwards, Laura informs Barton that the Rolex watch stolen by the Tracksuit Mafia is sending out tracking signals from an apartment building. Clint and Bishop go to retrieve it, and find out the watch is located in Lopez's apartment, where she also keeps notes on Barton and his family. Lopez appears and attacks Bishop, while Barton is ambushed by a masked assassin. A fight ensues between Barton and Bishop, Maya, and the assassin. Kate injures Maya, forcing her to retreat, while Barton unmasks his assailant, who is revealed to be Yelena Belova Natasha's sister before she escape. Clint decide that he cannot keep putting Kate in danger and end their partnership. (Hawkeye (Disney+ series) "Partners, Am I Right?")

23rd

Kate returns to her mother's house and informs her about Duquesne's shell corporation, leading Eleanor to call the NYPD and have him arrested. Kate returns to her apartment, where she find Yelena Belova waiting for her. Yelena reveal tell Kate her mission to kill Barton. Meanwhile, after recovering at Grills' apartment, Barton visits an Avengers memorial to apologize to Natasha Romanoff for what he is about to do. He don the Ronin suit and confronts Maya at the auto shop where he killed her father. During the fight, he unmask himself and attempts to convince her to let go of her vendetta and leave his family alone. He reveal an informant working for Lopez's boss wanted her father dead, but Lopez refuse to believe him. Bishop arrives to help Barton escape. Afterwards, Maya questions Kazi why he wasn't there on the night Ronin kill her father. Kazi simply told Maya he did not receive a call to meet up that night. Unsatisfied with the response, Maya left on her motorcycle. (Hawkeye (Disney+ series) "Ronin")

24th
25th

Clint finally returns to home to his Family, bringing Kate and the Pizza Dog along, who is now named Lucky. Laura Barton is handed back her S.H.I.E.L.D. watch, and the Ronin outfit is set ablaze on the grill. Kate try to come up with a superhero name for herself, leading Barton to suggest "Hawkeye". (Hawkeye (Disney+ series) "So This Is Christmas?")
2025
January
February
In the Gap Junction the space between universes, America Chavez and

Defender Strange

race to the

Book of Vishanti

while attempting to evade a Ribboned Creature. Strange's attempts to contain the monster prove futile, leading him to try to steal Chavez's power to travel across universes, knowing that the process would kill her. However, the demon kills Strange before he could do so, and Chavez inadvertently opens a portal to Universe-616 which she and Strange's corpse fall into. (Doctor Strange in the Multiverse of Madness)
Stephen Strange wake up, believing America and Defender Strange battle in the Gap Junction were just a nightmare. He then dresses up to attend Christine Palmer's wedding as he remains sentimental about the time they were together, but Palmer insists that the relationship would've failed regardless. During the celebration, an invisible entity begins to terrorize the streets of New York. Strange is forced to respond and reveals the entity as a Gargantos, a gigantic tentacled monster. Also present is America, whom Strange recognizes from his "nightmare" and rescues her. Wong arrives at the battle and together they kill Gargantos by gouging its eye out. Strange and Wong consult America, and she explains that the demons were hunting her for her powers. As the two remain skeptical, she takes them to Defender Strange's corpse to prove that Strange's "nightmare" was actually a peek into his counterparts across the Multiverse. (Doctor Strange in the Multiverse of Madness)
Upon further inspection of Defender Strange's corpse, Strange discovers runes of witchcraft that were also present on the tentacled monster. Thus, he visits Wanda Maximoff at her farm to ask her about what she knows about the Multiverse but discovers that the farm is a Chaos Magic conjuration. With the Darkhold in her possession, Wanda reveals herself as the one who sent the demons after America, believing that she can reunite with Billy and Tommy once she is able to take over the Multiverse. She also gives Strange before sundown to surrender America otherwise, she would hunt her down herself. Strange rejects her demands. As America is over at Kamar-Taj, the Masters of the Mystic Arts fortify the place in preparation for Wanda's assault with a magic shield and various other defenses. However, Wanda's telepathy targets one sorcerer and disables his magic, leading the shield to collapse, allowing her to shred through the resistance of Kamar-Taj. Strange entraps her within the Mirror Dimension, to no avail. Cornered, America accidentally opens a portal, allowing herself and Strange to flee across the Multiverse. (Doctor Strange in the Multiverse of Madness)
Wanda deploys the Darkhold to "dreamwalk" into her Earth-838 counterpart in Westview to find Strange and America but play with her children before going finding them. However,

Sara Wolfe

sacrifice herself to destroy the Darkhold. Wanda threatens to kill the remaining sorcerers if Wong does not reveal another method to dreamwalk, leading him to reveal that the book was a copy. He takes her to a castle on

Mount Wundagore

where the Darkhold was first transcribed. Wanda use the castle's power to dreamwalk back into her Earth-838 self and raid the Illuminati Headquarters in search of America. (Doctor Strange in the Multiverse of Madness)
Strange and America land in Earth-838 a futuristic New York City, where they walk towards the New York Sanctum in search of his counterpart in this universe, but as that counterpart had died defeating Thanos, they are instead greeted by this universe's Sorcerer Supreme Karl Mordo. Mordo invites them to sit down for tea, and the two warn him of the Scarlet Witch. They soon pass out as Mordo had poisoned the tea, and awaken in a facility elsewhere where they meet that universe's Christine Palmer, who works there as a scientist to help with managing the Multiverse. Strange is brought forth before the Illuminati for his trial, consisting of Mordo, Captain Peggy Carter, Black Bolt, Maria Rambeau, Reed Richards and Charles Xavier. They believe that Doctor Strange remains the greatest threat in the universe, revealing that their counterpart of Strange had used the Darkhold to look for alternate ways to defeat Thanos. He found the Book of Vishanti, which the Illuminati used to kill him on Titan. But Strange confessed that he had caused an incursion, an event in which reality is destroyed, and thus volunteered to be executed to prevent further destruction. (Doctor Strange in the Multiverse of Madness)
Before they could vote to execute Strange, Carter, Black Bolt, Rambeau and Richards leave to respond, but Wanda easily kills them. Xavier enters Maximoff's mind and attempts to liberate her from the Scarlet Witch self but fails as she snaps his neck. Mordo votes to kill Strange himself, who tricks him into destroying his restraints before escaping. The Illuminati's efforts have also bought Christine enough time to free America and the two escape into the sewers with Strange. Wanda continues to pursue them into the Gap Junction. (Doctor Strange in the Multiverse of Madness)
America bring Wanda to her 838 counterpart home. Wanda attacks her counterpart and attempts to comfort her kids, but they openly reject her. This causes Wanda to collapse into tears, but her counterpart comforts her, breaking her out of the Darkhold's corruption. Realizing the destruction she had caused and return to the 616 universe. (Doctor Strange in the Multiverse of Madness)
In the Gap Junction, Strange retrieves the Book of Vishanti. However, Wanda destroys it, takes control of America, and uses her to send Strange and Palmer into incursion universe. She takes America back to Earth-616, abandoning her alternate self who returns home to Westview. Maximoff then prepares a ritual to take her powers. (Doctor Strange in the Multiverse of Madness)
In the incursion earth, Strange and Christine see the effect of the incursion event have on that universe and head towards its New York Sanctum. There, they find a sinister counterpart of him who had been corrupted by his copy of the Darkhold, possessing a third eye because of it. When questioned about the Darkhold, the sinister counterpart warns against using it, but Strange engages in a musical battle in order to retrieve the book, believing it to be the only way to stop Wanda. The fight ends with Strange killing his evil counterpart, and Christine agrees to watch over him as he dreamwalks into Defender Strange's corpse back on Earth-616. (Doctor Strange in the Multiverse of Madness)
Strange in Defender Strange's corpse portal to Mount Wundagore, the spirits of the damned attack Strange in both universes, but Christine is able to protect Strange as he binds them into a cloak. He reunites with Wong, and they fight Maximoff but are easily defeated. However, Strange inspire America into channeling her powers using them against Wanda, which results in her using her powers to send Wanda back to Earth-838. Wanda sacrifices herself to destroy the castle and every copy of the Darkhold within the Multiverse as Wong and America return to Kamar-Taj. After the battle with Wanda, Strange told Christine Wanda did the right thing in the end. Before they both return to their home universes, Strange admits to Christine that he has always loved her, he was just to afraid to fully commit to a real relationship. She tell him to face his fear. (Doctor Strange in the Multiverse of Madness)
Kamar-Taj begins to rebuild as America starts her training in the mystical arts, while Strange returns to New York and repairs the watch his Christine give to him. He takes a walk afterwards, only to collapse and cry out in pain as his third eye opens. (Doctor Strange in the Multiverse of Madness)
Sometime later, Strange was walking when he encounters Clea, a sorceress who warns him that he has caused an incursion and that they must put a stop to it. She open a portal to the Dark Dimension and the two go in. (Doctor Strange in the Multiverse of Madness)
2050
2077
The Time Variance Authority Time Zone/Timeline
1985
Loki joins a TVA mission following an ambush by The Variant of Loki in Oshkosh, Wisconsin. He wants assurance that the TVA will let him meet the Time Keepers instead of disintegrating him, but Mobius figures out that he is stalling. (Loki "The Variant")
2018
2050
Sylvie, projects an emulated memory into the captive Hunter C-20 to collect information about the Time-Keepers' location. (Loki "Lamentis")
Loki, Mobius, and TVA agents travel to the Roxxcart superstore. The Variant ambushes them, using body possession to control TVA's Hunter B-15 and other locals. The Variant rejects Loki's offer for them to work together to overthrow the TVA's Time-Keepers. The Variant reveals itself as a female version of Loki. She executes her scheme, teleporting the TVA reset charges she stole to various locations in spacetime, thus creating many new timeline branches. She teleports into a timeline, and Loki follows her. (Loki "The Variant")
2077
On the habitable moon Lamentis-1 Loki and Sylvie discover that the moon is about to be crushed by a planet. Both are unable to escape due to the TemPad having run out of power. The two sneak aboard a train bound for the Ark, a spaceship intended to evacuate Lamentis-1 in order to siphon its power and recharge the TemPad. On the train, Loki gets drunk, which causes him and Sylvie to be discovered and forced out by the guards. Loki accidentally breaks the TemPad, which forces him and Sylvie to approach the Ark on foot. During their journey, Sylvie reveals to Loki that the TVA is comprised entirely of variants, rather than being created by the Time-Keepers as Mobius claimed. Loki and Sylvie arrive at the Ark's location and fight their way through the guards, only to witness it being destroyed by a meteor, leaving them stranded. (Loki "Lamentis")
Sylvie tells Loki she escaped the TVA's detention as a child. The bond between Loki and Sylvie create a Nexus Event the like the TVA never seen. The TVA was able to locate the two and bring them in. (Loki "The Nexus Event")
Altered 1931 Timeline
In New York City, several Chronicoms steal the faces of three police officers and kill a contact from a local speakeasy. S.H.I.E.L.D. agent Jemma Simmons introduces Director Mack and agent Daisy Johnson to an LMD version of Phil Coulson, who struggles with his existence and the amount of information uploaded into him. Daisy and Deke Shaw investigate the faceless officers and are attacked by the Chronicoms; they overpower one and take him back to the Zephyr. Coulson and Mack investigate the speakeasy and meet its owner, Ernest Hazard Koenig, who reveals that the police officers are providing security for a function in honor of Gov. Franklin D. Roosevelt. Simmons overloads the Chronicom's mind, forcing it to reveal their actual target: Koenig's employee Freddy, the father of future HYDRA leader Gideon Malick. The team rescues Freddy from the Chronicoms, realizing that they have to save HYDRA to ensure the future of S.H.I.E.L.D. On the Zephyr, the Chronicom Enoch, an ally of S.H.I.E.L.D., helps heal Agent Melinda May. (Agents of S.H.I.E.L.D. "The New Deal ")
Deke and Mack promise to keep Freddy safe, traveling with him by train to make a delivery. Meanwhile, the other agents regroup at Koenig's speakeasy and interrogate Freddy's contact, Viola. They learn that she is an agent of HYDRA and that Freddy is carrying what will become HYDRA's Super Soldier Serum. They return to the Zephyr, where Enoch attempts to prevent an erratic May from leaving after she woke up from her healing pod prematurely. Koenig helps direct the team to Freddy's delivery location, learning of S.H.I.E.L.D., Chronicoms, and time travel in the process. Daisy contacts Deke and tells him to kill Freddy to stop HYDRA's rise, but Mack prevents this. Koenig tries to stop Freddy from making the delivery, but Freddy shoots him and leaves with a Hydra agent, securing their future. The Zephyr unexpectedly time travels to follow the Chronicoms through the next time window, though Enoch is left behind. Despite this, he is hired by the recovering Koenig and informs him of his involvement in S.H.I.E.L.D.'s evolution. (Agents of S.H.I.E.L.D. "Know Your Onions")
Altered 1940s Timeline
After successfully returning the Infinity Stones and Mjölnir to their original time, Steve chose to not travel back to 2023. He reunited with Peggy finally having the dance he promised her. The two later get married and made a life together. (Avengers: Endgame)
Altered 1955 Timeline
The agents end up at Area 51, which is part of S.H.I.E.L.D. Furthermore, they discover that Project Helius is currently being worked on and that the Chronicoms plan to sacrifice one of their own in a bid to destroy the base. The agents kidnap high ranking agent Gerald Sharpe and have Coulson impersonate him while Simmons impersonates Peggy Carter. While the rest of the agents try to interrogate an unwilling Sharpe, Coulson and Simmons try to find the Chronicom infiltrator, but run into Carter's former partner Daniel Sousa who immediately outs them. Daisy arrives to save them just in time for the agents to catch on to how the Chronicoms plan to enact their plan. May and Yo-Yo chase down a Chronicom while Coulson battles another. Daisy and Simmons manage to improve a S.H.I.E.L.D. EMP device in time to disable Helius, the entire base, the Chronicoms, and Coulson. As Sousa collects Coulson, Mack and Deke return Sharpe to the desert where he becomes another lunatic raving about aliens. (Agents of S.H.I.E.L.D. "Alien Commies from the Future!")
Coulson, who begins to glitch as if everything is a noir, tells Sousa that he is his contact and that the he has come to help him in delivering a device to Howard Stark. He manages to contact Enoch to put him through to the Zephyr leading to a running gag where everyone calls him to speak to someone else. Yo-Yo and Deke find the device, but the latter is captured and taken to Freddy, who now leads HYDRA, but lets him go when he is reminded of his past. May's emotions become erratic and inconsistent and Simmons deduces that due to her time in the other realm, she is now empathic. Coulson realizes that Sousa is supposed to die while delivering the package to his contact and the team decide to save him. Sousa successfully delivers the package, but Coulson takes his place and is the one shot by the Hydra agent. Sousa is taken aboard the Zephyr and Coulson, with his glitch fixed, reveals that they travel to the future. Luke stays in 1955 and offers his aid to help Freddy take down S.H.I.E.L.D. (Agents of S.H.I.E.L.D. "Out of the Past")
Altered 1970 Timeline
At Camp Lehigh, Steve and Tony split up to respectively locate the Pym Particles and find the Tesseract. Before they meet up together again, Steve see Peggy Carter while Tony runs into Howard Stark. After a long conversation, Tony sees his father in a new light and, now a father himself, understands what he went through raising him. He manages to indirectly thank Howard for everything while maintaining his hidden identity before returning to the present with Steve. (Avengers: Endgame)
Agents of S.H.I.E.L.D. Altered 1970s Timeline
The S.H.I.E.L.D. Team return to the speakeasy to discover that S.H.I.E.L.D. is preparing Project Insight, which should not be developed for several more decades, led by Wilfred Malick, who should have died in 1970. Wilfred and the Chronicoms attempt to capture the agents, but Daisy briefly takes his son Nathaniel (who also should be dead) hostage to allow their escape. Nathaniel sees Daisy use her powers. The agents reunite with Enoch and return to the Zephyr. Without warning, the Chronicoms jump forward to 1976 when Project Insight is set to launch, and the Zephyr follows. Coulson and May plant explosives in the Lighthouse where Insight is being launched while Deke and Yo-Yo confront Wilfred. The latter reveals that Mack's parents are hostages inside the Lighthouse, before being killed by Deke. Daisy and Sousa are captured by Nathaniel using a Chromnicom weapon. Mack aborts the detonation when he sees his parents, allowing Insight to launch. They use the Zephyr to destroy Insight, giving away their location.(Agents of S.H.I.E.L.D. "A Trout in the Milk")
The Lighthouse automatically fires missiles at the Zephyr, damaging the time drive. While Deke, Simmons, and Enoch repair it, Deke discovers that Simmons has a memory implant that blocks her knowledge of Fitz's location while retaining information on time travel. Nathaniel experiments on Daisy and transfers her powers to himself, but he is overwhelemed by them as they break his bones and destroy the building he is in. Sousa is able to get Daisy back to the Zephyr. May identifies undercover Chronicoms by sensing that they have no emotions. She and Coulson rescue General Rick Stoner, and Coulson finds the Chronicoms' ship. He speaks with Sybil, their predictor, about the Chronicoms' plan. He then blows up the ship with himself in it. Mack and Yo-Yo discover that Mack's parents are already dead and are being impersonated by Chronicoms, forcing Mack to throw them from the Quinjet. The Zephyr time jumps, Mack steps out to mourn. Deke checks on him, but they are stranded when the Zephyr suddenly time jumps again. (Agents of S.H.I.E.L.D. "Adapt or Die")
Agents of S.H.I.E.L.D. Altered 1980s Timeline
Altered 2012 Timeline
The team of Tony, Steve, Scott, and Bruce review their mission objectives and disperse. Bruce encounters the Ancient One, but fails to persuade her of his predicament. The Ancient One educates Banner on the effects the Infinity Stones have on reality and possible ramifications that may result from the loss of just one. Though Bruce makes a compelling argument, ultimately he convinces her when he reveals that Stephen Strange willingly relinquished it to Thanos, realizing his actions was part of a bigger plan. The Ancient One loans Bruce the Time Stone and he promises to return it and the others once they've finished with them before departing for the Quantum Realm to rendezvous with the other Avengers. Meanwhile, Tony and Scott infiltrate Stark Tower as Loki is being taken into custody. Realizing that their present situation presents no opportunity to steal the Tesseract, Scott plants himself onto Stark's 2012 counterpart whom is transporting the Tesseract along with S.H.I.E.L.D. agents who are undercover HYDRA agent. and the past Avengers. Meanwhile, Tony saw them departs in the Mark LXXXV armor. In the lobby area, Scott causes a distraction by interfering with 2012 Stark's Arc Reactor, allowing the present Tony to secure the Tesseract. However, his attempts to exit the area, 2012 Hulk bursts into the lobby from the stairwell, and causing Tony to drop the Tesseract. In the confusion, Loki manages to retrieve the Tesseract and use its power to escape. (Avengers: Endgame)
Loki land in the Gobi Desert with the Tesseract and is captured by the Time Variance Authority or the TVA. (Loki "Glorious Purpose")
Steve located the Chitauri Scepter, he but than encounters Brock Rumlow, Jasper Sitwell, Jack Rollins and other agents of HYDRA riding an elevator. Steve presents the ruse that he has been ordered to take the scepter, drawing suspicion from Rumlow and Sitwell. But, making uses of his future insight, Steve persuaded them by pretending to be a HYDRA agent himself. Steve, however, encounters another obstacle in the in his way his 2012 counterpart, who has mistaken him for Loki in disguise. The two fight, and are evenly matched but using his future knowledge by revealing Bucky is still alive, Steve manages to subdue his 2012 counterpart with the scepter. The team regroup, Tony and Scott admit to Steve, they botched their mission and there's no way to find the Tesseract now. However Tony gets an idea on how they could acquire both the Tesseract and more Pym Particles. Scott is given the scepter to return to the present, while Stark and Rogers travel to Camp Lehigh in 1970. (Avengers: Endgame)
Altered 2013 Timeline
Thor and Rocket, having been able to locate Jane Foster on Asgard, set out to use a device to extract the Aether from her body. Thor, however, gets distracted at seeing his mother, knowing that she will die later that day. He manages to spend some extra time with her and she realizes he is from the future and has suffered. She gives him some encouragement and is ready to meet her fate even if it is just around the corner. Upon Rocket retrieving the Reality Stone and escaping Asgardian guards, Thor's talk with his mother gets interrupted, but he takes the chance to reclaim Mjölnir before he and Rocket return to 2023. (Avengers: Endgame)
After, Tony Stark's funeral, Steve returned the Reality Stone and Mjölnir back to Asgard. (Avengers: Endgame)
Altered 2014 Timeline
Rhodes and Nebula are dropped off on Morag and watch Peter Quill infiltrate the temple holding the Power Stone, both of them remarking on what a carefree idiot Quill is before knocking him out. However, aboard the Sanctuary II, Thanos plans his retrieval of the Power Stone with Gamora and Nebula when suddenly, the two Nebulas' systems start interfacing with each other. Although present Nebula is unaware, past Nebula sees what her future self is seeing. Thanos has his daughter examined and sees images of his success from the future. Past Nebula swears her loyalty to her father, and Thanos decides to use her to achieve his aims quicker than he ever thought. The retrieval of the Power Stone goes off without a hitch, but when Rhodes travels back to the present time, a malfunctioning Nebula is left to be found by Thanos and her past self, who uses Nebula's time-traveling device to travel forward in time and impersonate her future self. (Avengers: Endgame)
Natasha and Clint are greeted on Vormir by Red Skull. Once they are informed of the sacrifice they have to make, the two are ready to sacrifice themselves for the other. The two fight as they each try to throw themselves off the building, and although Clint makes the jump Natasha saves him and ends up hanging by his hand. She convinces him to let her go, as there's no way to save her now, and she falls to her death. A devastated Barton claims the Soul Stone and returns to the present without Romanoff. Meanwhile, Nebula activates the Quantum Tunnel to allow passage for Thanos and his army to travel to 2023. (Avengers: Endgame)
Steve Rogers returned the Orb and the Soul Stone to their respective locations after Thanos and the Black Order was defeated. (Avengers: Endgame)
The Void Time Zone
The Loki variants tell Loki that a cloud-like creature named Alioth guards the Void and prevents anyone from escaping. In an attempt to reach Loki, Sylvie prunes herself and narrowly escapes Alioth with Mobius' help. Boastful Loki attempts to betray the other Lokis for President Loki and the Lokis with him, causing a fight to ensue while Loki and his variant allies escape. After reuniting with Loki, Sylvie proposes a plan to approach Alioth and enchant it, in hopes that it will lead them to the real mastermind behind the TVA's creation. As the Lokis head toward Alioth, Mobius uses a TemPad Sylvie stole from Renslayer to return to the TVA. Kid Loki and Alligator Loki escape while Classic Loki creates a large illusion of Asgard to distract Alioth, sacrificing himself in the process. This allows Loki and Sylvie to successfully enchant the creature and move past the Void. Noticing a citadel in the distance, the pair walk towards it. (Loki "Journey Into Mystery")
The End of Time Realm
At the Citadel of He Who Remains. He Who Remains greets Loki and Sylvie, who are both surprised that he is "just a man". Using a TemPad to avoid Sylvie's attacks, He Who Remains reveals he can anticipate their actions because he has foreseen the past, present, and future and that he guided them to him. He also reveals that he created the TVA after several variants of himself discovered alternative universes and contacted each other in the 31st century. Several of them tried to conquer other universes, leading to a multiversal war. He Who Remains harnessed the creature Alioth to end it, isolate his timeline, and create the TVA to prevent further branches. As he has grown weary, he offers Loki and Sylvie a choice: kill him, end the singular timeline, and risk another multiversal war sparked by his variants, or succeed him in leading the TVA and managing the timeline. As the timeline begins to diverge, He Who Remains finds he can no longer anticipate the future and Sylvie tries to kill him. Loki fights her, fearing He Who Remains might be right and pleading that he wants to keep her safe. They kiss, but Sylvie uses the TemPad to send Loki back to the TVA headquarters and kills a surrendering He Who Remains, unleashing a multiverse with timelines that cannot be pruned. (Loki "For All Time. Always.")
Unknown Universe
Characters
Movies

Infinity Saga
Phase One
Phase Two
Phase Three
Phase Four
Comics
In chronological order:
Phase One
Phase Two
Phase Three
Television series
In chronological order:
Phase Two
Phase Three
Phase Four
Video Games
In chronological order:
Phase One
Phase Two
Iron Man 3

(2013)

Thor: The Dark World

(2013)

Captain America: The Winter Soldier

(2014)

Guardians of the Galaxy: The Universal Weapon

(2014)

Lego Marvel's Avengers

(2016)
See Also
References to the broader Marvel Cinematic Universe
References