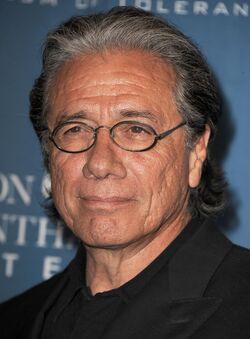 Edward James Olmos portrayed Robert Gonzales in Agents of S.H.I.E.L.D..
Significant roles
Eddie Holt in Wolfen (1981)
Gaff in Blade Runner (1982)
Gregorio Cortez/General Santa Anna in American Playhouse (1982)
Lt. Martin Castillo in Miami Vice (1984-1990)
Jaime Escalante in Stand and Deliver (1988)
The Angel in A Million to Juan (1994)
Jose Menendez in Menendez: A Killing in Beverly Hills (1994)
Potiphar in Slave of Dreams (1995)
Captain Salazar in Dead Man's Walk (1996)
Abraham Quintanilla in Selena (1997)
Det. Anthony Piscotti in The Taking of Pelham One Two Three (1998)
Salvatore Maranzano in Bonanno: A Godfather's Story (1999)
Judge Roberto Mendoza in West Wing (1999-2000)
Chief in The Road to El Dorado (2000)
Det. Curtis in Gossip (2000)
Trujillo in In the Time of the Butterflies (2001)
Jess Gonzalez/Pancho Villa in American Family (2002)
Commander William Adama in Battlestar Galactica (2003)
Chief Angel Rojas in The Batman (2004)
Commander William Adama in Battlestar Galactica (2004-2009)
Commander William Adama in Battlestar Galactica: Razor Flashbacks (2007)
Commander William Adama in Battlestar Galactica: Razor (2007)
El Diablo in Beverly Hills Chihuahua (2008)
Commander William Adama in The Plan (2009)
Axford in The Green Hornet (2011)
Professor James Gellar in Dexter (2011)
Papi Greco in 2 Guns (2013)
Quotes
"You are going to like him a lot. And when he smiles, you know what happens, right? The whole world smiles with him."
"All I can tell you is it's very clearly stated in that scene from last week, that the differences are Coulson leans more toward where Fury comes from. I have to discuss my feelings and ideas with my team. Everybody sitting at that table has the same amount of say-so to what is going to happen. That's the difference. You never saw a team around Fury and you never saw a team around Coulson. You saw the council that dominated Fury."
"It's very difficult for Bobbie. Bobbi loves Coulson, but she understands that what I'm doing needs to be done. She finds herself torn, just like Mac. Mac loves Coulson. They appreciate what they've been able to accomplish under him, but that was during the time of Fury. We have to take care of the public. And what are we taking care of the public from? Is Skye a threat or isn't she?"
"You won't believe it when it happens. What is going to happen is unpredictable. You're going to say, 'I love this show even more. Thanks a lot.' "
Community content is available under
CC-BY-SA
unless otherwise noted.