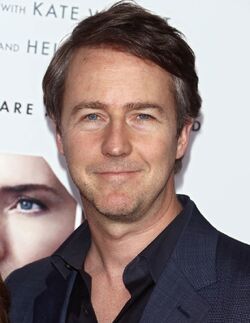 Edward Norton portrayed Bruce Banner in The Incredible Hulk.
He re-wrote much of the screenplay for the film before and during filming, although he is not credited as a writer. .[1]
Significant roles
Alan Issacman in The People Vs. Larry Flynt (1996)
Aaron Stampler in Primal Fear (1996)
Derek Vinyard in American History X (1998)
The Narrator in Fight Club (1999)
Monty Brogan in 25th Hour (2002)
Will Graham in Red Dragon (2002)
Nelson Rockefeller in Frida (2002)
King Baldwin in Kingdom of Heaven (2005)
Eisenheim in The Illusionist (2006)
Bill/Brady Kincaid in Leaves of Grass (2009)
Eric Byer in The Bourne Legacy (2012)
Mike Shiner in Birdman (2014)
Whit in Collateral Beauty (2016)
Rex in Isle of Dogs (2018)
Quotes
"I thought it was an amazing opportunity to put our hands on one of the really classic modern mythologies. And take it seriously."
"Mark is like a brother to me. Besides, he's got two kids, and I'm really happy he gets to have this moment with them."
"I didn't watch the movie yet, it's not a priority."
Trivia
Norton is good friends with Mark Ruffalo, who plays the Hulk in the Marvel Cinematic Universe after The Incredible Hulk.
Norton had co-starred with other Marvel actors and actresses, including Tim Roth in Everyone Says I Love You, Matt Damon in Rounders, Anthony Hopkins in Red Dragon, Tim Blake Nelson in Leaves of Grass, Jeremy Renner in The Bourne Legacy, Tony Revolori, Jeff Goldblum, Willem Dafoe and Tilda Swinton in The Grand Budapest Hotel, Michael Keaton and Emma Stone in Birdman, James Franco in Sausage Party and Will Smith in Collateral Beauty. He also worked with Scarlett Johansson, Jeff Goldblum, Liev Schreiber and Tilda Swinton in Isles of Dogs.
Norton once dated Marvel Cinematic Universe actress Salma Hayek.
References
↑ Zak Penn Receives Sole Writing Credit on THE INCREDIBLE HULK, Robert Sanchez, iesb.net, June 4, 2008
Community content is available under
CC-BY-SA
unless otherwise noted.