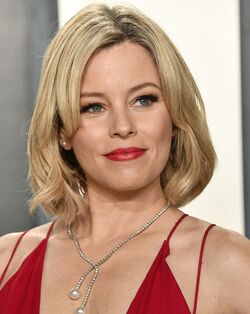 Elizabeth Banks portrayed Betty Brant in Spider-Man, Spider-Man 2, and Spider-Man 3.
Significant roles
Lindsay in Wet Hot American Summer (2001)
Debi in Swept Away (2002)
Lucy in Catch Me If You Can (2002)
Marcela Howard in Seabiscuit (2003)
Beth in The 40 Year Old Virgin (2005)
Charlene in Fred Claus (2007)
Gina Morrison in Meet Dave (2008)
Laura Bush in W. (2008)
Rachel in The UnInvited (2009)
Lara Brennan in The Next Three Days (2010)
Miranda in Our Idiot Brother (2011)
Effie Trinket in The Hunger Games (2012-2015)
Amy in Movie 43 (2013)
Wyldstyle/Lucy in The Lego Movie (2014)
Quotes
"I got a phone call recently apprising me of the dates but other than that I don't really have any information. But I'm really thrilled - I love Topher Grace – I'm friendly with him. I think he's a great actor and I'm very excited for him to do it. And Thomas Hayden Church, too, I think he's gonna be fantastic. I just do whatever they tell me to do. I just am thrilled to be a part of the franchise."