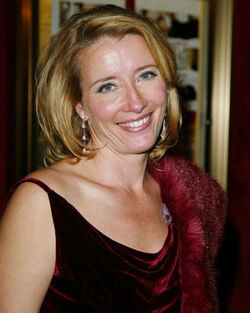 Emma Thompson portrayed Agent O in Men in Black III and will reprise the role in Men in Black: International.
Significant roles
Miss Money-Sterling in The Young Ones (1984)
Suzi Kettles in Tutti Frutti (1987)
Harriet Pringle in Fortunes of War (1987)
Alison Porter in Look Back in Anger (1989)
Catherine Winslow in Theatre Night (1989)
Princess Katherine de Valois in Henry V (1989)
Duchess D'Antan in Impromptu (1991)
Grace/Margaret Strauss in Dead Again (1991)
Nanny G in Cheers (1992)
Margaret Schlegel in Howards End (1992)
Maggie Chester in Peter's Freinds (1992)
Beatrice in Much Ado About Nothing (1993)
Miss Kenton in The Remains of the Day (1993)
Gareth Peirce in In the Name of the Father (1993)
Dr. Diana Reddin in Junior (1994)
Dora Carrington in Carrington (1995)
Elinor Dashwood in Sense and Sensibility (1995)
Frances in The Winter Guest (1997)
Susan Stanton in Primary Colors (1998)
Vivian Bearing in Wit (2001)
Captain Amelia in Treasure Planet (2002)
Karen in Love Actually (2003)
Professor Sybil Trelawney in Harry Potter and the Prisoner of Azkaban (2004)
Nanny McPhee in Nanny McPhee (2005)
Karen Eiffel in Stranger Than Fiction (2006)
Sybil Trelawney in Harry Potter and the Order of the Phoenix (2007)
Dr. Alice Krippin in I Am Legend (2007)
Lady Marchmain in Bridshead Revisited (2008)
Kate Walker in Last Chance Harvey (2008)
Charlotte in I Love Radio Rock (2009)
Nanny McPhee in Nanny McPhee and the Big Bang (2010)
Professor Sybil Trelawney in Harry Potter and the Deathly Hallows Part 2 (2011)
Queen Elinor in Brave (2012)
Lady Eastlake in Effie (2012)
P.L. Travers in Saving Mr. Banks (2013)
Quotes
Please add some quotes from this performer about their work in Marvel movies!
Trivia
Community content is available under
CC-BY-SA
unless otherwise noted.