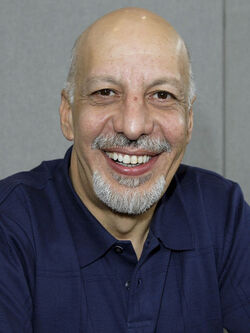 Erick Avari portrayed Nikolas Natchios in Daredevil.
Significant roles
Toulouse Lautrec in Nothing Lasts Forever (1984)
Benny in For Love of Money (1993)
Kasuf in Stargate (1994), Stargate SG-1 (1998-2001)
Dr. Terrence Bey in The Mummy (1999)
Tival in Planet of the Apes (2001)
Cecil Anderson in Mr. Deeds (2002)
Prescott in Home Alone 4 (2002)
Sanjay Ramachandran in L.A. Dragnet (2003)
Chandra Suresh in Heroes (2006)
Habib in Postal (2007)
Vijay in Paul Blart: Mall Cop (2009)
Jasjeet in Hachi: A Dog's Tale (2009)
Quotes
Please add some quotes from this performer about their work with Marvel movies!
Community content is available under
CC-BY-SA
unless otherwise noted.