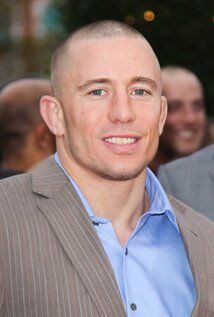 Georges St-Pierre portrayed Georges Batroc in Captain America: The Winter Soldier and The Falcon and the Winter Soldier.
Significant roles
Georges in Never Surrender (2009)
Stone in Hell's Chain (2009)
Shaman in Death Warrior (2009)
Quotes
"They asked me to let my hair grow to play a villain. I also let my [facial] hair grow; it took me a month to grow this. I don't know [how long the movie is filming], but I'll be in LA for a week. It's my first experience, so it'll be fun and I'm excited. For this kind of thing, I'm not nervous."
"I'm done filming, I was there for a week. It was a lot of fun I made a lot of new friends. My character is a French mercenary, speaks French, a martial arts expert of Savate, and an Olympic lifting champion. A little bit like a guy who can jump really high and stuff. The character fit me well. My new look rigt now was for the Captain America movie, I just molded it a bit different than my character was a week ago. During filming it looked much more sinister."
Community content is available under
CC-BY-SA
unless otherwise noted.