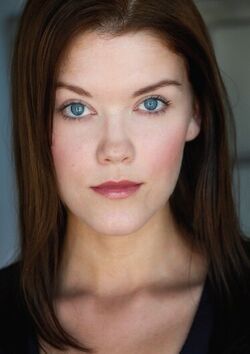 Hayley Lovitt portrayed Janet van Dyne in Ant-Man and Ant-Man and the Wasp and Sage in the FOX TV series The Gifted.
Significant roles
Please add a list of Hayley Lovitt's significant roles!
Quotes
"Well, I've had to keep my mouth shut about this for a number of months now. The official release date is tomorrow, but a lot of theaters have it today! I play The Wasp (the original Avenger, the one who named the Avengers), Janet van Dyne, in Ant-Man. I believe Marvel has since decided to give Janet a much bigger role in the MCU of film (my own belief/speculation, you know how Marvel keeps things secret), with many speculating on who might play her. Because of this you miiiiight not recognize me in the film, as I am in full Wasp attire including helmet with yellow tinted eye glass. And my lines were cut to conceal my voice. But I'm still in this super awesome film! With this amazingly iconic Marvel credit and a really cool scene I got to shoot with Michael Douglas. And a little photo shoot that shows at the end of the film. I have seen this film, and it is seriously. If you aren't a comic fan, trust me, you will still enjoy this one. "
"Not sure if I'm at liberty to divulge any information about deals. #Marvel loves their secrets!"
Community content is available under
CC-BY-SA
unless otherwise noted.