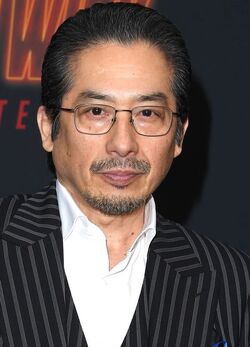 Hiroyuki Sanada portrayed Shingen Yashida in The Wolverine and Akihiko in Avengers: Endgame.
Significant roles
Takeda Katsuyori in Sengoku jietai (1979)
Jin-wu in Long zhi ren zhe (1982)
Inue Shinbei Masashi in Satomi hakken-den (1983)
Masahiro in New York Koi Monogatari (1988)
Takao Hamura in Kôkô kyôshi (1993)
Ryûji Takayama in Rasen (1998)
Ryûji Takayama in Ringu (1998)
Ryûji Takayama in Ringu 2 (1999)
Seibei Iguchi in Tasogare Seibei (2002)
Ujio in The Last Samurai (2003)
Matsuda in The White Countess (2005)
Kaneda in Sunshine (2007)
Kenji in Rush Hour 3 (2007)
Mr. Musha in Speed Racer (2008)
Dogen in Lost (2010)
Kuranosuke Ôishi in 47 Ronin (2013)
Quotes
"There's a big fight scene between them. It's the famous claws versus samurai swords."
"As a Japanese born actor, I would like to say thank you to Jim, Hugh, the crew and cast because a lot of the movie is located in Japan. Sometimes [there are] a lot of misunderstandings of our culture, but they respected our culture and researched a lot. So when I saw the movie I was so happy because this movie had a great balance, a nice mixture of East and West, and tradition and modernism. I think Japanese audiences will be happy watching it. It has very, super modern Japan with nostalgia.. like a taste of old classic Japanese movies."
Community content is available under
CC-BY-SA
unless otherwise noted.