Wiki Targeted (Entertainment)
Play Sound
Main system

​ ​ The Mark XII armor was the fifth armor created after the events of the New York battle. It is also the third in the advanced Iron Man armors.
Previous: Iron Man armor (Mark XI) Next: Iron Man armor (Mark XIII)
Upgrades
The chest repulsor transmitter of this artillery-level suit can fire beams at normal strength or can be charged up to fire even more powerful blasts. The suit also generates a repulsor shield for protection against firearms and explosives. It has also changed color from the traditional red, gold, and silver to silver and black.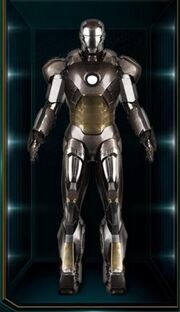 History
The Mark XII was created after the New York battle and added to the Iron Legion. When the "House Party Protocol" was ordered, it and the rest of the Armors flew to Florida to assist Tony in the Extremis battle. It was either destroyed by the "Clean Slate Protocol" or at the hands of the Extremis soldiers.