Wiki Targeted (Entertainment)
Play Sound
Main system

​ ​The Mark XIX High-Velocity suit (or Tiger) was created after the events of the New York battle. It is called Tiger because of it's high speeds and has a similar color scheme. This is a prototype to the Shotgun armor.
Previous: Iron Man armor (Mark XVIII) Next: Iron Man armor (Mark XX)
Upgrades
It is built with an emphasis to test initial high-velocity traveling. This prototype was able to reach high speeds and was the fastest armor until Tony realized that the Armors could go faster and built a upgraded version.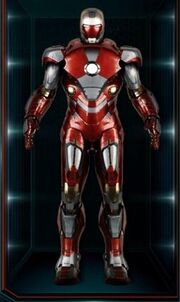 History
The suit was created after the New York battle. Tony realized that there couldn't be one suit that could do everything, so he started building suits specializing in certain areas, such as speed. The Mark XIX was the fastest armor until the Mark XL was created. It was put into the Hall of Armor and added to the Iron Legion. When the "House Party Protocol" was ordered, it and the rest of the Armors flew to Florida and assisted Tony in the Extremis battle. When some Extremis soldiers threw metal bars at it, it blasted them, sending them falling to their deaths. It was either destroyed by the Extremis soldiers or the "Clean Slate Protocol".
Trivia
Tiger was an early prototype for the Mark XL Shotgun suit.