Wiki Targeted (Entertainment)
Play Sound
Main system

​ ​ ​ ​The Mark XVI Black Stealth suit (nicknamed Nightclub) was built after the New York battle. It's name comes from it's cloaking system, just like Sneaky.
Previous: Iron Man armor (Mark XV) Next: Iron Man armor (Mark XVII)
Upgrades
It's design was based off of the Mark 15's designs, but instead of chrome, it had a black color scheme with golden plates so it can be slim and sleek appearance and have flexibility on Stealth missions. It is lighter to enhance speed and effects. This one has almost no weapons, besides the repulsors and chest uni-beam.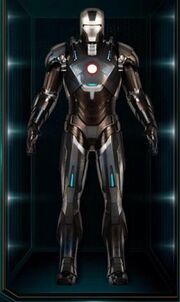 History
The suit was created after the New York battle. Tony realized that there couldn't be one suit that could do anything, so he started building suits specializing in certain areas, starting with Stealth. Tony built the suit to be an improvement if the Mark 15. It's cloaking system was upgraded to be more advanced. It was finished and placed into the Hall of Armor with the rest of the Iron Legion. When the "House Party Protocol" was ordered, it and the rest of the suits flew to Tony 's aid in the Extremis battle. Tony used it to fight the Mandarin, but was eventually got it's arm ripped off and was knocked to the ground. Tony ejected himself just as the Mandarin punched straight through its chest.
Trivia
This, like Sneaky, was inspired by the Stealth armors from the comic book series.