Wiki Targeted (Entertainment)
Play Sound
Main system

​ ​The Mark XX Long-Distance suit (nicknamed Python) was created after the events of the New York battle. It got its name Python because of it's ability to go long distances mimicing the ability of a python.
Previous: Iron Man armor (Mark XIX) Next: Iron Man armor (Mark XXI)
Upgrades
It has has enhanced speed in terms of flight and land movement, and can last much longer on the move than other armors. The suit is able to store more energy into its system, directed to the Flight System, to allow more energy to be supplied for more travel and it loses less energy than other Iron Man suits.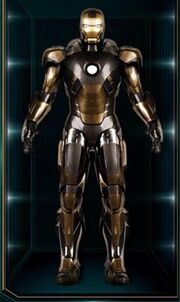 History
The suit was created after the New York battle. Tony realized that there couldn't be one suit that could do anything, so he started building suits specializing in certain areas, like Energy. It was placed into the Hall of Armor along with the rest of the Iron Legion. When the "House Party Protocol" was ordered, it and the rest of the Iron Legion flew to assist Tony in the Extremis battle. It was either destroyed by the "Clean Slate Protocol" or the Extremis soldiers.