Wiki Targeted (Entertainment)
Play Sound
Main system

​ ​The Mark XXI High-Altitude suit (or Midas) was created after the NYC battle. It got it's name from a character from Greek mythology, who was granted the his wish to turn anything he touched into gold, the color of the suit. This may be a prototype of Gemini, as they both have similar functions, only that Gemini is more advanced and capable of space travel.
Previous: Iron Man armor (Mark XX) Next: Iron Man armor (Mark XXII)
Upgrades
It has the ability to fly at high altitude, being designed to withstand low pressure and cold temperatures, though not designed for space travel.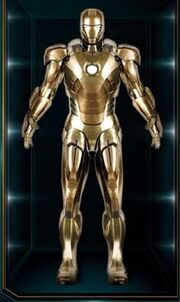 History
The suit was created after the New York battle. Tony realized that there couldn't be one suit that could do anything, so he started building suits specializing in certain areas. He created Midas and it was placed into the Hall of Armor along with the rest of the Iron Legion. When the "House Party Protocol" was ordered, it and the rest of the Iron Legion flew to assist Tony in the Extremis battle. It was either destroyed by the "Clean Slate Protocol" or the Extremis soldiers.
Trivia
Midas wished to have everything he touched turned to gold, and once he woke up, the wish came true. After turning many things into gold, he decided to go eat, however, the food turned to gold when he picked it up or bit it. His servants wanted to help, but couldn't as they feared being turned into gold themselves. Midas begged for the wish to be taken back and it was taken back. He then happily enjoyed the meal.