Wiki Targeted (Entertainment)
Play Sound
Main system

​ ​The Mark XXIV Heavy Combat Suit (or Tank) was created after the battle of New York. Its name Tank comes from it being able withstand heavy damage.
Previous: Iron Man armor (Mark XXIII) Next: Iron Man armor (Mark XXV)
Upgrades
It is similar to the Heartbreaker, only thicker with more armored plating for intense combat due to it's advanced Titanium Alloy. It is able to withstand heavy damage and has a oversized RT chest that fires heavy blast and can create a forcefield. The durability of the suit was later added to the Mark 42 armor.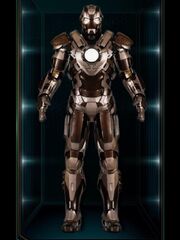 History
Iron Man 3
The suit was created after the New York battle. Tony realized that there couldn't be one suit that could do anything, so he started building suits specializing in certain areas, like armor. It was placed into the Hall of Armor along with the rest of the Iron Legion. When the "House Party Protocol" was ordered, it and the rest of the Iron Legion flew to assist Tony in the Extremis battle. Thumper sent two soldiers flying into the air and Tank came and blasted them. It was either destroyed by the "Clean Slate Protocol" or the Extremis soldiers.
Trivia