Wiki Targeted (Entertainment)
Play Sound
Main system

​ ​The Mark XXIX Nimble-Construction suit (or Fiddler) was created after the events of the New York battle. The name Fiddler comes from it only having one Jackhammer-like arm on it's left side.
Previous: Iron Man armor (Mark XXVIII) Next: Iron Man armor (Mark XXX)
Upgrades
It has become lesser purpose in it's construction specialty due to only having one Jackhammer arm, however this makes it more versatile and maneuverable than Thumper Although it has a oversized RT chest from Heartbreaker.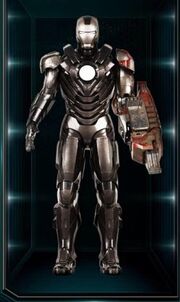 History
The suit was created after the New York battle. Tony realized that there couldn't be one suit that could do anything, so he started building suits specializing in certain areas It was placed into the Hall of Armor along with the rest of the Iron Legion. When the "House Party Protocol" was ordered, it and the rest of the Iron Legion flew to assist Tony in the Extremis battle. It was either destroyed by the "Clean Slate Protocol" or the Extremis soldiers.