Wiki Targeted (Entertainment)
Play Sound
Main system

​ ​The Mark XXX Silver Centurion Upgrade suit (or Blue Steel) was created after the events of the New York battle. It gets its name (Blue Steel) from its color.
Previous: Iron Man armor (Mark XXIX) Next: Iron Man armor (Mark XXXI)
Upgrades
To be added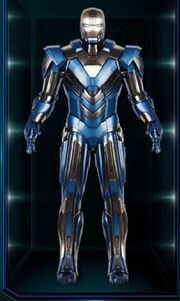 History
The suit was created after the New York battle. Tony realized that there couldn't be one suit that could do anything, so he started building suits specializing in certain areas. Blue Steel was placed into the Hall of Armor along with the rest of the Iron Legion. When the "House Party Protocol" was ordered, it and the rest of the Iron Legion flew to assist Tony in the Extremis battle. It was either destroyed by the "Clean Slate Protocol" or the Extremis soldiers.
Trivia
Strangely,the original silver centurion suit is created after this upgrade for the suit, thus making this one a paradox of some sorts. It is likely that when announcing the Armors the crew may have mixed up the two, thus explaining why the original is after the upgraded version.
This suit resembles the Arctic Armor in appearance from the comics.