Wiki Targeted (Entertainment)
Play Sound
Main system

​ ​ The Mark XXXIV Disaster Rescue prototype suit (or Southpaw) was created after the New York battle. It was the first Disaster Rescue suit and later a new upgraded design for it was made, Red Snapper.
Previous: Iron Man armor (Mark XXXIII) Next: Iron Man armor (Mark XXXV)
Upgrades
Southpaw was made to handle disaster involved situations. It was later succeeded by Red Snapper, which was a complete version of the suit. It's overall design includes black and silver plates in the armor. It has a large claw like arm in the left, while the other one is a normal arm equipped with a standard Repulsor.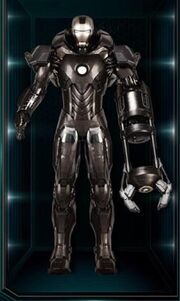 History
The suit was made after the New York Battle and was added to the ever growing Iron Legion. When the "House Party Protocol" was ordered, it and the rest of the suits went to assist Tony in Florida and fought off the Extremis soldiers. It was either destroyed by the soldiers or the "Clean Slate Protocol".