Main system

​ The Mark XXXVII Deep Sea "Hammerhead" suit was created after the New York incident. It gets it's name Hammerhead from it's ability to travel undersea and fully submerge itself without short circuiting or malfunctioning. It is designed for the deepest parts of the oceans, can withstand extreme pressure and has high-power work lights that allow visibility in murky waters.
Previous: Iron Man armor (Mark XXXVI) Next: Iron Man armor (Mark XXXVIII)
Upgrades
It was designed to be able to travel to the deepest parts of the ocean where it can withstand extreme pressure, and has high-power work lights to allow visibility in murky waters. It was also equipped with thicker armor, and appeared to have some kind of advanced targeting system.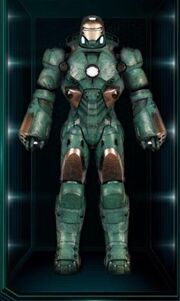 History
Created after the New York battle as part of the Iron Legion. When the "House Party Protocol" was ordered, it and the rest of the Iron Legion came to Tony's side. It was the first to attack after locking its targets, attacking a group of Extremis soldiers. It's head and arm was ripped off and it flew out of control, crashing into the oil rig, nearly collapsing it if it wasn't for Igor.
Trivia
It is unknown why this suit was created, as the Mark VI was seen in The Avengers going underwater to fix some cables and is likely that all other armors can do similar. Hammerhead may be made for deep depths and high pressures the other suits may be crushed in.
This suit resembles the Deep Sea armor from the comics.
Community content is available under
CC-BY-SA
unless otherwise noted.