Main system

​
​ The Mark VIII armor was the first new armor created by Tony Stark after the Chitauri invasion of New York. It is the successor of the Mark VII.
Previous: Iron Man armor (Mark VII) Next: Iron Man armor (Mark IX)
Upgrades
This is the eighth suit, built by Tony Stark after the battle of New York . It is less bulky and has a unique and smooth design on its face mask. It is presumed that the suit weapons are more advanced than in previously made suits along with its manuverbility. It also has extra layers of Kevlar, which allow it to withstand the force of a small missile. Because of this it is able to take harder hits and take more damage in the battlefield.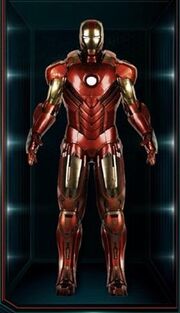 History
It was made to be the better version of the Mark VII and is the first armor to be added to the Iron Legion. It and the rest of the Armors were called in for the "House Party Protocol" in Miami to help Tony fight off the Extremis soldiers. It was destroyed either by the "Clean Slate Protocol" or the Extremis soldiers.
Community content is available under
CC-BY-SA
unless otherwise noted.