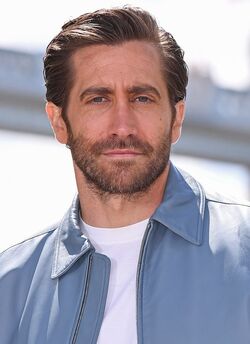 Jake Gyllenhaal portrayed Quentin Beck/Mysterio in Spider-Man: Far From Home.
Significant roles
Danny Robbins in City Slickers (1991)
Leon Coleman in Josh and S.A.M. (1993)
Homer Hickam in October Sky (1999)
Donnie Darko in Donnie Darko (2001)
Jimmy Livingston in Bubble Boy (2001)
Holden Worther in The Good Girl (2002)
Sam Hall in The Day After Tomorrow (2004)
Jack Twist in Brokeback Mountain (2005)
Anthony Swofford in Jarhead (2005)
Robert Graysmith in Zodiac (2007)
Douglas Freeman in Rendition (2007)
Dastan in Prince of Persia (2010)
Jamie Randall in Love & Other Drugs (2010)
Colter Stevens in Source Code (2011)
Brian Taylor in End of Watch (2012)
Detective Loki in Prisoners (2013)
Louis Bloom in Nightcrawler (2014)
Howard Birdwell in Accidental Love (2015)
Billy Hope in Southpaw (2015)
Scott Fischer in Everest (2015)
Tony Hastings/Edward Sheffield in Nocturnal Animals (2016)
Johnny Wilcox in Okja (2017)
Jerry Brinson in Wildlife (2018)
John Morris in The Sisters Brothers (2018)
Morf Vandewalt in Velvet Buzzsaw (2018)
Quotes
"Well, I just love great endings that refer back to other great endings. The first movie [Homecoming] was great like that, too. I also love the end of Prisoners. I love those kind of cliffhanger moments. So often, we're used to the same structure, particularly in very large movies, and it takes a lot of courage to leave on those kinds of cliffhangers. The way I look at it is twofold: Mysterio exists as someone to teach Peter Parker a lesson. In my opinion, there's no use for just a straight-up bad guy unless there's a lesson to be learned. And the lesson, particularly for Peter, is what is growing up for real."
"The truth of it is, if I go back to earlier work that I did, the thing that I love about adolescence — and was terrible about adolescence — is that as you grow up, the world becomes totally unclear. One of the things that I loved about doing Donnie Darko, when I was Tom's age, was that it portrayed adolescence in a way that I had not experienced through most high school movies. The courage that the filmmakers had in Far From Home to say, "We're gonna bring in a villain that's going to turn Peter's world upside down and force him to be who he actually is to the whole world. Nothing's a secret anymore," that was amazing."
"As an audience member, not as the person who played Mysterio, I believe in Peter Parker, and I believe in Spider-Man, his power and how strong he is. What Mysterio reveals will end up helping Peter, somewhere. He'll learn from it, and those are the best characters. The characters who teach our heroes a lesson don't always have to be like Obi-Wan."
Trivia
Community content is available under
CC-BY-SA
unless otherwise noted.