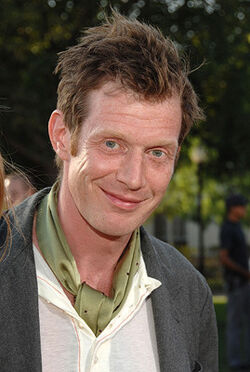 Jason Flemyng portrayed Azazel in X-Men: First Class and Lobby Goon in Kick-Ass.
Significant roles
John Merrygroove in Rich Tea and Sympathy (1991)
Dr. David Neil in Doctor Finlay (1993-1994)
Lt. John Wilkins in The Jungle Book (1994)
Gregory in Stealing Beauty (1996)
Frank James in The James Gang (1997)
Mulligan in Deep Rising (1998)
Alec D'Uberville in Tess of the D'Ubervilles (1998)
Tom in Lock, Stock and Two Smoking Barrels (1998)
Frederick Pope in Le violon rouge (1998)
Sir Jack, the Kave of Hearts/Cad in Alice in Wonderland (1999)
Henry Creedlow in Bruiser (2000)
Darren in The Snatch (2000)
Netley in From Hell (2001)
Stumbo in Below (2002)
Dr. Henry Jeckyll/Mr. Edward Hyde in The League of Extraordinary Gentlemen (2003)
Santa in Seed of Chucky (2004)
Lawrence Redding in Murple: The Murder at the Vicarage (2004)
Prod. Bernard Quatermass in The Quatermass Express (2005)
Dimitri in Transporter 2 (2005)
Vlad in The Half Life of Timofey Berezin (2006)
Primus in Stardust (2007)
Thomas Button in The Curious Case of Benjamin Button (2008)
Danny Quinn in Primeval (2009)
Malachi in Solomon Kane (2009)
Calibos/Acrisius in Clash of the Titans (2010)
Quotes
"It would be Maestro – which means I can charge up anyone's credit card with the power of my mind. Or Oystro, for the tube. Or Alphabetico, which means it could be books or DVDs or music libraries, and I can just alphabetize them like that. Oystro – the lamest X-Men of all time. I just love the idea of lame superpowers. People can do amazing things like teleport and stuff, but with something like this it's still a power, it's just rubbish."
"I don't think I will be back. Initially I was gutted, but then, I remembered I had to get up at two in the morning, I had to be painted red and be slightly out of focus and posed a lot, and that was sort of it. Now I don't have to do that."
Community content is available under
CC-BY-SA
unless otherwise noted.