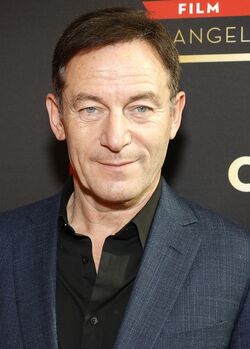 Jason Isaacs portrayed DeMarco in Elektra.
Significant roles
Chas Ewell in Capital City (1989-1990)
Michael Ryan in Dangerous Lady (1995)
Lord Felton in Dragon Heart (1996)
D.J. in Event Horizon (1997)
Ronald Quincy in Armageddon (1998)
Alain de Keroual de Saint-Yves in St. Ives (1998)
Colonel Mekum in Soldier (1998)
Father Richard Smythe in The End of an Affair (1999)
Col. William Tavington in The Patriot (2000)
Chaz Watley in Sweet November (2001)
Dave "Percy" Sledge in The Last Minute (2001)
Steele in Black Hawk Down (2001)
Dr. William Birkim in Resident Evil (2002)
Major Mellitz in Windtalkers (2002)
Charles Beck in Passionada (2002)
Clark Devlin in The Tuxedo (2002)
Lucius Malfoy in Harry Potter and the Chamber of Secrets (2002)
Mr. Darling/Captain Hook in Peter Pan (2003)
Colin Avres in West Wing (2004)
Général James Wolfe in Nouvelle-France (2004)
Damian in Nine Lives (2005)
Lucius Malfoy in Harry Potter and the Goblet of Fire (2005)
Admiral Zhao in Avatar: The Last Airbender (2005)
David in Friends with Money (2006)
Mark Brydon in The State Within (2006)
Michael Caffee in Brotherhood (2006-2008)
Lucius Malfoy in Harry Potter and the Order of the Phoenix (2007)
Harry H. Corbett in The Curse of Steptoe (2008)
Antonio Perez in La conjura de El Escorial (2008)
The Colonel in Skeletons (2010)
Briggs in Green Zone (2010)
Ra's al Ghul in Batman: Under the Red Hood (2010)
Lucius Malfoy in Harry Potter and the Deathly Hallows Part I (2010)
Lucius Malfoy in Harry Potter and the Deathly Hallows Part II (2011)
Quotes
"My part is called "uncredited". It's an uncredited part meaning you don't get to take any credit for it (laughing)."
"I don't know how the news gets out. I'm at the beginning of it. I'm Elektra's last job before the story kicks off. If it was a Bond movie, I'd be the guy that Bond deals with before the title's done."
"I was just there for a couple of days. It was fantastic. I was totally intimidated by Jennifer. She's incredibly fit and strong and supple and she has all these kind of martial arts and weapons skills. And then there's me just eating the donuts (laughing)."
"I can't tell you too much about it because I'm not even meant to tell you that I'm in it (laughing). In fact, I might never work again now that I've been talking to you. I'm not in it for very long, let's put it that way."
Trivia
External links
Community content is available under
CC-BY-SA
unless otherwise noted.